Teach MAM
Music, Arts, & Movement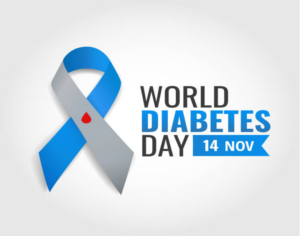 The 2023 World Diabetes Day campaign focuses on the importance of knowing your risk of type 2 diabetes to help delay or prevent the condition and highlight the impact of diabetes-related complications. It also focuses on the importance of having access to the right information and care to ensure timely treatment and management. 
More than a half billion people are living with diabetes worldwide, including men, women and children of all ages in every country. World Diabetes Day (WDD) was created in 1991 by the International Diabetes Federation (IDF) and the World Health Organization in response to growing concerns about the escalating health threat posed by diabetes. World Diabetes Day became an official United Nations Day in 2006 with the passage of United Nations Resolution 61/225. It is marked every year on 14 November, the birthday of Sir Frederick Banting, who co-discovered insulin along with Charles Best in 1922. 
World Diabetes Day is the world's largest diabetes awareness campaign reaching a global audience of over 1 billion people in more than 160 countries. The campaign draws attention to issues of paramount importance to the diabetes world and keeps diabetes firmly in the public and political spotlight. (Worlddiabetesday.org) 
What is Diabetes?
According to Mayo Clinic, Diabetes mellitus refers to a group of diseases that affect how the body uses blood sugar (glucose). Glucose is an important source of energy for the cells that make up the muscles and tissues. It is also the brain's main source of fuel. 
The main cause of diabetes varies by type. But no matter what type of diabetes you have, it can lead to excess sugar in the blood. Too much sugar in the blood can lead to serious health problems. 
Chronic diabetes conditions include type 1 diabetes and type 2 diabetes. Potentially reversible diabetes conditions include prediabetes and gestational diabetes. Prediabetes happens when blood sugar levels are higher than normal, but the blood sugar levels are not high enough to be called diabetes. Prediabetes can lead to diabetes unless steps are taken to prevent it. Gestational diabetes happens during pregnancy and may go away after the baby is born. (Mayoclinic.org)
Diabetes Symptoms
Diabetes symptoms vary depending on how high your blood sugar runs on a regular or during spikes. According to the Mayo Clinic, possible symptoms may include: 
Feeling more thirsty than usual. 

Urinating often. 

Losing weight without trying. 

Presence of ketones in the urine. Ketones are a byproduct of the breakdown of muscle and fat that happens when there is not enough available insulin. 

Feeling tired and weak. 

Feeling irritable or having other mood changes. 

Having blurry vision. 

Having slow-healing sores. 

Getting a lot of infections, such as gum, skin and vaginal infections.
Diabetes Prevention
According to the Mayo Clinic, Type 1 diabetes can not be prevented, but these healthy lifestyle choices can help prevent prediabetes, type 2 diabetes and gestational diabetes: 
Eat healthy foods.

Choose foods lower in fat and calories and higher in fiber. Focus on fruits, vegetables and whole grains. Eat a variety to keep from feeling bored. 
Get more physical activity.

Try to get about 30 minutes of moderate aerobic activity on most days of the week or aim to get at least 150 minutes of moderate aerobic activity a week. For example, take a brisk daily walk. If you can not fit in a long workout, break it up into smaller sessions throughout the day. 
Lose excess pounds.

If you are overweight, losing even 7% of your body weight can lower the risk of diabetes. For example, if you weigh 200 pounds (90.7 kilograms), losing 14 pounds (6.4 kilograms) can lower the risk of diabetes. 

However, do not try to lose weight during pregnancy. Talk to your provider about how much weight is healthy for you to gain during pregnancy. 

To keep your weight in a healthy range, work on long-term changes to your eating and exercise habits. Remember the benefits of losing weight, such as a healthier heart, more energy and higher self-esteem. 
World Diabetes Day Resources
A selection of materials is available for use in awareness activities to support the World Diabetes Day 2021-23 campaign – Access to Diabetes Care. These include:
If you have any questions about the use of World Diabetes Day materials, please contact (Worlddiabetesday.org)
Works Cited & References
Wergin, A. (R.D.N.) (2023, September 6) Diabetes: Prevention and Warning Signs. https://www.mayoclinichealthsystem.org/hometown-health/speaking-of-health/diabetes-definition-prevention-and-warning-signs
"Know Your Risk, Know Your Response". (2023) https://worlddiabetesday.org/