Teach MAM: An Exciting Partnership to Strengthen Arts Education Across Louisiana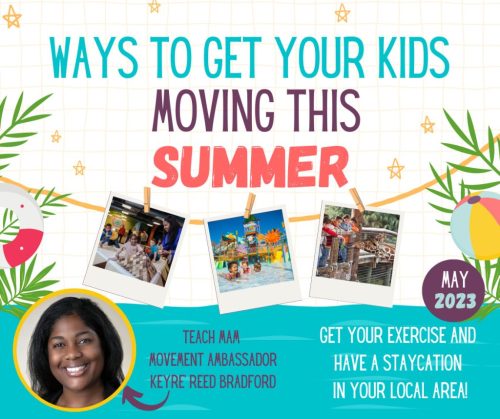 Ways to get your kids moving this Summer!
Get your exercise and have a Staycation in your local area!
Written by Keyre' Reed Bradford
Teach MAM Movement Ambassador

With summer fast approaching, it only makes sense that parents are preparing plans to keep their children busy during the summer. This article aims to help parents locate opportunities throughout Louisiana that promote movement, exercise, and physical activity for their children. Physical activity is vital to mental, emotional, and physical health; it is considered anything that gets your body moving and elevates your heart rate. (cdc.gov)
ShapeAmerica, the leading source on physical activity and movement, recommends that children and adolescents 6-17 years do 60 minutes of moderate to vigorous physical activity daily.(ShapeAmerica.com) The great thing is you can configure the activity in any form that meets your and your children's needs.  
The goal is to move more and sit less!
Take advantage of the summer and relaxed schedule with the kids out of school and utilize the extra time by being active and exercising. Of course, we all know the benefits of regular physical activity and exercise for adults, but what about kids?
As suggested in Children's Health, regular exercise benefits a child in many ways (childrens.com):
    Develop coordination and basic motor skills
    Build muscle and bone strength, cardiovascular endurance, and flexibility
    Reduce the risk of obesity, type 2 diabetes, and heart disease
    Build confidence and a sense of self-worth
    Reduce symptoms of depression and anxiety
    Increase the child's ability to focus and concentrate when returning to school
           Since physical activity provides many benefits for children and adults, we can not afford to sit around and waste time. We all need to Get Up, Get Out, and Get Moving!
Lets See What the State has to offer:
Visit a local Zoo:
Get your steps in while you learn
Zoosiana Zoo of Acadiana: Visit this 45-acre gem in Broussard to see more than 750 animals from 130 species, including black bears, giraffes, cougars, and zebras. While there, be sure to hop on the Safari Express train ride through animal habitats and check out the Jungle Lodge Playground, one of the largest playgrounds in Louisiana.
Creole Nature Trail Adventure Point: Start your journey on the Creole Nature Trail – an All-American Road linking Lake Charles with the state's rugged, southwest coastline – at the Creole Nature Trail Adventure Point, a free fun attraction that immerses you in nature. The kids can check out the imaginative, hands-on displays that will show them the best places to spot alligators and migrating songbirds, plus give them a peek at wildlife found in bayous and marshes. They'll walk away with a better understanding of Louisiana's diverse wildlife and landscape.
Audubon Zoo & Audubon Aquarium of the Americas: Located in historic uptown New Orleans, this award-winning zoo will captivate kids of all ages with everything from towering elephants and white alligators to reptiles and other exotic creatures. Rediscover your fascination with dinosaurs at Dinosaur Adventure or beat the summer heat in the Cool Zoo. At the Aquarium, stroll under a tunnel of water, where colorful fish gaze down at you from above. You'll see sea otters and penguins, marvel at seahorses and jellyfish, and even pet a stingray. Don't miss the sharks and sea turtles in the underwater oil rig in the Gulf of Mexico exhibit or the IMAX Theatre next door.
Global Wildlife Center: Located just an hour away from downtown New Orleans, a drive to Folsom will enchant the kiddos with a chance to see safari wildlife up close! Climb aboard a safari wagon to feed, touch and travel through areas of wild animals at this 900-acre park, one of the largest free-roaming wildlife preserves of its kind in the country. This popular spot in Folsom is home to more than 1,000 exotic and endangered animals from all over the world, including zebra, giraffes, camels, kudus, bison, kangaroos, and more.
Baton Rouge Zoo: Travel through themed exhibits to visit animals from Africa, Asia, Australia, the Americas, and, of course, Louisiana! And no visit here is complete without a ride on the scenic Cypress Bayou Railroad through beautiful wetlands surrounding the zoo – running daily every half hour, weather permitting.
Visit a local Museum:
Get your steps in while you learn
Avery Island: Take a spicy trip to the ultimate Louisiana flavors found on Avery Island, home of McIlhenny TABASCO® for a "seed to sauce" factory tour showing how a tiny red pepper creates the world-famous TABASCO® sauce made on this salt-dome island. Afterward, visit the country store for souvenirs, enjoy Cajun and Southern food at the on-site Restaurant 1868, then drive through Jungle Gardens to see the flora and fauna that abound in the bayou.
Children's Museum of Acadiana: This museum in Lafayette is packed with activities for the kids, and the warning "don't touch" doesn't apply here. Hands-on exhibits help children explore a mock bank, grocery store, dentist's office, veterinary hospital, and more. A Wee Acres Farm, Architecture Alley, Sensory Sea, and Bubble Factory add to the fun.
New Orleans City Park: This 1,300-acre park in the heart of the city is one of the country's oldest urban parks — and a family's dream come true. See storybook pages come to life in Storyland, ride an antique carousel at the amusement park, or explore lush botanical gardens. Ride a train or paddle your way through the many lagoons, then take a hike through Couturie Forest or stroll the tranquil paths of the Sculpture Garden. You can spend the entire day here and not see it all. Better plan another one!  
Louisiana Children's Museum: This re-imagined museum, opened in New Orleans City Park in 2019, offers 56,000 square feet of new interactive exhibits and old favorites indoors — plus 8.5 acres of outdoor adventures in the garden or on the water. Separate galleries are devoted to food, art, nature, and more, while nooks offer great places for storytelling, puppetry, poetry — and play!
Longue Vue House & Gardens: Hidden away inside this eight-acre jewel in New Orleans is the children's Discovery Garden, where kids can dig for worms, plant seeds, cart around pint-sized wheelbarrows, maneuver an herb maze and learn about the wonders of gardening. Garden tours are self-guided, but a docent-led tour of the house brings the area's history to life.
Knock Knock Children's Museum: This award-winning 26,000-square-foot facility atop a hill overlooking City-Brooks Community Park in Baton Rouge is filled with fun hands-on "Learning Zones" designed to create teachable moments that will connect with children's everyday experiences. Exhibits emphasize STEAM learning, touching on science, technology, engineering, art, and math.
Louisiana Art & Science Museum: Marvel at fine art, immerse yourself in interactive art and science exhibits, stroll through an Egyptian gallery, and visit the planetarium for exciting sky shows and large-format films – all inside a historic railroad depot overlooking the Mississippi River in Baton Rouge.
Visit a local waterpark:
Get your cardio in while you play
Splash Kingdom Water Park, Shreveport: 7670 W 70th St, Shreveport, LA 71129 | Phone: +1 318-938-5475 | Website | Hours: Saturday & Sunday: 11 AM–6PM | Entrance: $24.95  
Hop on the fun train at the splash Kingdom water park, with a quick acceleration at the Geaux slide win, airstream, cotton candy, flash flood, or Bonzai. It features steep drops and sharp turns that would have you screaming out with delight during every ride. In the end, you enjoy a cushioned pool finish with 3 feet of water depth. While you recuperate after your long ride, you can cool off in the lazy river.
Blue Bayou Water Park, Baton Rouge:  18142 Perkins Rd E, Baton Rouge, LA 70810 | Phone: +1 225-753-3333 | Website | Hours: Monday-Sunday 10AM-6PM | Entrance: Adults $27.75-$39.75, Guests 35″ and under: Free  
Experience a waterpark in its full glory at the Blue bayou water park. With many sharp turns and deep plunges on its water slides, the blue Bayou has something for every family member. Whether you're taking a slide down Lafitte's plunge, mambo, awesome twosome, or Azuka, you enjoy a perfect mix of fun, adventure, and entertainment. After a few good rides at the slides, you can hop into the lazy river right after.
Aqua Pards, Denham Springs:  30372 Eden Church Rd, Denham Springs, LA 70726 | Phone: +1 225-664-8365 | Website | Hours: Monday – Saturday 10am – 5pm, Sunday 12AM – 5PM | Entrance: In-District: $8, Out-of-District: $10
Enjoy an adrenaline rush of excitement and delight at Aqua Pards. Featuring numerous fantastic water slides, everyone can have a try at the twists, turns, and plunges an Aqua Pard water slide offers. After a good ride, you can opt for a swim in the calm and comforting lazy river. Also, you can bask in the sun while watching your kids play on the playground. In addition, Aqua Pards features adventurous and exciting walking trails if you fancy a walk alone or with friends and family members. It is also one of the best water parks to spend your summer days with numerous fantastic fun activities.
Spar Water Park, Sulphur Parks and Recreation:  933 W Parish Rd, Sulphur, LA 70663 | Phone: +1 337-527-2505 | Website | Hours: Monday– Saturday: 10AM – 7PM, Sunday: 2AM–7PM  | Entrance: In-District: $6, Out-of-District: $12, kids(2 years and below): free  
Spar water park, Sulphur parks recreation is where the fun is in Louisiana. With fantastic water park slides and activities, Spar water park is one place to have never-ending fun. It features a super bowl tube slide that spins you through several exciting rotations, a constrictor tube with twists, turns, and water drops, and several amazing slides for you to enjoy. After a thrilling ride, you can enjoy a refreshing swim in the lazy river or bask in the sun while you watch your friends or family play. Also available are a splash and play island and the parrot island, which features a sizable Polynesian bucket. The large Polynesian buckets dump hundreds of gallons of water now and then.
Cajun Water World, Robert Louisiana: 46053 LA-445, Robert, LA 70455 | Phone: +1 985-542-1779 | Website | Hours: Tuesday– Saturday: 24 hours daily | Entrance: $6/hour, $10/4 hours, $15/day  
Cajun water world offers every visitor an experience full of fun, adventure, and thrills. Traveling through twists, turns, and spins, visitors get to experience water marvels at their best. Everyone can enjoy the excitement, laughter, and massive adrenaline rush at the giant water slide. Plunging with a scream of delight, you get cushioned by a pool of water after your ride. Also, there are numerous slides for everyone to ride, so you don't have to repeat a ride on a specific slide. Mini inflatables are also available in the pools for the kids to play on.

White Sands Lake, Franklinton: Sandstone Blvd, Bogalusa, LA70427 | Phone: +1 318-295-4030 | Website | Hours: Tuesday-Sunday 11AM-7PM | Entrance: Adults(12 and up): $15, Kids(3-11): 10$, Kids(3 and below ): Free
White Sands Lake is a family-styled water park designed to give you and your family lots of fun to last a lifetime. It features a clear, spring-fed lake offering everyone enough water and fun space. At White Sands Lake, a trip down the slides is all it takes to get you up and excited. Inflatable water slides, trampolines, blog bats, and floating mats are available to make your day memorable. You could also play catch in the water or step onto the sand for an exciting game of beach volleyball. Whichever you choose, the games never stop, and the fun never ends.
With so many options around the State to choose from in the form of exercise and fun, it should be easy for parents to keep their kids busy. The goal is to let kids have fun while moving more and sitting less. Regardless of which activity you choose to participate in, the most important thing is to be Physically Active!  Remember being physically active is crucial to maintaining and developing health and wellness. If necessary, start small and work toward increased physical activity. Always consult your child's pediatrician and general physician before beginning a new exercise plan or routine.
Works Cited
"Summer Bucket List" Action For Healthy Kids.org; Action for Healthy Kids, May 2022
"How much physical activity do adults need?" cdc.gov; Physical Activity, June 2022
"How to keep kids active during the summer" childrens.com; Health and Wellness, 2022
"10 BEST Water Parks in Louisiana (All-Inclusive Fun Experiences);
https://www.townandtourist.com; October 2022
"Things to do with kids in South Louisiana"; https://www.explorelouisiana.com/articles/things-do-kids-south-louisiana, August 2022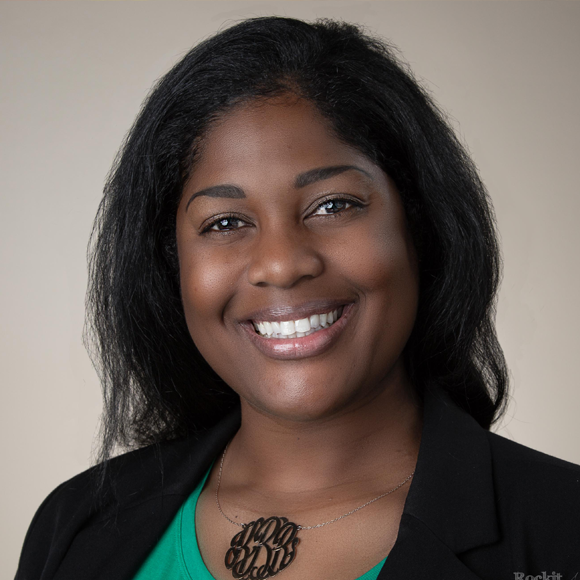 About Keyre' Reed Bradford
Keyre' Reed Bradford is a Health and Physical Education teacher for Ridge Elementary School in Duson, LA. and an Adjunct Kinesiology Professor for the University of Louisiana at Lafayette. She works, teaching, and advocating the importance of being and continuing physical movement at all physical levels and age groups. With over two decades of experience, she strives to educate others on the importance of being physically fit. As one of the 2019 State of Louisiana Teacher of the Year Finalists and State of Louisiana Certified Mentor Training Teachers, Keyre believes that being physically fit will:
Increase the academic performance of all students.
Reduce stress levels
Improve attention levels and focus levels
Promote awareness of health and nutrition
Increase social assimilation
Keyre's mission is to continue to advocate the importance of having quality health and physical education programs within the schools. Keyre' has partnered with LAHPERD (Louisiana Association for Health, Physical Education, Recreation, and Dance) to educate minds, promote positive attitudes towards lifetime physical activity, fitness, and sports, and develop healthy bodies. With a quality physical education program in place, students become empowered with the knowledge and skills necessary to make responsible lifestyle choices that directly impact his/her health and well-being for the rest of their lives. Keyre's goal is to help kids gain a solid foundation of living a healthy and active lifestyle and lifelong wellness. Keyre' teaches her students, colleagues, and community members that all people can become physically active at any age and increase the longevity and quality of their life. Keyre holds a Master's Degree in Educational Leadership, a Bachelor's Degree in Kinesiology, and Bachelor's Degree in Behavioral Science.