Teach MAM: An Exciting Partnership to Strengthen Arts Education Across Louisiana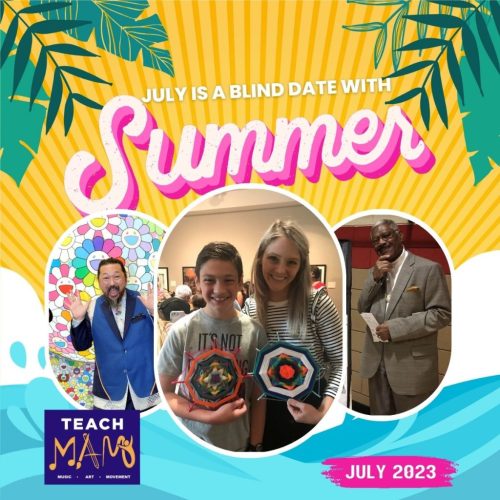 July Is A Blind Date with Summer

Written by Hal Borland and Carolyn Scalfano
Teach MAM Art Ambassador
Cheers to summer, everyone!  It may be unpleasantly hot, and if you're anything like me, that electric bill continues to soar as we try to stay cool.  However, this sweltering month is also a unique time that allows our young ones to rest, relax, and explore their personal interests without the stress of schoolwork and grades.  
If you need ideas on nurturing your creative side, I am here at your service.  Here are some fun art projects you or your children may want to try while you still have time.  These are well-planned, range from really easy to moderately easy, and require minimal shopping.  I hope you enjoy them as much as my students and I do!
1. The Art of Tin Foil Sculpture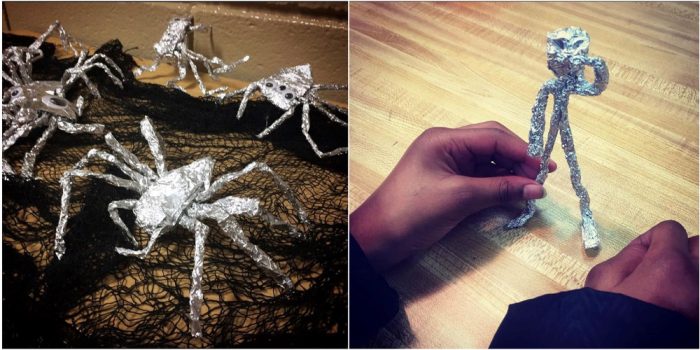 Did you know aluminum foil is one of the most diverse materials ever?  I use this magical substance as an introduction to sculpture, and what's so great about it is that the artist can make their work of art as simple or complex as they desire.  It's also VERY easy to perform "surgery" on aluminum foil sculptures if they fall apart, as you grab a small strip and use it to reinforce or reattach any parts as needed.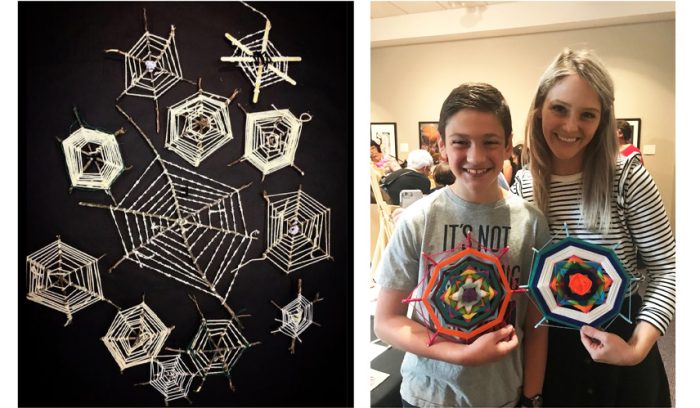 Ojo de Dios  (oh-ho-day-DEE-ohs) is Spanish for "Eye of God." This piece of art is a hanging tapestry woven onto crisscrossing sticks, joining in the center.  Traditionally, the center eye represents the sun and stands for the power of seeing and understanding things we usually cannot see.  I have made these with artists of all ages, using popsicle sticks, sticks from nature walks, or thin wooden dowels.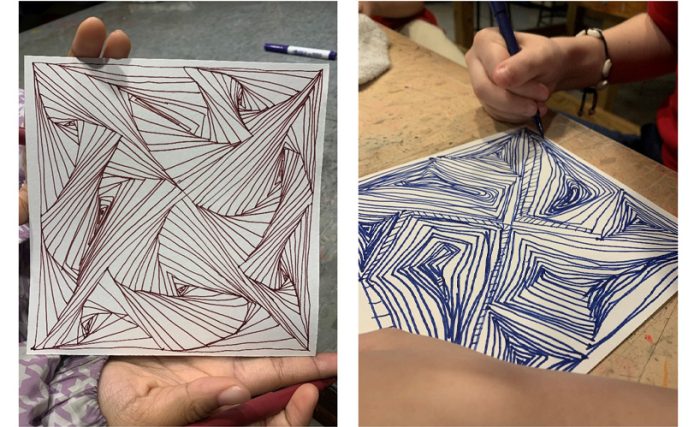 The Zentangle Method is an easy-to-learn, relaxing, and fun way to create beautiful images by drawing structured patterns. I LOVE it because it promotes concentration and creativity and, at the same time, increases personal well-being as it serves as a form of meditation.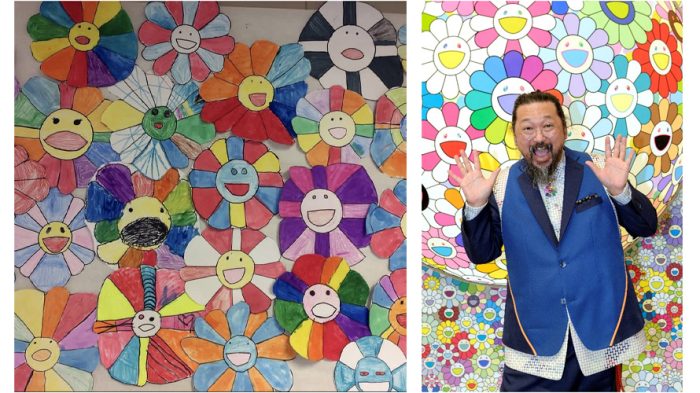 This project is inspired by the Japanese Contemporary artist Takashi Murakami.  It teaches color theory but ends in a precious and very trendy flower design.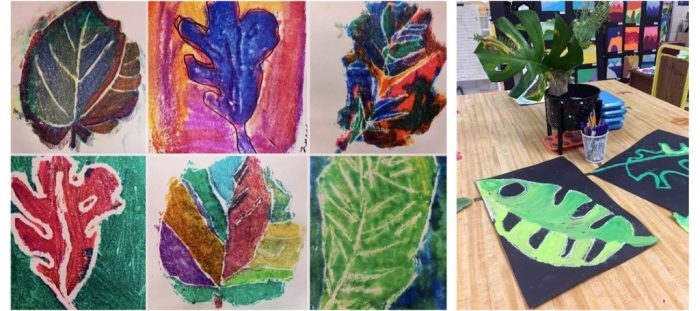 I cannot stress enough how much I have learned about drawing and painting just from staring at different leaves.  There are many ways to use actual leaves to create marker or ink prints.  Here is also an instructional video on how to paint a leaf from observation.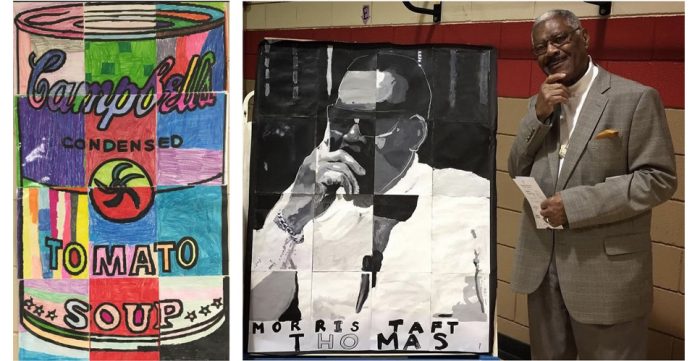 This project requires access to a computer and printer.  There is an amazing website that allows you to upload ANY picture and blow it up into individual puzzle pieces to enlarge the image.  I then use the cardstock printouts as a template for artists to color, paint, or collage on top.  This is a great project to promote collaboration.  
Some of these videos will feature yours truly.  Others are great resources that I have used to teach these lessons.  I sincerely hope that you and yours are able to find an outlet and explore your creative side before school begins.  It will be here before we know it!  Bask in your free time, and my very best wishes to you all.
About Carolyn Scalfano
Carolyn Lenora Scalfano is the Visual Arts teacher at Pineville Elementary in Rapides Parish. She also serves as the school's representative for the Good Food Project of Central Louisiana, in which the school's gardens provide fresh produce distributed to Food Bank clients or local non-profits that serve food to the needy.
Carolyn's passion for aesthetics led her to study architecture at Louisiana State University's College of Art and Design. After professional insight and mentorship by college faculty, she was encouraged to pursue a studio art degree. Inspired by the arts community in Lafayette, LA, she transferred to the University of Louisiana at Lafayette to earn her Bachelors of Fine Art with a concentration in painting.
After graduating from the UL program, Carolyn worked as an illustrator and landscape designer for LAND Architecture in Lafayette, LA.
As a professional working artist, Carolyn was represented in 2008 by Ariodante Gallery in New Orleans, LA. She showcased a solo exhibition and was featured on their website, selling multiple works to buyers nationwide.  In 2010 her paintings were featured in a two-person show, Another Time, at the Acadiana Center for the Arts.  More recently, she participated in the 2019 exhibition, Pace 20: Twenty Years of Teaching Artists, in the Acadiana Center for the Arts' main gallery with works by the seventy Primary Artistic Creative Experiences (PACE) teaching artists.
As a PACE teaching artist, her role was to design arts integration lessons for students grades PK-3 in the Title 1 Schools of Lafayette Parish. Having spent years collaborating in the classroom, she eventually pursued and received her teaching certification in Elementary Education from Louisiana.  
Currently, Carolyn is Pineville Elementary's resident Visual Arts Teacher. She designs her art lessons around individual conversations she has with each of the teachers she works with at Pineville Elementary. They collaborate to develop relevant projects to the students and integrate art into the other subjects to present the curriculum in a new and exciting way.  
Carolyn is on the Pineville Elementary Lighthouse Team for the Leader in Me, which is rooted in teaching the Seven Habits of Highly Effective People. Being in charge of the Leadership Environment includes managing the physical look of the school (what people see), the common language (what people hear), and the emotional environment (what people feel).   This planning includes organizing numerous collaborative art installations where all PES members, including faculty, staff, and students alike, create original art pieces displayed throughout the campus. The underlying goal is that the students feel ownership of the building by seeing their artwork displayed throughout the school.
Her collaboration with the Good Food Project entails creating organic school gardens in which students do all maintenance.  By working in the garden, the children learn hands-on about developing agricultural ecosystems intended to be sustainable and self-sufficient.