Teach MAM: An Exciting Partnership to Strengthen Arts Education Across Louisiana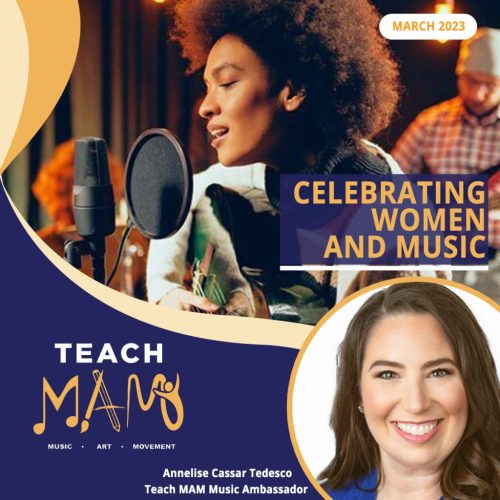 Celebrating Women and Music

Written by Annelise Cassar Tedesco

Teach MAM Music Ambassador

March is Women's History Month and Music in Our Schools Month. How appropriate to collaboratively celebrate the importance of music in school programs while we also elevate the unequivocal contributions of women. The number of women who have made incredible contributions to the acceleration of music composition, music performance, and music education and then used their voices to raise awareness, elevate the voices of others, and impact society is certainly something to celebrate. 
In honor of this union of accomplishment, I asked some of my high school students to share their thoughts on who, in their estimation, was a woman who has made history through their musical accomplishments and contributions. Here are just a few of the amazing women they chose to celebrate. 
"Florence Price was an American classical composer, pianist, organist and music teacher. She composed over 300 works and is considered the first African-American woman to be recognized as a symphonic composer, and the first to have a composition played by a major orchestra."
-Emma Mason
"I am very impressed by Clara Schumann. She was a child prodigy, composer, performer, and teacher. She was considered one of the most distinguished pianists of the Romantic era, and performed for over 61 years. As a result of her contributions, she changed the format of the piano recital by reducing the importance of purely virtuosic works. In 1838 she was honored by the Austrian court and elected to the prestigious society of the friends of music in Vienna."
-Alvaro Hernandez
"I think Ella Fitzgerald should be celebrated. I learned a great deal about her and her performances during Black History Month. She was a civil rights activist and was dubbed the queen of jazz. She was also the first African-American woman to win a Grammy. She also wrote several of her own songs and composed for other performers as well." 
-Emma Abadie 
"Madonna is known for pushing boundaries in her performance and style. She is a strong advocate for women's empowerment and gender equality, and as a result, I believe her name belongs among those whom we celebrate."
-Carmen Tonry
"Audra Macdonald has won six Tony awards, and she was the first person to win a tony in all four acting categories. She is celebrated as a pioneer for racial equity and inclusion across artistic avenues, on stage and on screen. She, along with a coalition of professionals from across the theatre industry, launched Black Theatre United, an organization whose mission is to inspire reform and combat systemic racism within the theatre community and throughout the nation."
-Ava Volante
"Amy Beach was the first successful American female composer of large scale art music. In 1896, the Boston Symphony Orchestra premiered her Gaelic Symphony, which was the first symphony composed and published by an American woman."  
-Laina Eiserloh
"Ma Rainey was dubbed the queen of blues for her deep voice and mesmerizing stage presence. She also sang of women's struggles and the struggles of African Americans. She has used her voice to elevate the voices of others." 
-DJ Jones
"My mom, Dr. Kristen Bauer Marchiafava, is one of my biggest inspirations. She is a professional soprano and a college voice professor at Southeastern Louisiana University. She has taught countless students, both locally and internationally, and she shares her time to help students of all ages grow into stronger singers. She does all of this while being an amazing mom. I am very grateful for her and all my music teachers, for where would we be without our teachers?"
-Daniel Marchiafava
"I would like to celebrate Louisiana's First Lady. She is a musician and a music teacher who shared her love for the arts with her family, students, and community. She is now a passionate advocate for students of all backgrounds. She believes it is essential to educate the whole child, and that arts enrichment is a crucial component of this plan. She leads this effort through the Louisiana First Foundation and her Teach MAM initiative." 
-Zoey Wolfe
As I reflect on the words of my students and their celebration of just a few of the many great female artists of our time, I would like to turn the spotlight on them, the next generation of great artists. They are amazing game changers, and I know they will make extraordinary contributions to society and the arts. 
Do you know any women who are making history in the arts? Join us in helping to celebrate their contributions and elevate their voices. Show your support by attending one of the many spring concerts, festivals, or musical theatre productions hosted by music educators, composers, and performers, or give a shout-out to these champions for artistic excellence on social media and tag them with #MusicGameChanger