HONORING THE HEARTS OF
WOMEN IN THE ARMED FORCES
Honoring the Hearts of
Women in the Armed Forces
Importance of honoring women in the armed forces 
July is filled with celebrations of family, community, and our nation's liberty. As we continue to salute those who catalyze a path for opportunity and freedom for the citizens of Louisiana, we acknowledge that every triumph requires sacrifice and perseverance. Today there are over 214,000 active-duty women in our country. Many of them have benefited from policies empowering gender equality and inclusivity. Recognizing and honoring the invaluable contributions of all women in the armed forces is critical. These unsung heroes have shattered stereotypes and defied societal expectations to defend our nation and state.
Louisiana women have displayed honorable patriotism and bravery by significantly contributing to the armed forces. From World War II to the present day, these remarkable women have served in various roles, including combat, medical, intelligence, and support positions. They have exemplified resilience, determination, and a deep sense of duty, often while overcoming adversity and breaking barriers. Their contributions have been instrumental in shaping the military landscape. By supporting and advocating for the wellness of women serving our country, we will pave the way for a more equitable and inclusive future.  
Local Heroes from Louisiana:  
Katrina Lloyd, Alexandria, La: First African American woman to serve as the Louisiana National Guard's State Surgeon–Army and Commander of the 61st Troop Command.
Joanne F. Sheridan, New Orleans, La: First female general officer in the Louisiana National Guard
Tammy Barnett, Robeline, La: First female United States Army Infantry Recruit
Government Advocacy and Support Programs
Louisiana has implemented several government initiatives and policies to promote, empower, and uplift women in the military. The state recognizes the contributions of women in uniform and aims to provide them with equal opportunities and resources. Through various programs, Louisiana supports recruitment, retention, and career advancement for women in the armed forces.
Promoting health awareness within the armed forces community
Promoting heart health awareness within the armed forces community is of utmost importance. Recognizing the unique demands and challenges faced by armed forces personnel, it becomes essential to prioritize cardiovascular well-being. Raising awareness, providing education, and implementing preventative measures can empower servicewomen to make heart-healthy choices.
Recommendations for maintaining heart health include:
1. Proper Nutrition
2. Smoking Cessation
3. Fitness Routine
4. Adequate Sleep
5. Weight Loss
6. Mental Wellness
7. Reduction of blood sugar 
8. Management of blood pressure

Recognizing the significant connection between women in the armed forces and health is vital. The physically demanding nature of military service often leads to improved cardiovascular fitness among women. However, it is essential to acknowledge that military service also introduces unique stressors and challenges that may impact heart health. When honoring the women in the armed forces, we also continue to support the importance of physical wellness and heart health in this courageous community.  
How Can You help honor the hearts of our local heroes?
Please visit these resources for more information:
Louisiana Department of Veteran Affairs – The mission is to provide comprehensive care and quality service to Louisiana's Veterans and their families with regard to health care, education, disability benefits, long-term care, and burial services. 
https://installations.militaryonesource.mil/state/LA/state-federal-resources
https://louisianaarmedforcesalliance.wildapricot.org/Who-We-Are
https://www.vetaffairs.la.gov/benefit/military-family-assistance-fund/
For More information on getting involved please contact The Governor's Office of Women's Policy at womens.policy@la.gov 
Local Heroes from Louisiana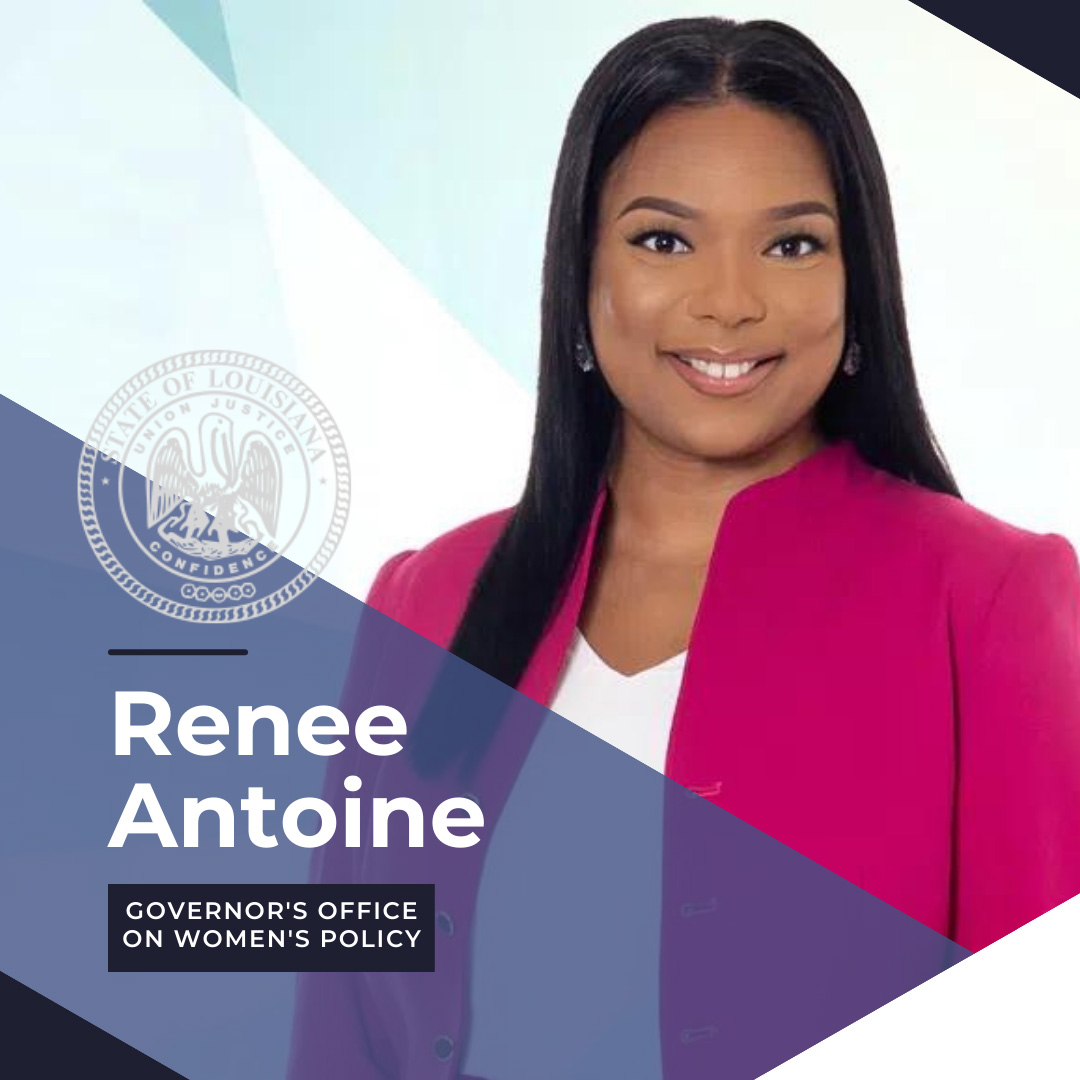 About Renee Antoine
Renee Antoine is a public health policy advocate and national maternal child health consultant. She has served in a variety of positions advocating for women, children and families across the state of Louisiana and nationally. She currently serves as the Executive Director for the Governor's Office of Women's Policy in Louisiana. She works collaboratively with all Louisiana stakeholders who serve women across the lifespan. Her recent accolades include serving as State Director for Maternal Child Health and Government Affairs for March of Dimes. Renee is from Baton Rouge, Louisiana and obtained a Bachelor of Science degree in Psychology from Louisiana State University. Her graduate research continued to the University of Iowa in epigenetics and culminated at the University of Virginia in Developmental Psychology where she published studies on and child cognition and intellectual development.