Getting Past
the Mid-Summer
Hump


Written by Carolyn Scalfano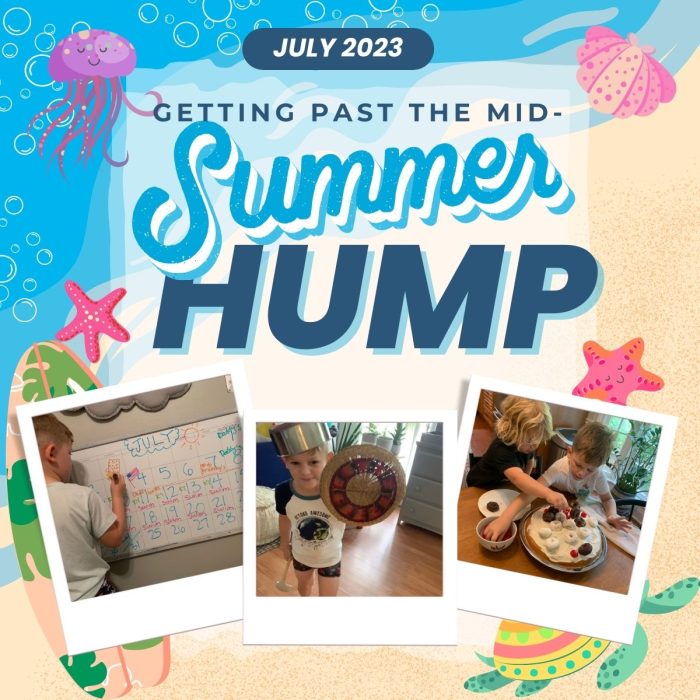 Getting Past the Mid-Summer Hump
Written by Carolyn Scalfano
Happy Summer, Louisiana. The heat index in my area was 113 degrees every day last week. As my little one wiggles around in my bed before sunrise, my brain begins to flicker on: "What on earth are we going to do all day?"  Some say that freedom is both a blessing and a curse. Summer is the time to slow down and take in the world around you, but for some of us, both young and old, the lack of routine can lead to fear of the unknown, overthinking, and overlooking life's little joys.  
I want to follow that personal anecdote with some advice I rely on frequently. Some may agree or disagree with its accuracy, but reflecting on these assertions has helped me relax in the last few weeks. I listened to a woman speak about the concept called "Let it Happen."  It's like Elsa's concept of "Let it Go." But on a serious note, the view of "Letting it Happen" is rooted in a belief system centered around acceptance.
 "Acceptance is the answer to all my problems today. When I am disturbed, it is because I find some person, place, thing, or situation—some fact of my life—unacceptable to me, and I can find no serenity until I accept that person, place, thing, or situation as being exactly the way it is supposed to be at this moment."  -Bill W.
When we go into situations with expectations, and things don't turn out as planned, it can cause disappointment, the judgment of ourselves or others, and even anger and resentment. A relatable example of this is the one and only "family vacation."  The anticipation for sun and fun is sometimes quickly outshined by agitation and stress and often ended in discord. A personal example of acceptance in action would be my son and I trying to make it to school on time. No matter how early I rose, there were days last year when my son and I missed his preschool drop-off time. Why is that, you ask? Well… it could be that I didn't have the right shirt ready for him, he had misplaced his folder, or maybe his shoes didn't feel right that morning. These are the days I just had to "Let it Happen."   If we missed his drop-off time, I would have to bring him to school, which created a ripple effect, causing me to be late to my school as well. As much as my internal impulse was to panic and immediately envision the worst (people talking about my tardiness, professional repercussions, etc.), I had the opportunity to choose acceptance. I just let it happen, and everything was fine. In fact, the few mornings that I dropped my son in the car rider line at his school were a rare opportunity to make fond memories that we shared during his first year in school.
If you are wondering how to get your kids through the mid-summer hump and prepare them for school to start in the fall, may I suggest a few things to try and remember during our last weeks of vacation? Allow yourself and your loved ones to be comfortable. Stick to a simple schedule. Don't pressure yourself or your loved ones to do it all today. Make fun your priority. Reflect on your progress. Take time to slow down. You and any little people in your home find ways to ride the waves of your feelings. And most of all, don't hesitate to ask for help.  
Here are a few ideas to help your days flow, incorporate routine, and encourage fun and imaginative play into your daily routine.
Drive Past Your Kids' School

This is an opportunity to reminisce about good memories and also talk through any traumatic events of the past school year.
Join your local library summer reading program, tackle that summer reading list for next year, or just read with your kid whenever!  Dinner time, bath time, and bedtime are three great opportunities to squeeze in some reading just for fun.
Make Playdates with Peers
We are lucky enough to have neighbors and cousins that we make it a point to spend time with.  Social emotional growth and awareness is critical for healthy developmental skills in children, and you will not and cannot find this type of interaction on a screen.
Add A New Responsibility Before School Starts
I hung a dry erase calendar in my son's room on which we write past and future activities.  He crosses out the days as they pass.  A calendar helps young children learn the basics of the days of the week and the months of the year, but even more, for my son, it helps him to feel secure when he wakes up daily because he knows what to expect.  He can also mentally review past activities, which promotes a sense of accomplishment.
We have several spots in our home where my son knows that it is ok for him to "make a mess."  An art desk, a box of sand in our garage, and a calm corner are just three examples of spaces that promote independence and the opportunity for imaginative play.
Having a visual to help little minds understand the concept of time is the gift that keeps on giving.  It works for dinner, cleanup, bath, bed, and ESPECIALLY screen time.  
I hope these are some helpful tips for the remaining weeks of summer.  Best of luck for our new school year!
Sincerely,
Carolyn Scalfano