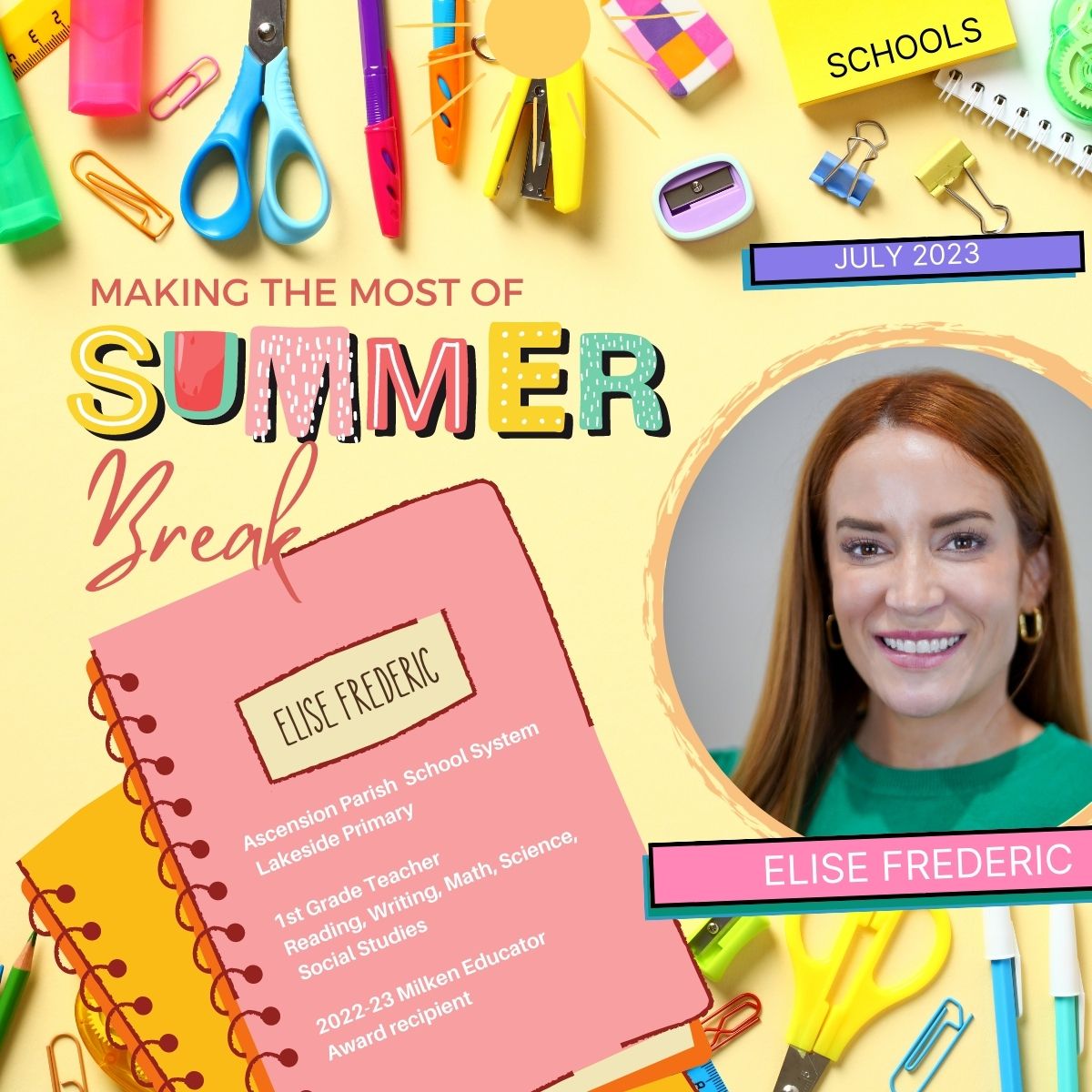 ELISE FREDERIC
Ascension Parish School System
Lakeside Primary
First Grade Teacher
Reading, Writing, Math, Science, Social Studies
2022-23 Milken Educator Award recipient
Making the Most of Summer Break
The school year is over, and next year is right around the corner! Summer is a time to rest and recharge. For those who work closely with students during the school year, summer is a wonderful time for reflection and goal-setting. I will share some of my summer tips to help prepare for the year ahead.  
Each summer, I reflect on the previous school year. I think of my students' growth as measured by test scores and the growth I have noticed. Their current level of mastery and instructional practices is what caused those results. Another challenging but necessary aspect of reflection is noting what areas need improvement in my instruction. I choose one focus area each year. Two years ago, I taught Kindergarten, where the importance of foundational skills cannot be overemphasized. My mission was to focus on proper letter formation and phonological awareness (awareness of individual sounds within spoken words). I intentionally planned for student practice with these two skills during each lesson and to weave in remediation for students who demonstrated a need. Last school year, I made it a point to focus on vocabulary development with my first graders. I created a vocabulary word wall and added content words throughout our curricular units. Students are expected to use the vocabulary in conversations and writing. This summer, I will use my student data, the grade level standards, and my reflections to give myself a focus for next year.  
Summer is also a time for many professional development opportunities. There are many free or low-cost professional development options. Look for workshops, conferences, book studies, or online courses relevant to your subject area or teaching style. This development process can help you learn new strategies, techniques, and technologies to improve your teaching. I plan to attend a conference and join two book studies this summer:  The Writing Rope and The Writing Revolution.  
Take time for self-care. Think about what makes you feel rested and invigorated. Education can be a stressful profession, so make sure to set aside time for activities that recharge you. This could include exercise, reading, travel, hobbies, or spending time with family and friends. Being outdoors in nature makes me feel recharged. I get some of my best ideas when I'm going for a walk outdoors. I plan to spend lots of time at the pool, playing with my kids, trying new recipes, and working through my long list of book and Netflix recommendations from friends and family during my free time this summer.
Plan for next year. This could include creating new lesson plans, creating a classroom management plan, or organizing your resources. Think of what you can do now to make next year easier.    I buy a pretty journal each summer and use it as my teacher's notebook. I take notes and create reminders for myself in this journal. I keep my notebook in my teacher's bag so that it goes to and from school with me every day. It helps keep me organized to have all my notes in one place. I use these notes to help me plan for the following school year. Planning makes for a smooth transition into the new school year and keeps me from becoming overwhelmed.  
Summer is also an excellent time to connect with other educators. Take the opportunity to join online educator communities through social media. Try searching Facebook or an Instagram hashtag for your grade, subject, or education interest area. Need help finding what you're looking for? Create one! Check out my Facebook group: Louisiana-Science of Reading- What I Should Have Learned in College and the parent page Science of Reading-What I Should Have Learned in College. You could also join a professional organization or look for local educator meetups to attend.
Remember that taking a break and recharging is as important as setting goals and taking action. Enjoy the rest of your summer!