Johnette Downing

Be A Wetland Friend and
Take the Pledge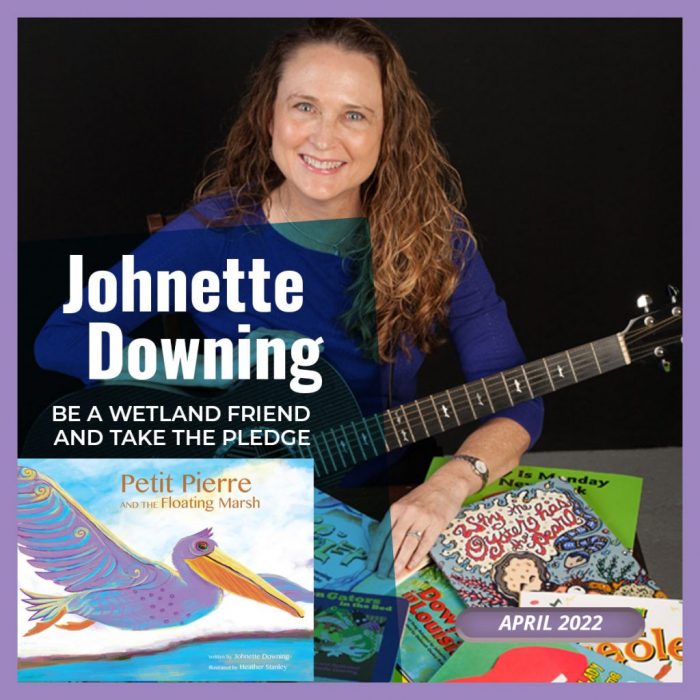 Be A Wetland Friend and Take the Pledge

By Johnette Downing
The Louisiana wetlands are fragile ecosystems where flora, fauna, and humans depend upon one another for survival, each playing a vital role in creating a harmonious, healthy, and balanced habitat or home. It takes a community to make a home, with each person doing their small part for the greater good.
In my picture book Petit Pierre and the Floating Marsh, the young pelican, Petit Pierre, is looking for a home in the beautiful Louisiana wetland. In the story, each animal friend gives Petit Pierre a special gift to build his home: water, mud, a reed, a lotus, a cypress seedling, sun, grass, and wisdom. Working alone or together with your friends and family, you too can help Petit Pierre keep Louisiana beautiful and thriving for all.
One person can make a difference!
I,  _______________________, take the Louisiana pledge!
  Beginning today, I promise to protect Louisiana and its wetlands by doing two or more of the following actions:
Practice the three "R's" – Reduce, Reuse, and Recycle! Reduce means to minimize the amount of waste we create. Reuse means to use items more than once. Finally, recycling means using old products in new ways.
Participate in programs that help protect and restore wetlands, like a beach clean-up or wetland planting project.
Pick up litter to keep trash out of the wetlands, waterways, byways, and neighborhoods.
Plant native species such as live oak, cypress, tupelo, red maple, green ash, hackberry, spartina (cordgrass or wiregrass), Roseau cane, American lotus, and three-cornered grass to preserve the ecological balance of local wetlands.
Use unbleached paper and recycled products whenever you can. Bleached paper contains toxic chemicals that can contaminate water.
Share Petit Pierre and the Floating Marsh with friends and family. Check it out—literally! A copy of the book was donated to every library in the State. Proceeds from the sale of each book fund wetlands education programs in partnership with the New Orleans Pelicans and Audubon Nature Institute. You can download a free Petit Pierre and the Floating Marsh book activity packet. We hope you enjoy the book trailer!
Now, friends, let's get out there and Love the Boot!
To get a copy of Petite Pierre visit:
https://www.johnettedowning.com
Activity packet: https://www.johnettedowning.com/activities
Book trailer:  https://m.youtube.com/watch?v=N-7G6z8JPno&feature=emb_logo 
— Recipient of the 2017 Louisiana Writer Award, Johnette Downing, is a musician, author, illustrator, and poet. Dedicated to sharing her Louisiana songs and stories with children, Johnette has performed on five continents, has received dozens of awards, and has thirty books and eleven recordings. Petit Pierre and the Floating Marsh represented the State of Louisiana at the 2016 National Book Festival in Washington, D.C.    For more information, please visit her website at johnettedowning.com