FEEDING
LOUISIANA
Words from Executive Director
Korey Patty
APRIL 2020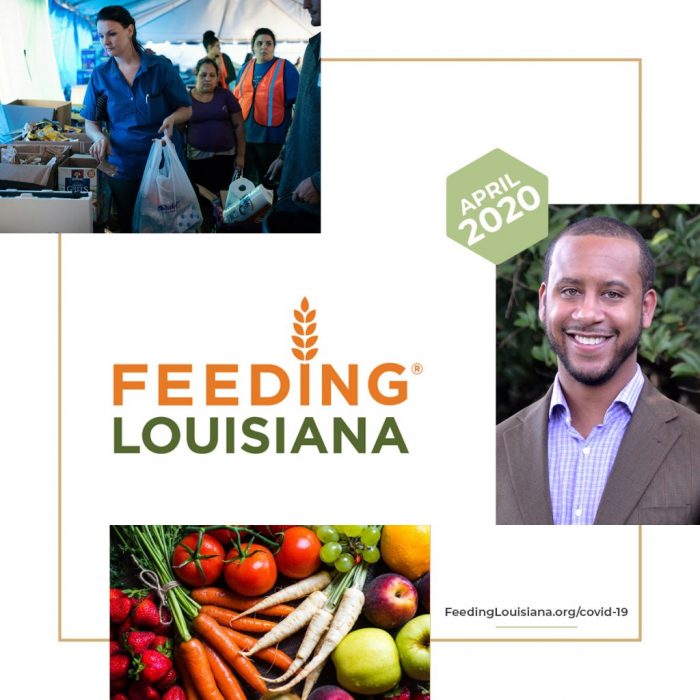 FEEDING LOUISIANA
Words from Executive Director Korey Patty
The spread of COVID-19 has presented unprecedented challenges across the state, nation, and globe. Across Louisiana, hundreds of thousands of newly unemployed and underemployed citizens are having to face hard questions on how to make ends meet, provide for themselves and their families, and chart a path forward during and after COVID-19's surge across the state. Included in this number are many individuals who are now seeking food assistance through the state's food bank network for the first time.
Feeding Louisiana, the state association of food banks, and its five major food bank members have responded to this increased need by providing emergency food in impacted communities in all 64 parishes of the state. Working with a network of dedicated partner agencies and volunteers, Louisiana's food bankers have served on the front lines of the COVID-19 response to ensure that Louisianans in need can keep food on the table.
In a state accustomed to responding to hurricanes and floods, this extraordinary disaster has presented unique and difficult challenges for Louisiana's food banks. The significant increase in need across all parts of the state, paired with a decline in volunteer availability as many older, higher-risk volunteers stay safe at home, has shifted the typical food bank distribution model. In a tribute to the flexibility of food banks, Feeding Louisiana members are now packing and distributing more food with fewer hands.
None of this is possible without incredible support:
The Louisiana National Guard has allocated Guardsmen to support staffing across the state. This critical assistance has indeed kept food banks in operation.
Countless donors have graciously provided funds to support the work of Feeding Louisiana's members.
Responsive businesses and not-for-profit organizations have formed new partnerships with Feeding Louisiana to expand food distributions.
Government agencies have worked to make essential food assistance programs such as SNAP more accessible to those in need.
Sadly, for many Louisianans, COVID-19 only exacerbates an already tenuous fight with hunger. More than 773,000 Louisiana citizens identify as food-insecure, unsure of where their next meal may come from, including more than 1-in-4 of Louisiana's children and seniors. Feeding Louisiana members work year-round to support our neighbors experiencing food shortages, and are now doubling down on those efforts in the face of COVID-19.
For more information on how to provide or get help, visit www.FeedingLouisiana.org/covid-19.
—
Feeding Louisiana, the state association of food banks, represents Louisiana's five major food banks who provide approximately 52 million meals each year to Louisianans experiencing food insecurity.
Feeding Louisiana's mission is to serve as a unified voice for Louisiana's hungry by providing short-term food relief while seeking long-term solutions to hunger through advocacy, education, and leadership. 
Korey Patty serves as Executive Director of Feeding Louisiana.