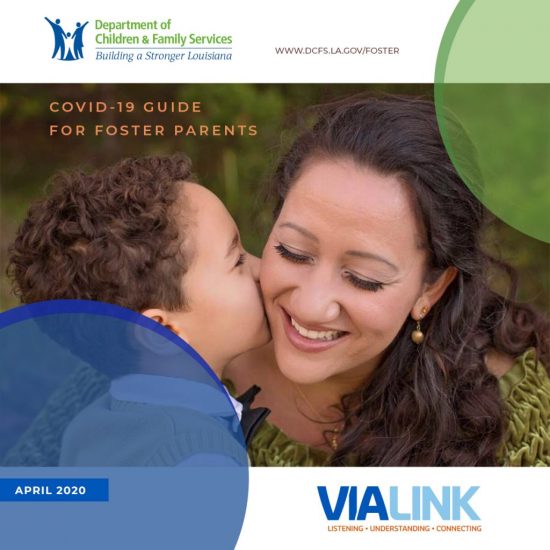 Louisiana Fosters

Resources for Foster Families
During COVID-19
Resources for Foster Families
During COVID-19
"DCFS is grateful for the dedication and tireless efforts of our foster parents, especially in times of challenge like those we currently face with coronavirus (COVID-19). We care about the health and well-being of our children, families, and foster/kin caregivers. We want to make sure every family has the most up-to-date information and resources available," said Dr. Rhenda Hodnett, DCFS Assistant Secretary for Child Welfare.
Hodnett recommended the following resources for foster families during COVID-19:
DCFS COVID-19 Guidance for Foster Parents– This webpage, which DCFS created specifically for Louisiana foster parents in response to the coronavirus pandemic, can be reached from DCFS's main Foster Parenting webpage at dcfs.la.gov/foster. The COVID-19 Guidance page includes answers to frequently asked questions, such as what to do if a foster child or someone in the household may have the virus, how to get information about visitation or child care for a foster child, and tips for reducing risk. The page also links to various resources for how to discuss the pandemic with children, and it provides two helpline numbers for 24/7 support for foster families.

Keeping Calm Through COVID hotline:1-866-310-7977.  Provides 24/7 support from trained counselors for anyone feeling overwhelmed with stress, fear, or anxiety about the uncertainty surrounding the pandemic. All calls are confidential.
DCFS Emergency Contact line for Foster Parents:337-936-2303.  A 24/7 emergency contact number for Louisiana DCFS foster parents and caregivers in the event they cannot reach their caseworker or supervisor.  

LouisianaFosterCare.com– The website, sponsored by the Louisiana Foster Care Support Organization, provides listings of resources throughout the state available for foster caregivers during the COVID-19 crisis.
KIDLINE:  1-800-CHILDREN.Parents can call KIDLINE, anytime 24/7, to receive confidential emotional support, a space to discuss parenting styles and general child development, information about Louisiana's Safe Haven Law, and/or information on reporting child abuse. All call center specialists are mandated reporters, trained in emotional support, crisis intervention, suicide risk assessment, violence risk assessment, and information and referral.
Foster Parent Orientation & Training Postponed.All of DCFS's foster parent orientation and pre-service training classes through April 30th have been postponed due to the pandemic and stay-at-home order. Updates will be posted to the DCFS website at dcfs.la.gov.
Online Training.  Foster caregivers are encouraged to take advantage of online training required to maintain foster home certification provided by the Louisiana Child Welfare Training Academy at lcwta.org.  Certified foster homes should complete 15 training hours by May 31st for this fiscal year as required by certification guidelines.