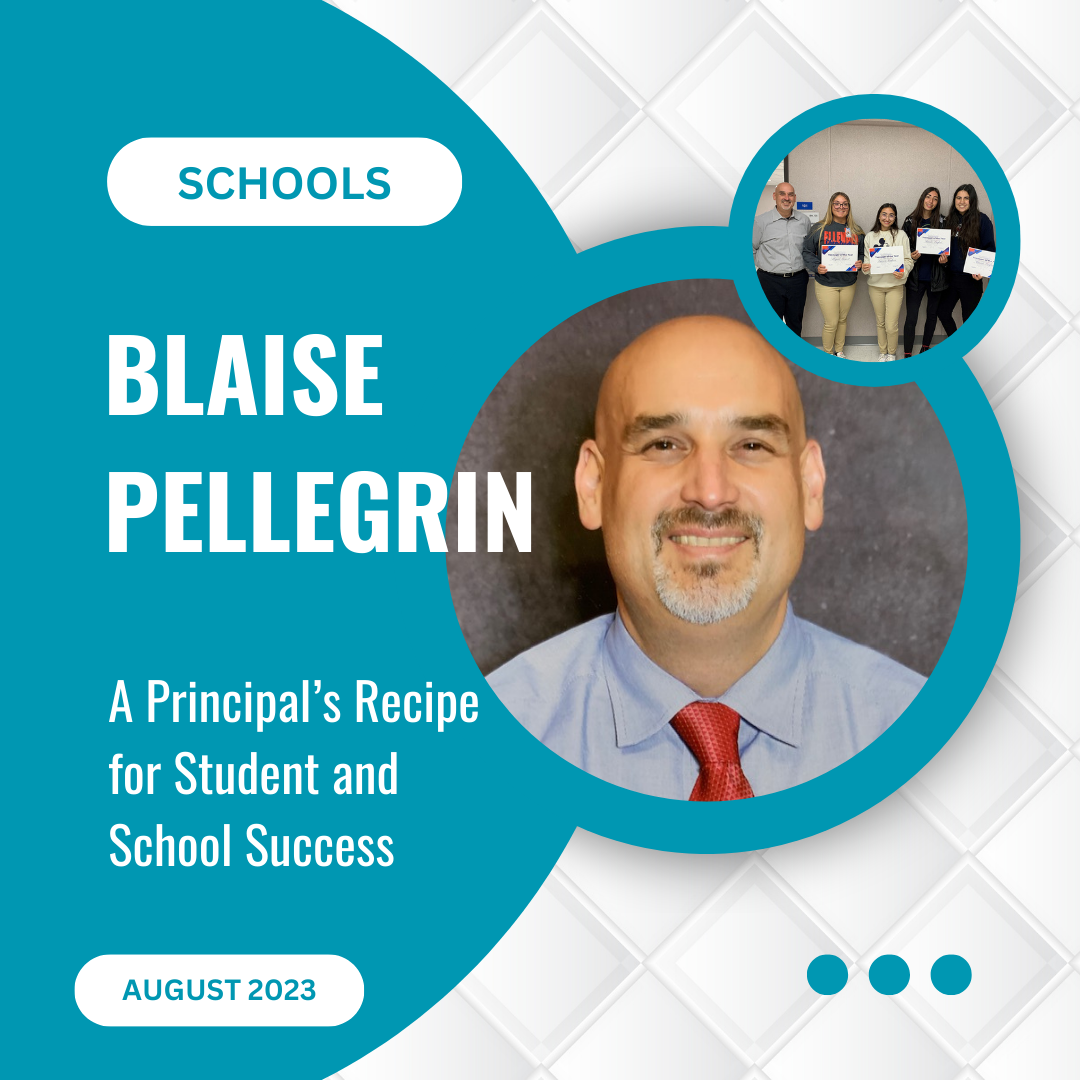 BLAISE PELLEGRIN
Terrebonne Parish School District
Ellender Memorial High
Supervisor of Special Education Services
Principal Ellender Memorial High
2024 Louisiana Principal of the Year Semifinalist
A Principal's Recipe for Student and School Success
As we open another school year, I want to acknowledge the myriad of challenges Louisiana principals face when getting their students ready for the future. To become productive members of the future workforce, students rely on us to create the opportunities that get them ready for that next step. As an avid cook who lives in South Louisiana, it is easy for me to look at this process in a way that reminds me of a good ole back porch crawfish boil. The challenge is to satisfy a large diverse group of people, all with their preferences, and only use one pot to accomplish this goal. So let's look into the recipe for student and school success that I've developed and continued to perfect over the past nine years as a high school principal in South Louisiana.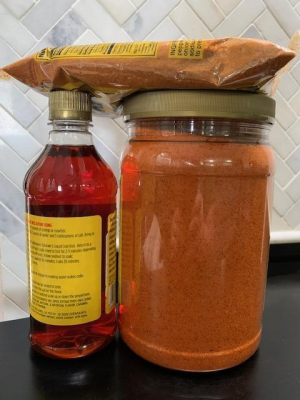 Makin' groceries and prepare for company
For a successful boil, you need to know who is coming and what they like. Whether it's figuring out how many pounds of crawfish you need or knowing Maw Maw can't have too much spice, it's all in the planning and preparation. Planning and understanding the needs of a diverse group of people is also a crucial first step for successful principals. As a principal, I have been tasked with not only graduating students on time but making sure the skills and diploma they earn has value. This means I must intentionally scaffold high-impact systems, structures and partnerships tailored to the student's next steps into each student's experience. Creating effective systems starts by examining which classes are offered in the school's master schedule and having my staff properly trained to teach tested subjects or credentialed classes. Then, my structures must support my "boiling crew" (administrators, coaches, teachers, and staff members) in a way that clearly defines their roles and what actions are expected so that the targeted results are produced. During planning, I must also align my budget/funding (Title I, sales tax, IDEA, etc…) in a way that provides the materials and training needed for the success of all students. Just like a boil, I can determine these areas of need for my school by reflecting on previous events/present trends (data) or simply ask for input (meetings or surveys). Multi-way communication is a key factor at this point so that all stakeholders feel heard, valued, and included. After all the planning and preparation, then it's time to light the fire!
Get boilin'
People in South Louisiana know the joy of what's to come once they hear the sound of a propane fire being lit under a boiling pot. They know that as that sound decreases over time until the fire finally blows out that there is something great coming their way. This is very similar to a principal opening a new school year or implementing a new plan. This is where the real work begins. Principals must inform our stakeholders of what we are doing and why we are doing it. We want teachers to be confident in their training and be prepared to teach. As I begin the implementation of my plan, it's just like hearing that pot being lit when the guests' mouths start to water. As the water begins to boil, I must consistently reflect on the effectiveness of my plan, make data-based adjustments, and work the crowd to make sure all stakeholders are experiencing success. Very much like making sure all guests at your boil enjoy visiting before the feast ahead of them, principals must include efforts to create and retain a highly-effective educator workforce. This can be done through professional development and teacher coaching that provides them with individualized support. This will create confidence in teachers that ultimately leads to effective teaching and learning that results in student growth. To create this culture, an important ingredient I add to the pot is teacher-led PLCs that are data-driven and include cycles of reflection/adjustment that result in effective classroom instruction. By giving them ownership, teachers will see that the analysis of their teaching and their creation of interventions will result in student growth. As they evaluate this progress, they must be willing to track student learning and not just the completion of lessons from pacing guides and create ways to effectively and efficiently remediate struggling students while challenging higher-level students. As the year begins, these processes start slowly, and as the year goes on, I turn up the heat to produce maximum effort by my teachers and students. Just like a crawfish boil, once I start boiling, I must monitor everything so that my "extras" aren't undercooked and the crawfish aren't overcooked. Timing and adjustment based on constant progress monitoring are critical for success. Once cooking is done then I can turn off the heat because…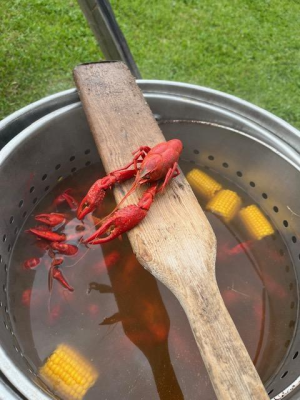 It's all in the soak
At this point, I can sit back and enjoy that the hard work is nearly done. All that is left is to allow time for everything in the pot to come together while I monitor their progress. With a crawfish boil, this is when I would adjust seasonings and conduct several taste tests while all of the items soak in the flavors. I am looking for a perfect balance. For principals, this is the time to provide support for teachers and students as we implement final test preparation strategies and review power standard skills that will most help students be successful. Principals and the "boiling crew" should also take some time to offer praise for the hard work already done by teachers and students to ensure that their confidence is peaking during this critical time. During this time, I also devise incentives to offer both groups so that they feel ready and able to perform without feeling stress or anxiety as they enter testing by planning dress-down days or school spirit events and inviting community groups and organizations to provide treats or special events in between testing. These events encourage students to do their best while also giving them time to have fun and help everyone's mental state during what can be a very stress-filled time. For my crawfish recipe, there has to be a balance of flavors so that the final product is the best it can be; for my students and staff, the same has to apply during this time of the year.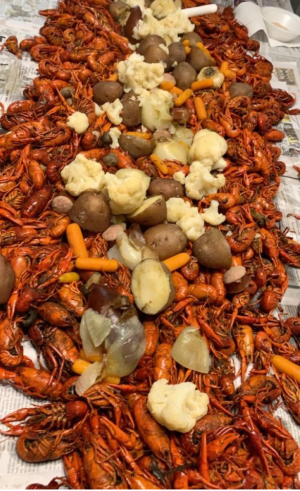 Come and get it!
Now is the time to enjoy the meal and the people I share it with. For principals, it is a time when we look at the final results and take time to celebrate accomplishments, awards, scholarships, and graduation with our staff, community, and students and their families. Just like the cook who enjoys the meal they have prepared for their guests, the principal should take time to enjoy celebrating the successes of their students and staff with their community. Once the meal is done and the guests start leaving, then it is time to begin evaluating successes and struggles. I must take time to reflect on the feedback from my guests and begin preparation to improve my recipe for the next boil.
Remember the main ingredients to this recipe are to create and cultivate high-impact systems, structures and partnerships that encourage students and staff to exceed their expectations and excel at everything they do.