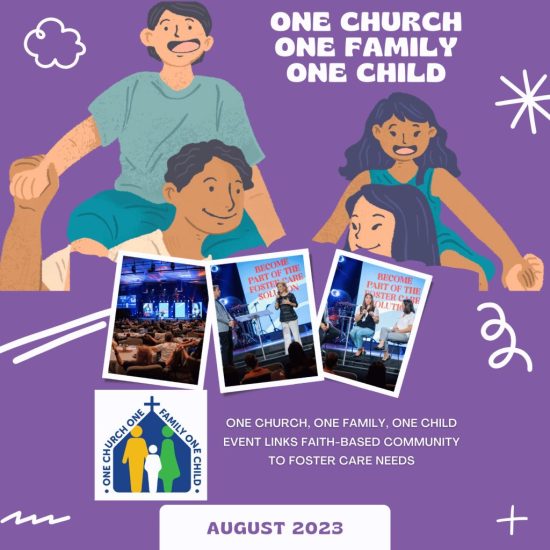 One Church, One Family, One Child Event Links Faith-based Community to Foster Care Needs
One Church, One Family, One Child
Event Links Faith-based Community to Foster Care Needs
Pastor Jonathan Stockstill and Bethany Church hosted the kick-off for One Church, One Family, One Child on Aug. 8, an initiative of First Lady Donna Edwards to connect the faith-based community to foster care.
Approximately 200 ministers and community partners gathered in Baton Rouge for the event. After a welcome from Pastor Stockstill, Gov. John Bel Edwards and First Lady Donna Edwards spoke to the crowd about the need for foster families, as well as the need to support families in the community who are fostering. First Lady Edwards encouraged attendees to step out in faith when called to serve. She was followed by DCFS Secretary Terri Ricks, who expressed gratitude to the Governor and First Lady, Pastor Stockstill and participants on behalf of DCFS and its staff.  
DCFS Assistant Secretary for Child Welfare Amanda Brunson shared the most pressing needs of children currently in foster care. Brunson explained that older youth, sibling groups and children with special or medical needs are harder to place in foster care than other children. Anna Palmer with Crossroads NOLA discussed how church families can support those in their church who are foster families. This can be something as simple as providing a meal or babysitting for a family in your congregation who is fostering.
Kim Bigler with James Samaritan shared a powerful message of saying yes when called to serve. Pastor Stockstill then closed by encouraging attendees to discover families within their churches who are fostering or who are willing to become foster parents, support nonprofit organizations who serve foster families, and engage with DCFS to learn more about the needs and how to meet them.
Attendees had a chance to visit with the following community partners: Cajun Clickers Computer Club; Connect 1 Child; Crossroads NOLA; Duffel of Dreams; Empower 225; The Forgotten Initiative; Geaux 4 Kids/Geaux Bags; Grandparents Raising Grandchildren; James Samaritan; Louisiana Baptist Children's Home; Love Acadiana; Moving Mountains Ministry; Northshore Enduring Hope and One Heart NOLA.
Anyone wanting to learn more about One Church, One Family, One Child can visit their website, and anyone wanting to become a foster caregiver or find out about how to support foster families in their community can visit dcfs.la/bethere.
August Adoption Spotlight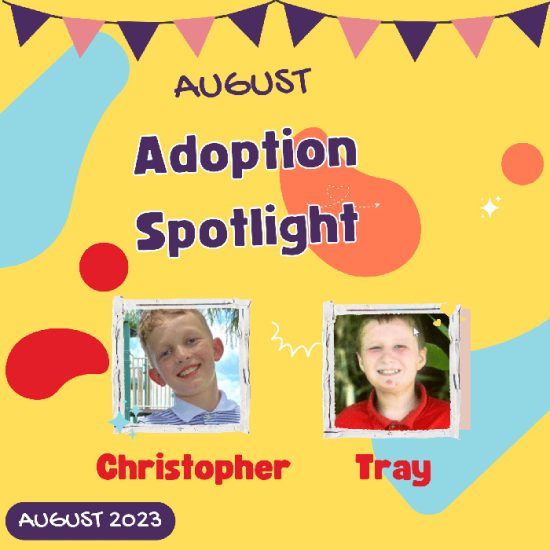 Each month we feature children and teens available for adoption in Louisiana.
We want to introduce you to Christopher and Tray from the Covington Region for August.
Christopher – 14
Christopher is a sweet and affectionate child with a huge smile. He enjoys playing outside, putting together puzzles and attending church and Sunday school. He is a fun-loving kid with a lot of energy and is looking for a forever family with a lot of love to give, because he wants to receive it. Christopher would love to maintain his family connection with his sister.
 Tray – 10
If you are considering adopting or fostering a child, take that first step by attending a free virtual orientation session. For more information about becoming a foster/adoptive parent and the training available, visit our website. You can also call your regional office or email DCFS.HomeDevelopment@la.gov with your name and parish of residence for more information.
Website: https://www.dcfs.louisiana.gov/page/adoption 
Regional Office: http://www.dcfs.la.gov/page/199