The Role of DEIA in Addressing
Human Trafficking
Written by Dr. Dana Hunter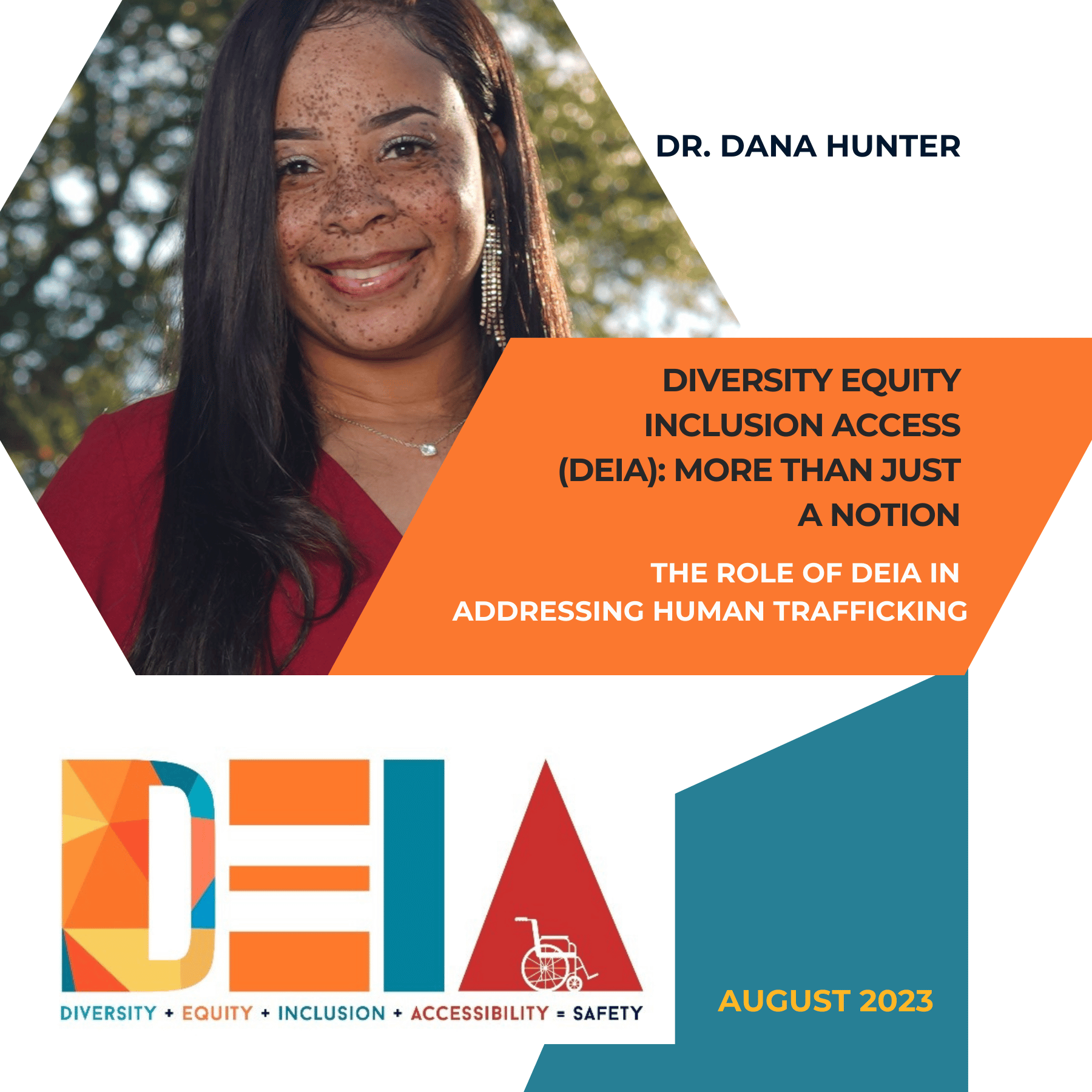 Diversity Equity Inclusion Access (DEIA): More than Just a Notion
Written by Dr. Dana Hunter

Office of Human Trafficking Prevention
Diversity, Equity, Inclusion, and Access (DEIA) is an increasingly popular framework in public-private sectors for the advancement of its principles. Historically, individuals from marginalized and under-represented communities often have been excluded from key decision-making roles, and the impacts of exclusionary policies have produced power balances in society and inequitable treatment of marginalized groups. Thus, the DEIA framework has been promoted to ensure fair treatment, empowerment, and inclusion of all people in the workplace, higher education, and beyond. What is the role of DEIA in human trafficking?   
Human trafficking is a form of power-based violence. Research indicates that people of color experience human trafficking and commercial sexual exploitation at higher rates. In 2022, data collected from service providers in Louisiana identified that 53% of reported victims were African-American. Further, research has consistently shown that marginalized groups are at higher risk of being trafficked, due to experiencing barriers related to low socio-economic status, language access, and/or discriminatory practices. Human sex and labor trafficking have garnered international, national, state and local attention over the last decade. However, the anti-trafficking movement is only beginning to integrate a DEIA framework into its messaging, policies, and best practices. Many questions remain: What are the lived experiences of victims and survivors from marginalized backgrounds? What are some of the lasting impacts of the complex trauma, and how does community trauma impact one's risk of trafficking? What are factors that promote long-term healing and recovery versus factors that perpetuate re-victimization? These questions only represent a handful of larger issues that DEIA principles, as a guide, may be poised to address.  
Furthermore, for human trafficking, a central component of a DEIA framework is the inclusion of survivors and individuals with lived experiences in the planning, development, implementation, and analysis phases of policy and practice. Survivor-informed or survivor-led practices posit the notion that victims are experts in their own right and should be contributors of knowledge and advocates of change. While professionals may not have all of the answers, it is important to understand that victims and survivors with lived experiences can assist with valid and relevant knowledge. The Louisiana Survivor Council, a five-member body of human trafficking survivors, was established in 2019 to uplift the voices of survivors in the statewide implementation of an initiative to raise awareness, educate and build a network of providers to address the issue. For more than four years, Louisiana's survivor leaders have been instrumental in developing a statewide resource directory to educate both citizens and professionals, including a standardized HT 101 training and enacting historical and monumental legislation providing greater opportunities for survivors healing and recovery. Survivor leaders are not only invited to the table, but they like other professionals are compensated for their time and expertise.  
It remains critically important for national, state and local leaders to include diverse voices at the table and to be intentional in prioritizing the shared knowledge of survivors. I believe, as we prioritize this practice, we can achieve better outcomes for our most vulnerable citizens and prevent human trafficking. To learn more about the work of the Louisiana Survivor Council and efforts to integrate a DEIA framework in Louisiana, please visit our statewide human trafficking website at humantrafficking.la.gov or email Dr. Dana Hunter at dana.hunter@la.gov.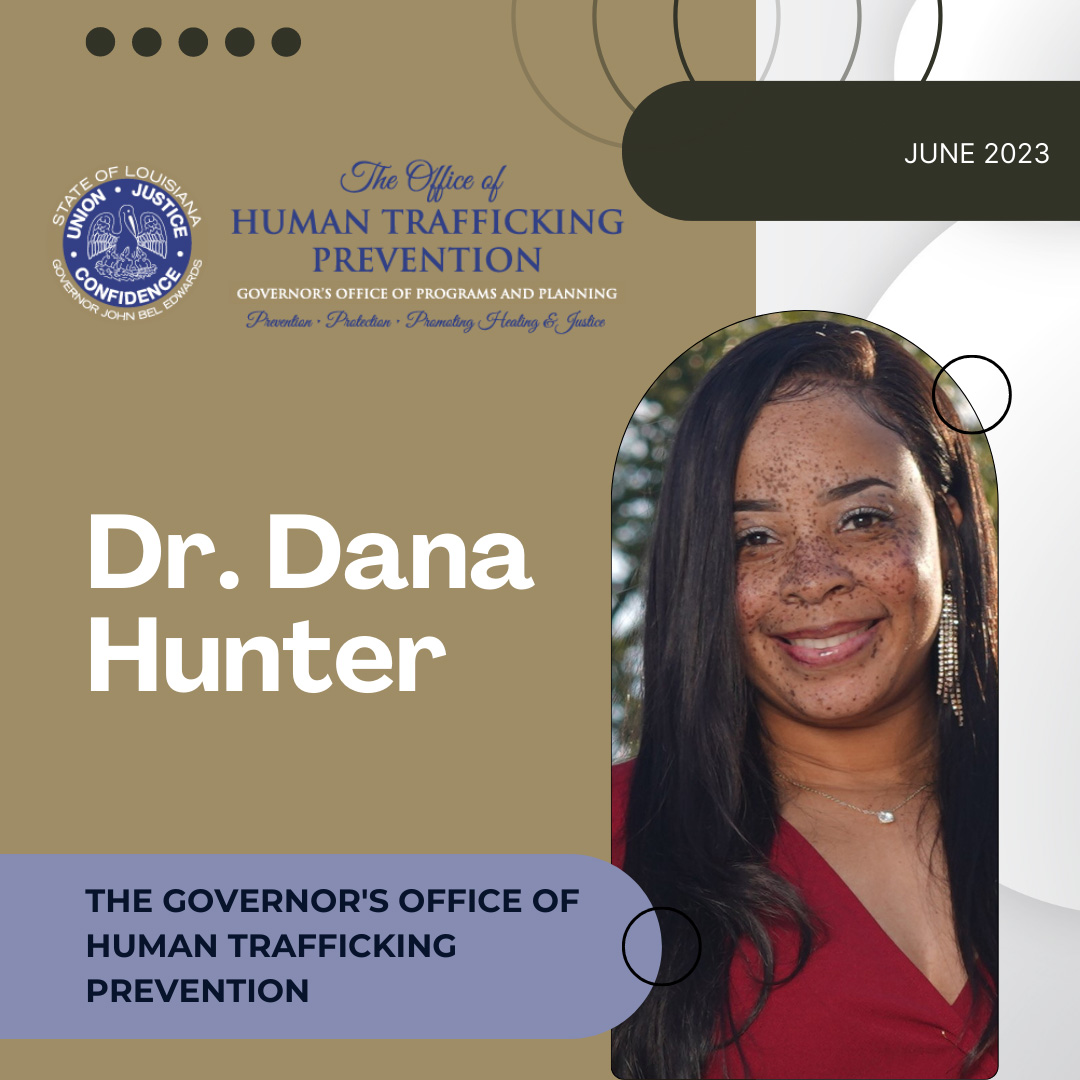 About Dr. Dana Hunter
Dr. Dana R. Hunter is a native of Baton Rouge, LA.  In February 2017, after serving in various leadership roles in academia and government, she was appointed by Louisiana Governor John Bel Edwards as the Executive Director of the Governor's Office of Human Trafficking Prevention. She works closely with Governor Edwards and First Lady Donna Edwards to facilitate statewide anti-human trafficking efforts and the Human Trafficking Prevention Commission.