Teach MAM: An Exciting Partnership to Strengthen Arts Education Across Louisiana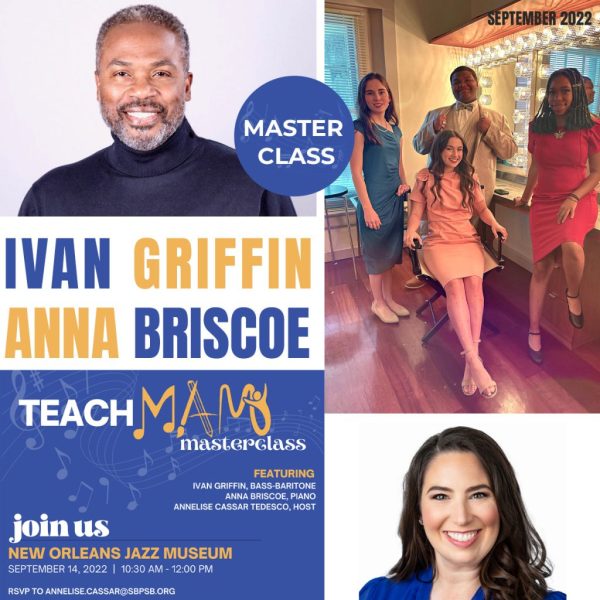 Teach MAM Master Class with guest artists
Ivan Griffin and Anna Briscoe
By Teach MAM Music Ambassador
Annelise Cassar Tedesco

"The enrichment that can be experienced in artistic environments is irreplaceable. I have worked for many years with my school, family, and community colleagues to create arts education opportunities for our own students, and I am encouraged to see the opportunities grow for students across our state as a result of Mrs. Edwards's vision and her choice to make arts education a priority for every child in our state."
-Annelise Cassar Tedesco, Teach MAM Music Ambassador
Louisiana 2022 Teacher of the Year

This month, on September 14, 2022, First Lady Donna Edwards and Annelise Cassar Tedesco, Louisiana's 2022 Teacher of the Year and Teach MAM Music Ambassador, hosted a Teach MAM Master Class with guest artists Ivan Griffin and Anna Briscoe.
This Teach MAM Master Class focused on various styles of vocal music, including musical theatre, spiritual, and classical vocal literature, and the event occurred at the New Orleans Jazz Museum. This arts education event was presented as a result of the partnership between Louisiana's First Lady Donna Edwards, The New Orleans Jazz Museum, NOCCA, and Arts Strong. The event was offered at no cost to attendees as a result of the generous sponsorship of the Louisiana First Foundation and was open to students and arts teachers from across the state. Students from Opelousas to Violet participated in the event. Segments from the event were recorded and will be made available as teaching resources in the future for students and teachers interested in performing vocal music.
The morning included a performance by the guest artists; an "Arts Strong" conversation, where Mr. Griffin sat down to a friendly interview with Mrs. Cassar Tedesco and audience members learned about Mr. Griffin's journey as a performing artist; and a master class featuring four high school and college students from across Louisiana. The program was followed by a reception that was catered by Chalmette High School's ProStart Culinary Arts Student Team from St. Bernard Parish and an opportunity to tour the museum.
Each of the four music students who performed in the master class showed great talent and artistry and were exemplary representatives of their families, schools, and communities.
Abigail Coker, a senior from St. Bernard Parish, who studies with  Annelise and Arianna Cassar in Chalmette High School's Musical Theatre and Vocal Arts Program called CHS Voices, performed "Vanilla Ice Cream" from the musical She Loves Me by Jerry Bock and Sheldon Harnick.
Brendan Jones, a rising freshman at Nicholls State University from St. Landry Parish, represented his music teacher Corliss Smith and will study with Dr. Valerie Francis at the university level. He performed "My good Lord's done been here" a spiritual arranged by Moses Hogan.
Jennifer Zuckerman, a senior at Lakeshore High School in St. Tammany Parish, represented the studio of Dr. Alissa Rowe. She presented the art song "Ah Love, but a Day!" from Three Browning Songs by Amy Beach.
Chantel Collins, a senior from Jefferson Parish, who studies with Phyllis Treigle and Mark-Anthony Thomas at NOCCA, sang "Bewilderment" with text by Langston Hughes and music by Florence Price.
The featured guest artists for the event were Mr. Ivan Griffin, bass-baritone, and Mrs. Anna Briscoe, piano. Both of which are accomplished performers and educators who have a passion for encouraging aspiring young artists.
The event created a beautiful time of enrichment where professionals, professors, and students all met together to grow and learn from each other and connect as members of the arts community of Louisiana.
Read more below about the artists and organizations who collaborated to produce this special event.  
About the Artists and Partner Programs
Ivan Griffin, Bass-baritone
Bass-baritone Ivan Griffin is a versatile artist who has been praised for his "excellent diction and superb sense of theater."(The Grand Rapids Press USA). He has delighted audiences in the United States, Europe and South Africa in both concert, operatic, and musical theater performances. During the 2016 40th Anniversary Celebration of Spoleto Festival USA he appeared in two historic productions. There he sang the role of Robbins in Porgy and Bess and The King in the world premiere of an operetta by Charleston's native son Edmund Thornton Jenkins; Afram ou La Belle Swita. He was recently featured in the title role of Ulysses in Opera Louisiane's re-telling of Monteverdi's Il ritorno d'Ulisse.
A familiar face to New Orleans audiences, Mr. Griffin has appeared with New Orleans Opera in such productions as Tosca, Madama Butterfly, Der Vampyr, La Boheme, La Traviata, Carmen, and Tabasco. He also performs regularly with New Orleans's OperaCréole. His orchestral appearances include the Orquesta Sinfonica de Minería and Orquesta Sinfonica de Mexico, South Bend Symphony, Louisiana Philharmonic, Nashville Symphony, South Carolina Philharmonic, Toledo Symphony, Symphony of Southeast Texas, and Flint Symphony.
Mr. Griffin has premiered several works written for his voice. They include Songs of Winter, a song cycle for baritone and piano, and The Little Thieves of Bethlehem (Centaur Records), both by Rochester, New York-based composer Paul Stuart. With the South Bend Symphony, he was the featured soloist for the world premiere of Requiem for the Innocent, an oratorio written in 5 languages for bass-baritone, chorus, and orchestra by Spanish composer Jorge Muñiz. Of his work the South Bend Tribune (USA) said, "Griffin was particularly heroic, maintaining his pacing and poise while switching from language to language and culture to culture."
Ivan is currently on the voice faculty at Loyola University New Orleans.
Anna Briscoe, Piano
Anna Briscoe is the music director and organist at St. Andrew's Episcopal Church.  She retired to New Orleans from Indianapolis where she was professor of piano at Butler University for thirty years. She taught Piano Literature and Piano Technique classes and has performed both solo recitals and as an accompanist. An accomplished performer, two highlights of her career are performing and recording on harpsichord and piano with the Moscow Chamber Orchestra while in Moscow and the performance of Rachmaninoff's Third Piano Concerto with the Indianapolis Philharmonic. She views collaborative performing as a unique art form to which she is particularly suited. Ms. Briscoe accompanied the acclaimed Indianapolis Children's Choir and traveled with them for seventeen years to various national and international performance engagements and continues to collaboratively perform with professional soloists and promising student artists from across the New Orleans arts community to this day.
Arts Strong
Arts Strong is a series of episodes created and hosted by Annelise Cassar Tedesco featuring guest artists who are joining Annelise to help address student needs in creating arts education opportunities, developing community across generations, and supporting student emotional health. Arts Strong guests share how their connection to art has made them stronger.
Arts Strong episodes are filmed with a live student audience and are available on the internet, free of charge, creating increased equity of access to arts education and emotional health resources. Visit www.twosistersoneart.com/arts-strong for episodes and more information.
The New Orleans Jazz Museum
Through dynamic interactive exhibits, mult-igenerational educational programming, research facilities and engaging musical performances, the music New Orleans made famous is explored in all its forms.
Housed in the historic Old U.S. Mint, strategically located at the intersection of the French Quarter and the Frenchmen Street live music corridor, the New Orleans Jazz Museum is in the heart of the city's vibrant music scene.
Through partnerships with local, national and international educational institutions, the New Orleans Jazz Museum promotes the global understanding of jazz as one of the most innovative, historically pivotal musical art forms in world history.
New Orleans Center for Creative Arts
New Orleans Center for Creative Arts is a regional, pre-professional arts training center that offers students intensive instruction in culinary arts, dance, media arts: filmmaking & audio production, classical instrumental music, jazz instrumental, classical vocal music, drama, musical theatre, entertainment production & design, visual arts, and creative writing, while demanding simultaneous academic excellence.
NOCCA was founded in 1973, with doors opening in 1974, by a diverse coalition of artists, educators, business leaders, and community activists who saw the need for an institution devoted to our region's burgeoning young talent. Admission to NOCCA's tuition-free programs is by audition only. For more information please visit our website www.nocca.com.
Teach MAM (Music, Art, Movement)
Teach MAM (Music, Art, Movement) is one of the initiatives led by Louisiana First Lady Donna Edwards to encourage schools to incorporate music, art and physical education courses in their daily curriculum and to encourage respect for the arts.  Studies prove that all three help develop the whole child and lead to success both in the classroom and in life. To create more opportunities for students statewide, Mrs. Edwards collaborates with three state arts educator ambassadors: Annelise Cassar Tedesco, Music; Carolyn Scalfano, Art; Keyre' Bradford, Movement