Teach MAM: An Exciting Partnership to Strengthen Arts Education Across Louisiana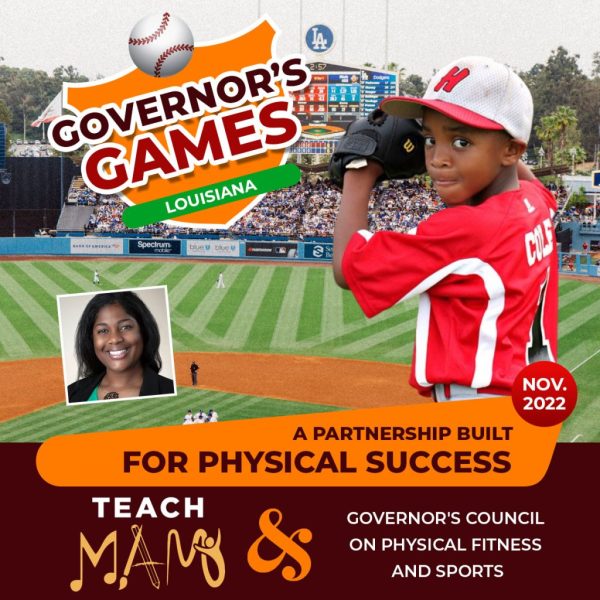 A Partnership Built for Physical Success
Teach MAM Initiative & Governor's Council
on Physical Fitness and Sports 
In August of 2021, the First Lady's Teach MAM Initiative partnered with D. Rudy Macklin, Executive Director with the Governor's Council on Physical Fitness and Sports. As you may know, the Teach MAM Initiative focuses on teaching movement, art, and music to students, encouraging them to learn in many ways. Honing the aspects of movement and being physically active as objectives, the Teach MAM Initiative has assisted the Governor's Council on Physical Fitness and Sports in accomplishing many events promoting movement in the past year.  
The mission of the Governor's Council on Physical Fitness and Sports:
Develop, foster, and coordinate services and programs of physical fitness and sports for the people of Louisiana;  
Sponsor physical fitness and sports workshops, clinics, conferences, and other similar activities;  
Give recognition to outstanding developments and achievements in, and contributions to, physical fitness and sports;  
Collect and disseminate physical fitness and sports information and initiate advertising campaigns promoting physical fitness and sports;  
Assist the Department of Education in helping schools in developing health and health and physical fitness programs for students; 
Encourage local governments and communities to develop local physical fitness programs and amateur athletic competitions;  
Develop programs to promote personal health and physical fitness in cooperation with medical, dental, and other similar professional societies;  
Enlist the support of individuals, civic groups, amateur and professional sports associations, and other organizations to promote and improve physical fitness and sports programs. 
The two entities have combined forces throughout the state to produce many student, youth, and adult events that promote and advocate for a physically active lifestyle.  
Here are just a few highlights of this year's events:
Louisiana Governor's Games
Louisiana Governor's Games (LGG) is the state's premier amateur sporting event, where sports enthusiasts from around the state and country participate in various athletic competitions. With 20 sporting events statewide, LGG provides an opportunity for competition and fitness for all ages, skill levels, and economic demographics. LGG is held in cities across the state, and events include basketball, volleyball, gymnastics, boxing, tennis, track and field, girls' softball, youth baseball, and much more. 
Several events fell under this category:
Governor's Games Baseball Mother's Day Classic 
Date Held: Saturday, April 23, 2022 – Sunday, April 24, 2022 
Location: Chalmette, Metairie 
Governor's Games Baseball City of Lights XVI  
Date Held: Friday, May 13, 2022 – Sunday, May 15, 2022
Location: Natchitoches, Shreveport  
Governor's Games Baseball XLIII Select Super NIT 
Date: Friday, May 20 – Sunday, May 22, 2022 
Location: Lake Charles, Sulphur
Governor's Games Baseball Remember Our Heroes 
Date: Friday, May 27,2022-Sunday, May 29, 2022
Location: Baton Rouge
18th Annual 2022 New Orleans Girl's Volleyball Blastoff
Date: January 15-16 2022
Location: New Orleans
Games Uniting Mind and Body (GUMBO) is an interscholastic track and field competition designed for children ages 5 to 18 who have physical or visual disabilities. The events are similar to any other track and field event: races, shot put, discus, etc. However, what makes GUMBO different is that all athletes have mobility or visual impairments, meaning that most compete with leg braces, wheelchairs, or assistance from sighted guides. The athletes competing in GUMBO do not have an intellectual disability. Eligibility for competition comes from having a physical disability or visual impairment, and athletes compete with athletes with similar impairments. GUMBO strives to support students with disabilities by developing active minds, self-confidence, dignity, discipline, competitive spirit, and comradeship. Like other competitive sporting events, GUMBO competitions challenge athletes to improve performance, strength, speed, endurance, and coordination. 
One of the largest student events that stretch across 20+ parishes is the Louisiana Schools Elementary Fitness Meet. This event is open to all elementary students who fall within the age requirements for the event. The competition consists of; 50-Yard Dash, Pull-Ups, Shuttle Run, Standing Long Jump, Curl-Ups, 600-Yard Run, Sit and Reach. 
Two boys and two girls from each parish will be able to advance to the Championships in May. 
Each student can score a maximum of 125 points in each event, depending on their personal performance. Each participant will be timed or measured in all seven (7) events. Once each parish holds its qualifying event, those students with the highest combined score can advance to the next level of the parish and then to the state level. 
One of the most successful Adult sponsored events is the Own Your Own Health Louisiana (OYOHLA) event. 
OYOHLA is a comprehensive health program designed to empower Louisianans to become active participants in their health and health care through healthy eating and activity and an overall healthy lifestyle. This program has been separated into three-month challenges such as weight loss and steps (physical activity). Each participant was asked to form teams of two to ten people or sign up as individual participants and begin achieving weight loss from a healthy, appropriate diet as well as accumulated activity in the form of a variety of tasks ranging from light exercise (e.g. gardening and walking) to heavy exercise such as running. 
OYOHLA starts in January and concludes in April in cities and towns of all sizes throughout Louisiana. While everyone was encouraged to participate, the program featured components specifically targeting minorities such as African-Americans, Hispanics, Native Americans, and Pacific Islanders. These groups are our most vulnerable populations and are more susceptible to obesity and chronic diseases, as well as related conditions e.g. diabetes, heart disease, stroke, preventable cancers, and many others. 
The OYOHLA program featured the challenges: steps, weight loss, and nutrition. The program is 100% free and web-based. Throughout the program, participants were encouraged to set realistic goals and make informed decisions about their health.
As you can see, there are many opportunities for students, youth, and adults to Get Up, Get Out and Get Moving! Take every chance you can to be physically active. There are many more programs available throughout the state. 
Visit these websites for more information and resources on physical activity, sports, and overall lifelong fitness, health, and wellness.