Louisiana Alliance of Children's Advocacy Centers Continues Partnership with the Governor's Office of Human Trafficking Prevention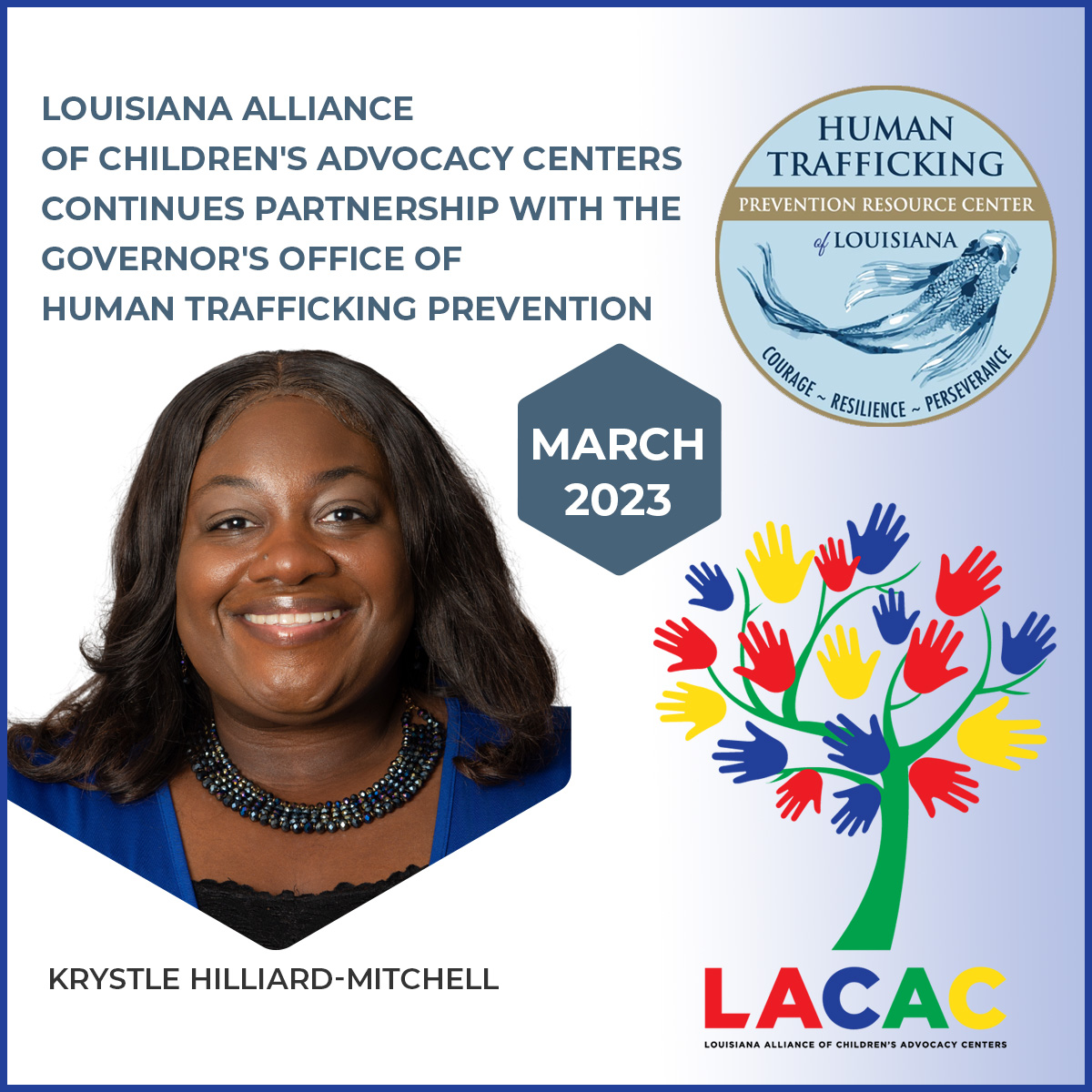 Louisiana Alliance of Children's Advocacy Centers Continues Partnership with the Governor's Office of Human Trafficking Prevention

Written by Krystle Hilliard-Mitchell

Interim Executive Director of the
Louisiana Alliance of Children's Advocacy Centers
The Louisiana Alliance of Children's Advocacy Centers (LACAC) and the Governor's Office of Human Trafficking Prevention have joined forces due to the great demand for services for human trafficking victims in our state. Through this continuing partnership, more than 700 clients have been served since the beginning of the supporting grant in 2020!
We are excited to continue our partnership with the Governor's Office of Human Trafficking Prevention under the Louisiana Child and Youth Trafficking Initiative-Accessibility Initiative (LCYTC-AI). The primary focus of this project is to create an accessible statewide care coordination model for small children and youth victims of human trafficking. This project will ensure that all children in Louisiana, regardless of their location or identity, have access to a comprehensive continuum of care.
Currently, ten Regional Care Coordinators (RCC) are deployed at various Children's Advocacy Centers (CAC) across the state. With the implementation of Act 662, which will continue to sustain the LCYTC project, the number of Regional Care Coordinators will increase to nineteen. This increase ensures that trafficked children and youth have access to high-quality, coordinated care. Our partnership with the Office of Human Trafficking Prevention is invaluable as it has expanded services to trafficked youth, fostered synergy among multidisciplinary team members, and further expands prevention education/outreach to rural and metropolitan areas across the state. Through this grant, LACAC has expanded strategic partnerships with the Department of Family Services (DCFS), Office of Juvenile Justice (OJJ), and Families in Need of Services (FINS) to better serve high-risk and trafficked youth. We have made tremendous progress in delivering service to those in need and look forward to continuing our efforts to end trafficking in Louisiana.
For more information about the LCYTC-AI Project or to learn more about Coordinators in your area, please visit lacacs.org.

ABOUT Krystle Hilliard-Mitchell
Krystle Mitchell is the Interim Executive Director of the Louisiana Alliance of Children's Advocacy Centers. In her role, Krystle oversees and directs the daily operations and strategic development of the Louisiana Alliance of Children's Advocacy Centers (LACAC). She is responsible for carrying out the mission and goals of LACAC and ensuring the successful execution of all programs, policies, and procedures. In addition, she works with the Board, staff, membership, and other vital constituents to mobilize and strengthen the awareness of child abuse and to provide a unified voice to elevate the collective priorities for Children's Advocacy Centers (CAC).
Krystle has over a decade of experience working with children and families. Of those experiences, the most notable are her time in the non-profit sector advocating for children and families, providing resources throughout the community, and assisting others on their road to justice and healing. Krystle is a native of the Mississippi Gulf Coast and married to Minister Horace Mitchell, Jr. She walks daily with her God-given purpose of helping and uplifting others in their fight against interpersonal violence.