WOMEN'S HEALTH BLOG
March 2023
Living Well through Proper Nutrition 
Eating a well-balanced diet that includes fruits and vegetables can promote healthier living. 
Proper nutrition starts with making informed choices that improve health. The benefits of a healthy diet not only include disease prevention and increased energy, but it also increases overall wellness. It is important for women to have access to healthy foods that are affordable. Being informed and knowing your individual needs can assist in developing better eating habits.
A Woman's Nutritional Health
Women have unique nutritional needs during different stages of life. The average calorie needs for women are between 1600 – 2400 per day. This varies based on physical activity, age, height, and weight. A woman's metabolism differs from a man's; women tend to have less muscle and more body fat.  
Young Adults. More calories are needed for growth and development during these years and usually decrease after age 25.
Pregnancy. Since the proper nutrients are essential to the development of a growing baby, pregnant women need folic acid, iron, protein, and calcium in their diet. Nursing mothers must also eat a healthy diet and increased water intake.
Menopause. The risk of chronic diseases such as heart disease, diabetes, stroke, and osteoporosis increases after menopause. 
Women going through menopause should consult their healthcare provider for guidance on proper diet and prevention.
Benefits of Proper Nutrition
Good source of essential vitamins and minerals
Reduces and prevents chronic disease
Helps to maintain a healthy weight
Influences family members to eat healthier
Energy source
Dietary Guidelines for Healthy Living (MyPlate.gov)
Vegetables – 2 ½ cups eq/day
Fruit – 2 cups eq/day
Grains – 6 ounces eq/day
Dairy – 3 cups eq/day
Protein – 5 ½ ounces eq/day
Oils – 27 grams/day
Calorie limit (other) – 240 kcal/day
Small Steps to Living Well
Gradually add a fruit or vegetable to each meal
Create a grocery list with healthy options
Drink water with lemon instead of sugary drinks
Reach for a healthy snack such as nuts, fruit, or low-fat cheese
Increase fiber, calcium, vitamin D, and potassium intake
Limit foods with added sugar
Eat a variety of food from all different food groups (fruit, vegetables, grains, dairy, and protein)
Reduce sodium intake
Eat foods rich in omega-3 fatty acids and low in saturated fat
Living a healthy lifestyle begins with small steps. Staying informed about your health is a great way to make gradual changes and make healthier food choices. As you implement these recommendations, you are on your way to living a well-balanced life.
Websites for additional resources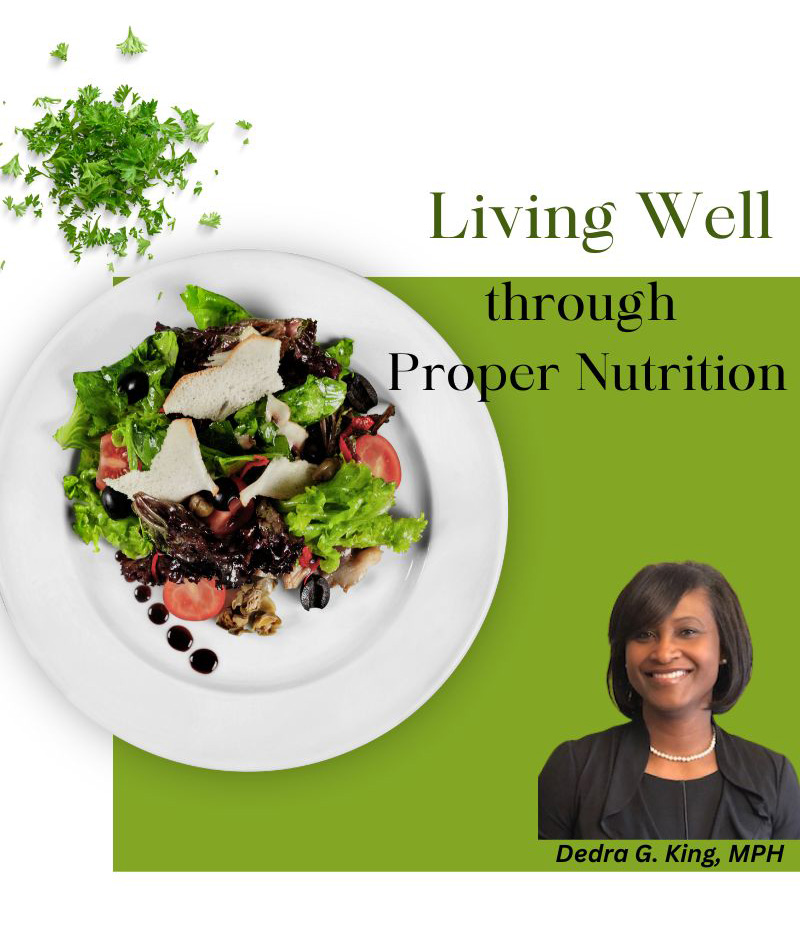 About Dedra King, MPH
Dedra King has worked in the healthcare industry for over 30 years. She earned her bachelor's degree from Nicholls State University and a Master of Public Health from Tulane University. Dedra is a Review and Education Manager for a large physician medical group. She enjoys working in the community to promote healthier lifestyles and is passionate about patient advocacy.