Teach MAM: An Exciting Partnership to Strengthen Arts Education Across Louisiana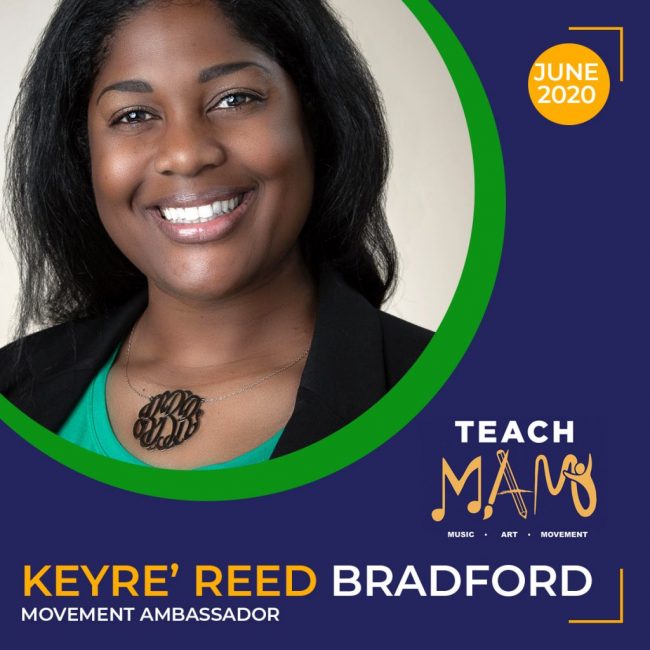 Keyre' Reed Bradford
Movement Ambassador
Louisiana First Foundation (LFF) is excited to announce the addition of our "Movement Ambassador" to our Teach MAM team of ambassadors. Keyre' Reed Bradford is a Health and Physical Education teacher at Ridge Elementary School in Duson, Louisiana She also serves as an Adjunct Kinesiology Professor for the University of Louisiana at Lafayette.  Keyre' teaches and advocates the importance of being physically active and continuing physical movement at all levels and age groups. With over two decades of experience, she strives to educate others on the importance of being physically fit. As one of the 2019 State of Louisiana Teacher of the Year Finalists and State of Louisiana Certified Mentor Training Teachers, Keyre' believes that being physically fit will:
Increase the academic performance of all students.
Reduce stress levels
Improve attention levels and focus levels
Promote awareness of health and nutrition
Increase social assimilation
Keyre's personal mission is to continue to advocate the importance of having quality health and physical education programs within the schools. Through her work she has partnered with LAHPERD (Louisiana Association for Health, Physical Education, Recreation, and Dance) to educate minds, promote positive attitudes towards lifetime physical activity, fitness, and sports and developing healthy bodies.  With a quality physical education program in place, students will be empowered with the knowledge and skills necessary to make responsible lifestyle choices that directly impact their health and well-being for the rest of their lives.  Through mentoring and teaching, her goal is to help kids gain a solid foundation of living a healthy and active lifestyle and lifelong wellness. Keyre' teaches her students, colleagues, and members of the community that all people can become physically active at any age and increase the longevity and quality of their life. She holds a Master's Degree in Educational Leadership, Bachelor's Degree in Kinesiology and Bachelor's Degree in Behavioral Science.
Look for more to come from Keyre' as she takes on the responsibility of the Teach MAM Movement Ambassador for the 2020-2021 school year!