WOMEN'S HEALTH BLOG
June 2020
Empowering Women
For Wellness
Written by Kimiyo Harris Williams, MD
Reclined in my deep crimson chair, feet up on its matching tufted leather ottoman, on this relaxing late Sunday afternoon, I reflect on the current state-of-our nation and the world. I breathe, watching the raindrops fall from the grayish-white sky, seeing full branches on the trees wave and the blooming lavender petals of my Agapanthus blow in the rhythm of the wind, and think of life's rhythms. Inhaling the sweet aroma of fresh spring air and wet grass through my window, slightly ajar, I ponder, "What a difference four months has made?"
At this moment in time, the "simple" things mean so much. It is a time to reflect and consider the experiences and relationships that impact our lives. As we focus our attention on women, I reflect on a woman of great importance in my life. It was late-March of this year, in the midst of the onset of the COVID-19 pandemic, and I was practicing self-care, enjoying a few minutes of live Instagram music, when I received a call. My friend's words are unforgettable: "I am at the hospital. I am having trouble breathing, and I have fever." I remember her weak voice so vividly. The music stopped instantly.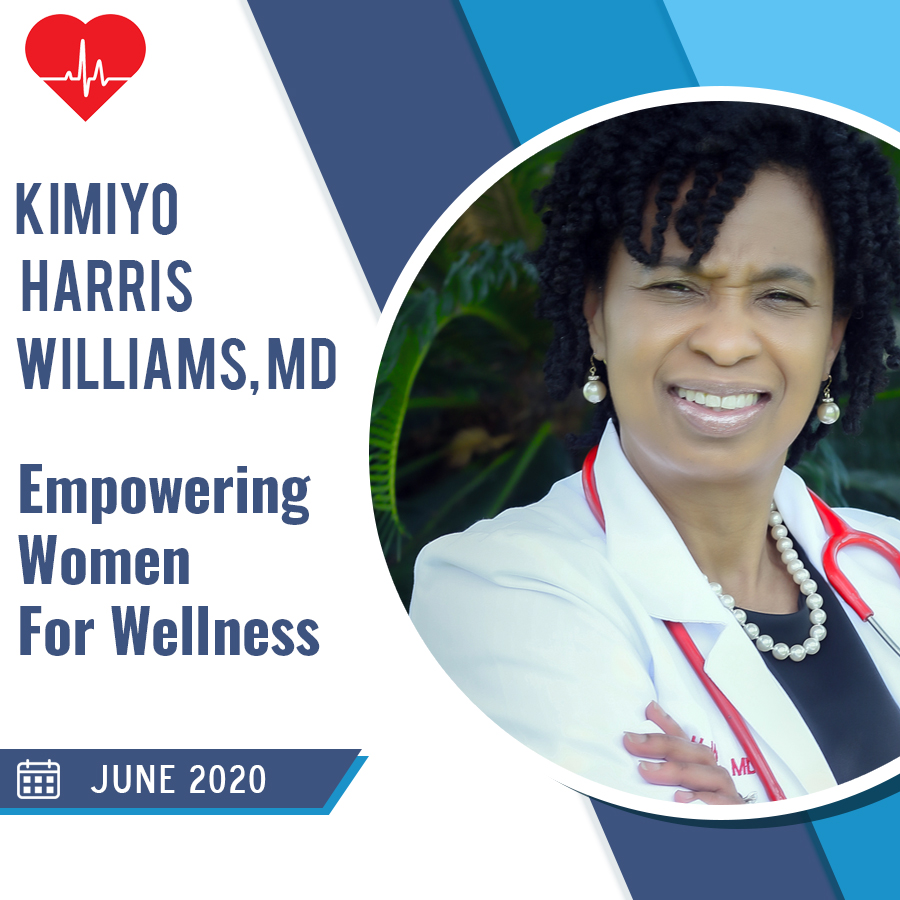 Unfortunately, too many of us can tell a similar story. Each and every one of our lives have been impacted by COVID-19, both directly and indirectly. There were times when I didn't want to answer the phone or view social media, for fear of learning that another family member, friend, or acquaintance had been diagnosed. However, thankfully, even though the reports of positive diagnoses were growing, the calls reporting recovery increased.
The consistent pattern that remains, though, is the disproportionate rate of morbidity and mortality from COVID-19 among people of color, who historically have higher rates of the underlying conditions that lead to COVID-19-related deaths. As of the writing of this blog post, according to the Louisiana Department of Health (LDC), there have been over 43,000 cases of Coronavirus, over 2,800 deaths, and over 33,000 presumed recoveries in Louisiana. Deaths related to COVID-19 are distributed among the races as follows: 53.9% Blacks; 43.48% Whites; 0.78% Asians; and 1.56% Other/Unknown. 46% of these deaths were of women; 54% were of men.
According to the CDC, the limited data we have suggests that "chronic lung disease, moderate to severe asthma, cardiac disease with complications, diabetes, or immunocompromising conditions" are the highest underlying co-morbid diseases for those who suffer the greatest impacts from infection by COVID-19. Older people who suffer from these preexisting conditions are at a significantly greater risk for poor outcomes among those diagnosed with the novel Coronavirus.
Among a great number of people who do not have these preexisting conditions, the virus generally causes mild infection, and many are asymptomatic. Recent data also suggest that women have better outcomes as opposed to men.
The fight against COVID-19 was an exhausting battle for my friend, who already struggled with a chronic heart condition. It took all that she had to combat the virus, which kept her in the hospital for 17 days and took away her ability to walk independently. As her symptoms rapidly progressed at home, it was a mutual friend who encouraged her to seek immediate medical attention. While she was in the hospital, I spoke to her almost every day and tried my best to empower her in her fight against COVID-19. I kept the conversations positive and encouraged her to eat and stay hydrated and to reach out to her minister for spiritual support. I spoke to her physicians, as her advocate, helping her to understand her medical plan and make decisions regarding treatment, which empowered me to help her as well as others in my life fighting COVID-19. We all have to step in and be our sister's keepers during this pandemic.
As the novel Coronavirus curve flattens in Louisiana and we begin to re-open, we must continue to follow the CDC's guidelines for "Opening Up America Again" and Louisiana's guidelines to OpenSafely, as well as those of our local governments and public health departments. When considering returning to work, if you have questions, contact your healthcare provider or check out The New England Journal of Medicine article "Is It Safe For Me to Return to Work?" Clinicians consider patients' occupational risk of contracting the novel Coronavirus and any underlying chronic disease when advising their patients as we return to work. To learn more about risk factors, you may also visit the CDC page "People Who Are At Higher Risk."
It is important for us to keep in mind that medical experts predict a second wave of COVID-19. It is vital for women to become more intentional about our health. We have to act now to improve our health to combat the potential poor outcomes from COVID-19. I suggest a few simple changes that can have a great impact on improving our health:
1. Drink more water.
2. Eat more fruits and vegetables.
3. Eat less processed foods.
4. Exercise 30-45 minutes a day.
5. Consume less sugar/sweets.
6. Get enough sleep.
7. Visit your doctor for regular checkups and keep follow up appointments.
8. Reduce Stress. Check out Mayo Clinic's "Healthy Lifestyle: Stress Management" for ideas.
Before implementing any of these recommendations, consult with your healthcare provider.
Remember to take small steps at a time. Celebrate your victories. Do not get discouraged because every day is a new day!
As the sky transitions into a charcoal gray color, my window-view of the green trees and purple flowers fades into the night's shadow. As I listen to the melody of the insects' song and a cool breeze blows through the window, I feel a sense of calm and confidence that we will overcome, just as my friend did. We have the strength to win. Start now by loving yourself enough to walk in wellness.
Self-Love is Healthy Living!!! I am My Sister's Keeper!!!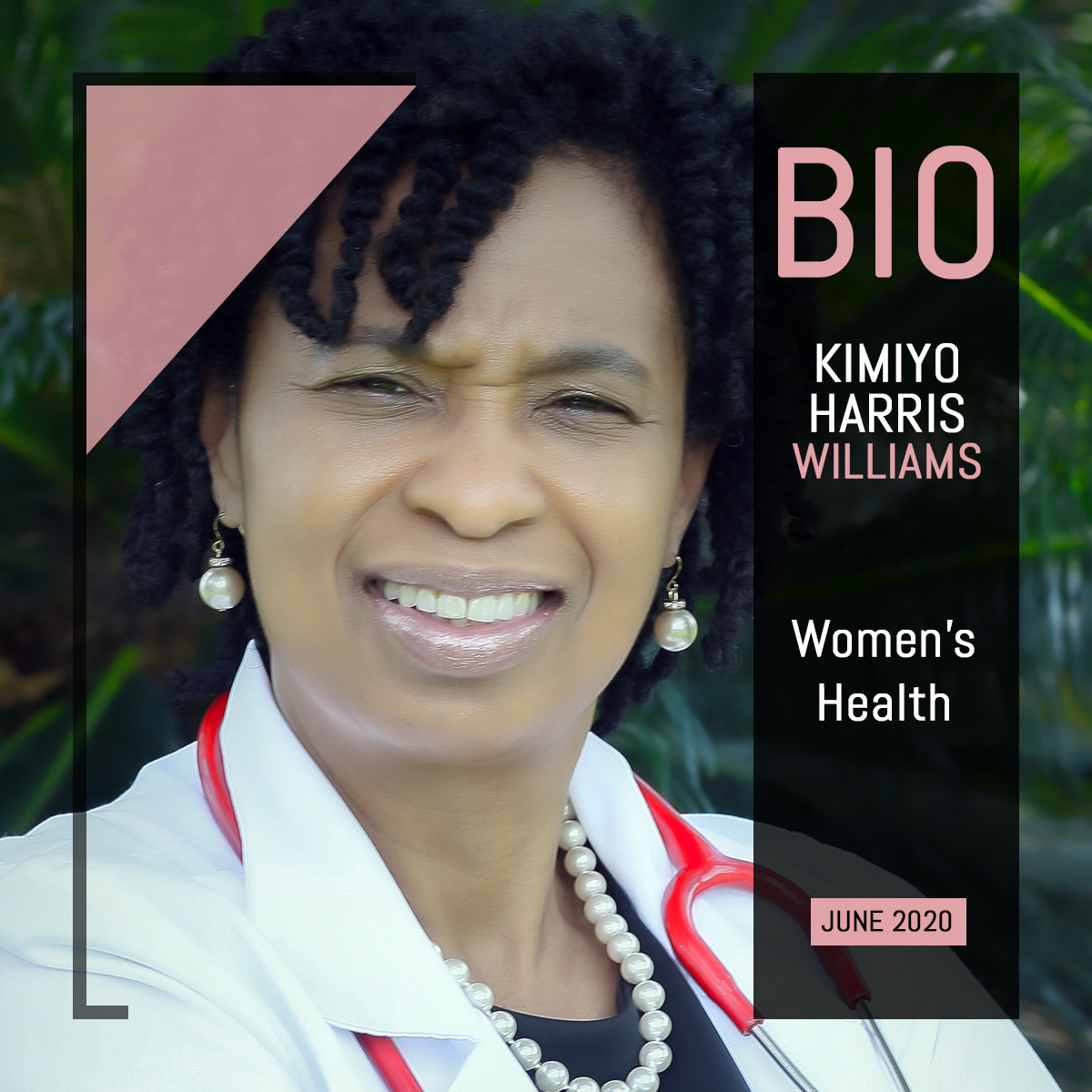 Kimiyo Harris Williams, MD
Kimiyo Harris Williams, M.D. is board certified by the American Board of Pediatrics and a Fellow of the American Academy of Pediatrics. She is a native of New Orleans, LA. Educating her patients and encouraging healthy habits has been the foundational framework of her practice of medicine. She strongly supports health advocacy and empowers her patients and their parents to be intentional regarding their health and wellness. She received her Bachelor of Science degree in Biology/Pre-Medicine from Xavier University of LA.  
Upon completion of her studies at Xavier University, she embarked upon a career in research in the department of Pulmonary Critical Care at Louisiana State University School of Medicine. Her desire to transition her career to clinical medicine led her to pursue a Doctorate of Medicine degree. She received her Doctorate of Medicine degree from Louisiana State University School of Medicine, New Orleans and completed her pediatric residency training at Children's Hospital in New Orleans and LSU Health Sciences Center Pediatric Residency Program.  
Dr. Williams' career includes both academic and clinical medicine over the past 20 years. She has served as a faculty member at Phoebe Putney Memorial Hospital's Family Practice Residency Program in Georgia as an Assistant Professor in the Department Of Family Medicine, Mercer University School of Medicine. Thereafter, she was in private pediatric practice for over 15 years. She has been recently appointed as a Public Health Equity Ambassador by the Louisiana Department of Health.
Additionally, Dr. Williams is a Louisiana Center for Health Equity (LCHE)Board Member , affiliated with the Delta Research and Educational Foundation Research Matters Program under the National Institutes of Health All of Us Research Program and the CEO of K.H. Williams Enterprises, INC. She was the inaugural author of the Women's Health Section in First Lady, Donna Edwards' Louisiana First Foundation's (LFF) monthly blog.
Additionally, she has been a featured author of several additional articles in multiple LFF Blog publications. Dr. Williams was honored to present the Keynote Address at the Louisiana Women's Day and Retreat at the Louisiana State Capitol in the Governor's Press Conference Room in May of 2018. In May 2020, Dr. Williams served as a guest speaker and panelist for National Women's Health Week "More Power: Women at the Polls and in Policy" Women's Day Webinar hosted by LCHE.  
As an entrepreneur and co-owner of a private pediatric practice for over 12 years and CEO of K.H. Williams Enterprises, Inc., Dr. Williams has  an opportunity to exercise leadership, organization, financial fortitude and vision. K. H. Williams Enterprises, Inc. was created out of a desire to provide mentorship, education, medical services and consultation. Personally, Dr. Williams cherishes being a wife, mother of two sons, bonus mother of three and grandmother of three. She truly has a fulfilling life. Taking time to embrace and cultivate relationships both personally and professionally are very important. Moreover, she is dedicated to continuing to serve the community.    
Her personal mission is "Embracing Professionalism and Community with Compassion."