Louisiana Institute for Children in Families:

Madeleine Landrieu
Louisiana Institute for Children in Families
Madeleine Landrieu
Madeleine Landrieu, Dean at Loyola University New Orleans College of Law and retired state court judge has long been an advocate for kids from hard places – kids who experience trauma and violence, kids whose parents are unable to care for them due to mental illness or addiction, kids who, through no fault of their own, find themselves in Louisiana's foster care system.

A particular moment inspired her to launch an organization making a difference here in our state on behalf of these kids.
Dean Landrieu had invited several former foster youth to speak to judges about their experiences in foster care. One of the speakers, Jetaine Hart, was 26 years old, self-assured, and employed. She had beaten the odds. She bravely spoke to the judges about how only 3% of her peers who age out of care attend college and how 3 in 5 become homeless within a year of aging out.  She then mentioned her excitement over recently learning she might soon be adopted.  An experienced and dedicated judge asked Jetaine to explain why, with her success and at her age, she still desired adoption.  She responded, "Who do I call when I get a raise? Who do I call when I get a flat tire on the side of the road?  It's just not right to not have a family."  

"Jetaine had a real impact on us." said Dean Landrieu. "I realized then that we could make a difference if we just let these young people share their own experiences; let them talk directly to judges, to legislators, to governors, to those in a position to make change happen. No one can tell their story quite the way they can."   

So, Dean Landrieu, together with foster parent, Kim Carver and Rep. Walt Leger (D-New Orleans), founded the Louisiana Institute for Children in Families. Each year, the Institute hosts a Foster Youth Internship Program that gives young people the opportunity to work at the Louisiana State Capitol during the legislative session.   They work with members of the bipartisan Foster Care and Adoption Caucus which is chaired by Rep. Walt Leger and Sen. Ronnie Johns (R-Lake Charles), in support of legislation that affects the lives of kids in care.  

Seven interns have worked in this program so far. They are credited with the passage of Senate Bill 129, which expanded the age of foster care to 21 for those still in high school or working toward a GED.  Sen. Ryan Gatti (R- Bossier City), the author of the bill, said: "It would not have passed if they hadn't shown up." (read more here)  These interns have also inspired legislation that will be introduced this year to expand the age of foster care to 21 for all kids in care. (read more here)

Sen. Regina Barrow (D-Baton Rouge), a member of the bipartisan caucus, invited the interns to testify before the Select Committee on Women and Children:  "The testimony of those young people changed the way I do my work," she said. Another member of the caucus, Sen. Beth Mizell (R-Bogalusa) summed up the impact of this program after hearing the interns' testimony during session:
"I just want to thank each one of you for putting a face on what we usually see as a statistic. We usually get some little number of what's  going on and either it makes us feel good or bad, but your three faces have brought that number to life for us." – Senator Beth Mizell
As I travel across the State, I am inspired by all who work in and support our foster care system.  These are our kids.  They are in our care.  They deserve our very best.  The Governor and I are honored to support the Louisiana Institute for Children in Families.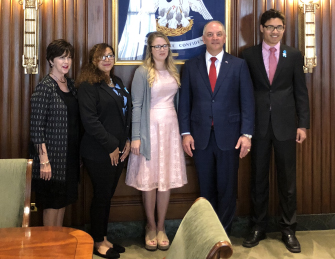 DCFS Secretary Marketa Walters and Governor John Bel Edwards
with FYI's, Aliyah Zeien, Tiffany Stitt, and Ian Marx