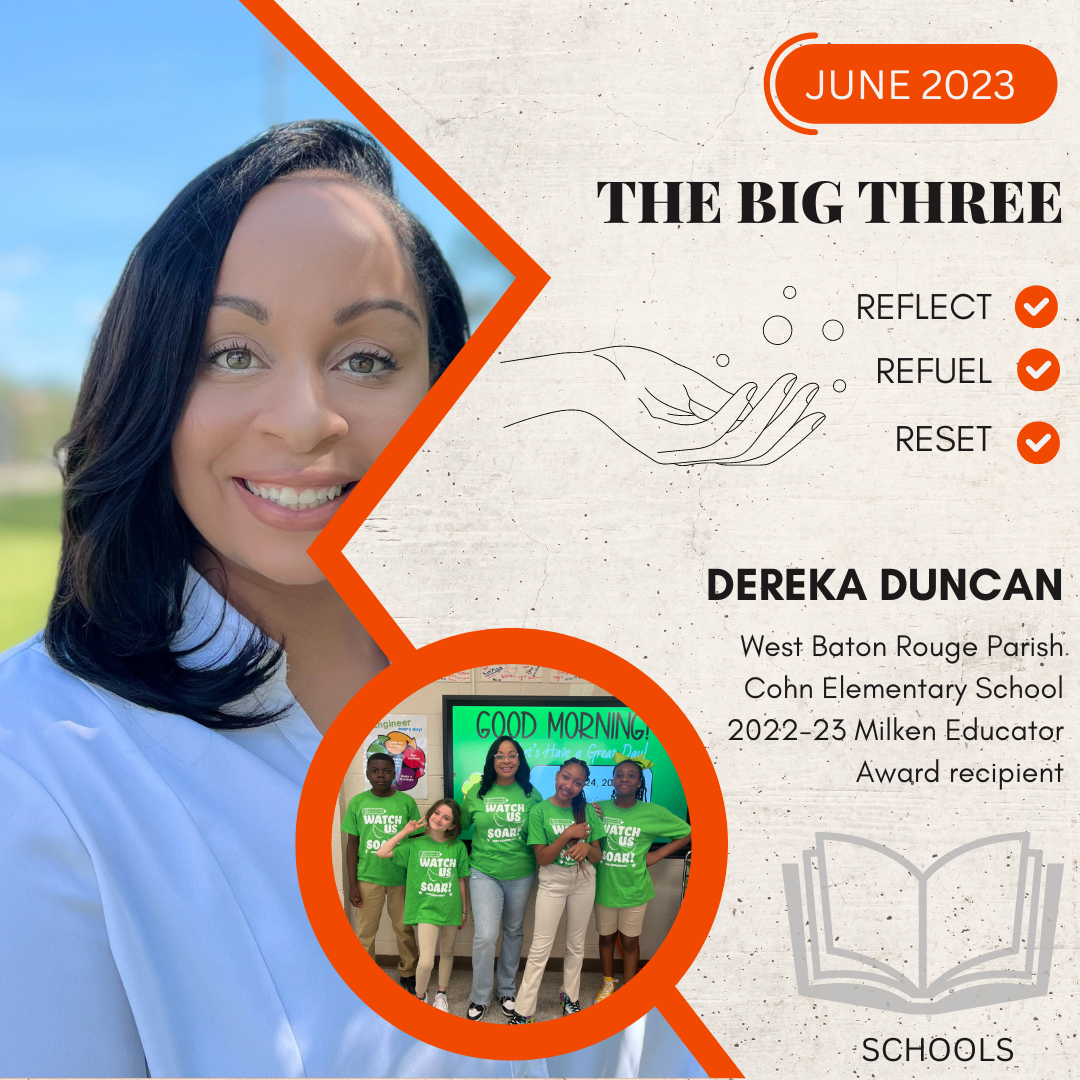 DEREKA DUNCAN
West Baton Rouge Parish
Cohn Elementary School
2022-23 Milken Educator Award recipient
5th Grade Science
THE BIG THREE:
Reflect, Refuel, Reset
Dear teachers,
Wow! It is hard to believe that the summer is finally here! You deserve a standing ovation for working hard this school year for your students. I am sure you are filled with emotions; Excitement, relief, and pride! Like many educators, I look forward to the summer break! It is the time I use to recharge for the next school year. I usually take the first few weeks to relax and binge-watch TV. However, it is only a short time before I refocus my energy on preparing for the upcoming school year. I plan for the next school year without stress, distractions, or pressure. I am most productive during this time and contribute to this approach. The three things I plan to do this summer are reflect, refuel, and reset. Below are some things I do and some tips for you to consider.
Reflect:
After teaching all year, I reflect on my instructional practices and my student's learning experiences. I review what strategies worked and the overall student performance. Sounds familiar? That same reflective process is also vital for an educator's mental health. With that, here are some things for consideration. Reflect on your mindset and practices. How much time did you devote to planning? How often did you focus on the negatives rather than the small wins? Reflect on the relationships with students and fellow educators. Reflect on how you balanced work and home. Reflect on how well you attended to your students' social-emotional needs, family, and YOURSELF. Think about whether or not you need an intervention. Or did you master it? Reflection allows us to accept the truth and consciously choose to improve. Reflection provides room for growth. Reflective practices are beneficial, and research shows that educators that perform reflective practices demonstrate more growth in the classroom. Reflection empowers one to learn from their experiences and promotes development. Now is the time to reflect. I often ponder if there's anything that I would like to change about this past school year. Is there anything that worked exceptionally well that may benefit others? Please reflect as well and plan your next steps.
Refuel:
Being a fantastic teacher requires lots of creative, effective, and transformative energy! How do you refuel yourself? Do you like to read, sew, dance, or travel? Do you enjoy pampering yourself or dining with friends? However, if you choose to refuel yourself, make sure it's enough to "fill up your cup." I live on Sundays. I enjoy coordinating outfits with my family and attending church. Then, we head to our favorite spots to enjoy Sunday brunch. The conversations, laughs, warm, savory pancakes, and many family pictures overflow my bucket. I am sure my husband and my boys hate to match each Sunday, but they know the little gesture is what refuels my soul. As educators, we often pour out of our cups to the point we leave little for ourselves. This pouring leads to frustration, fatigue, and teacher burnout! We should all use the summer to exhale. Focus on you and the little things that bring you joy. Now, some of us cannot stay away from school. We take pride in planning and getting organized. That's fine. But, think of ways to refuel while doing schoolwork. Listen to your favorite jam while working or plan at a local coffee shop instead. Commit to dedicating double the amount of time to yourself as you do to school work. We deserve this moment. Let's do it!
Reset:
Imagine you're in the middle of writing an essay, and your computer freezes. Of course, you wouldn't just throw the computer away. You would troubleshoot. You'd likely turn it off and allow it to reset before powering it on again. As educators, we should allow ourselves to reset. Throughout the school year, we are often charged with many daily tasks that add to the workload of instructing our students. We wear many hats and often do it with a smile while our motherboard is crashing internally! I challenge you to take a moment to reset when problems arise. Think about your why and refocus. I often document my student's learning experiences in photographs and videos. It's refreshing to go back and look at those memories and reflect on how I felt in those moments. Those memories provide an opportunity for me to reset. Whenever you feel overwhelmed with the profession, think about your driving force as an educator and allow yourself to meditate upon it to make yourself anew. As educators, we have the power to make a difference! No matter the circumstances, don't give up on your why. I encourage you to reset and remember what drove you to this career.
I hope you found these tips helpful. I plan to utilize this approach throughout the summer and revisit each step as necessary throughout the upcoming school year. I encourage you to do the same. This summer, focus on YOU as you Reflect, Refuel, and Reset! I hope you enjoy your summer and wish you a prosperous 2023-2024 school year!