Louisiana National Guard
Education Program
Calling for Outside Help:
Key in Student Success

Written by Timberly Deville
I remember the first time I felt like I had really made a difference in a student's life. I was an English teacher for years before moving into administration, and it wasn't when an honors student wrote a killer essay or when a student made Mastery on an EOC or LEAP test. I had been really wracking my brain on how to engage some of my students whose minds, for whatever reason, seemed more difficult to captivate than usual. I'd tried all of my tricks! Group discussions, think pair share, real-world applications, brain breaks – you name it, I had tried it. As an English teacher, I tended to feel a little isolated from the "fun" stuff. It wasn't until I went to our biology teacher down the hall and said, "How do I get them to really sink their teeth into Henrietta Lacks?" The unit alone was incredibly rich and interesting, but somehow it wasn't connecting with each of my students. I was lucky enough to have a phenomenal Biology teacher on my floor who happened to be teaching a unit on cellular growth, and she had the brilliant idea of having her (our!) kids test samples of yeast for growth and replication. Our amazing Civics teacher jumped in and connected his unit on Politics and the Citizen to civil rights in the time period Henrietta was alive. Our Home Economics teacher followed suit and used the idea of growing active yeast to help create masterpieces in the kitchen. So our students were able to connect the powerful story of Henrietta Lacks to almost every discipline, and seeing the connection class after class cemented the idea that not only can we reach every student, but sometimes all we need is a little outside help to do it.
I've since moved into administration as the Education Coordinator for the Louisiana National Guard Education Programs (LANG EP), but I can tell you – that idea is even more impactful here. Our programs work with communities to engage at-risk youth across the state to reach every child – we are the "little help" schools and families call in to connect some of the most at-risk students to success.      
A great example of this is our STARBASE program. LANG EP has three in the state – one in Pineville at Training Camp Pineville (formerly Camp Beauregard), one in Rosedale, and one at Jackson Barracks in New Orleans. Primarily serving the surrounding area's 5th-grade students, STARBASE is a one-of-a-kind educational program that fuels young minds with boundless potential, igniting a passion for science, technology, engineering, and mathematics (STEM). To see STARBASE in action is to witness, first hand, lightbulbs going off in students' eyes and those lightbulbs staying lit! Through captivating lessons, students dive deep into the worlds of robotics, coding, aerospace engineering, and more, developing a deep understanding of these disciplines and their applications. Whether they're designing and building rockets, programming intricate algorithms, or collaborating on team projects, STARBASE cultivates an environment that nurtures curiosity, fosters teamwork, and instills a sense of wonder about the world around them. Another bonus to the program is that teachers visiting with their students for the week also gain unique STEM professional development at no cost to their schools or districts. The partnerships between STARBASE and their surrounding districts are invaluable and will help shape a future where all Louisiana students have a chance to contribute to the scientific and technological world around us.         
While STARBASE may be a starting point for some Louisiana students, other students may first benefit from LANG Education Programs by way of the Youth Challenge Program. Louisiana was one of the pilot states for the residential program in 1993 (preparing to celebrate its 30th anniversary!) and has led the way in reclaiming the lives of at-risk youth since then. Focused on 16-18-year-olds, students from across the state gather at one of our three locations – Camp Minden (Minden, La.), Training Center – Pineville (formerly Camp Beauregard), and Gillis W. Long (Carville, La.). Just like Louisiana's classrooms, YCP participants are equally diverse, hailing from all parts of the state and representing all demographics of students. The 22-week residential phase of the program focuses on its 8 Core Components – Academic Excellence, Life Coping Skills, Job Skills, Responsible Citizenship, Leadership/Followership, Health & Hygiene, Service to the Community, and Physical Fitness. During the residential phase, Cadets have access to two academic pathways – HiSET and Course Choice Credit Recovery (CCCR). HiSET has, historically, been a great fit for those students who may struggle in the traditional school setting, want to complete their High School Equivalency Diploma, and are ready to make their way in the world. CCCR is a more recent addition, having over 300 Cadets graduate through that pathway since its inception in 2017. This pathway is an excellent fit for students who may simply need the structure of YCP to get back on track and, while doing so, work on their high school courses with the plan of returning to high school and completing their High School Diploma.             
The Post Residential (PR) Phase lasts for 12 months and begins once the Cadet graduates from the 22-week residential program. It is during this time that their PR caseworker and community mentor help graduates find and maintain placement in the communities they are returning to. Success for each of these graduates may look slightly different, but in most cases, YCP has been the "little help" that communities needed to call in to show students what success can look like. And what does that look like? Since LA YCP began, it has had almost 27,000 graduates to date. That's 27,000 students contributing to their neighborhoods, their employers, and their state that may not have otherwise! To further break down that success, 58% of graduates go straight into employment, 29.5% immediately continue their education, 4.5% enlist in the military, and 8% enter into some combination of these. Additionally, with a HiSET pass rate of 83%, YCP is not only Louisiana's partner in education but a premier program at that!             
The final step in completing the LANG Education Programs experience is the Job Challenge Program (JCP). Only eligible to YCP graduates aged 17-21, this comprehensive program offers a unique combination of academic instruction, hands-on training, and professional development opportunities, providing participants with the skills and knowledge necessary to excel in the workforce. While its own program, JCP's structure and programming make it the logical next step (or even an extension) to YCP. Conveniently located at Gillis W. Long, the Job Challenge program focuses on enhancing participants' academic foundation while honing their practical skills. Through vocational training and industry certifications, participants gain practical skills in areas like construction, healthcare, and information technology, setting them up for success in specific career pathways such as Culinary, EMT, Phlebotomy, Welding, and Heavy Equipment Operation. While JCP is also a residential program and structurally styled after YCP, JCP leans a bit more toward a college experience for Trainees, and the residential stay depends on the length of time each credentialing program lasts. For example, one pathway's IBC may take 12 weeks while another takes 20 weeks. In both cases, Trainees are working towards valuable industry-based credentials while still benefitting from the structure and programming of yet another premier LANG EP program.
Moreover, the Job Challenge Program places a strong emphasis on personal growth and character development, and ultimately, JCP prepares young individuals for meaningful employment and lifelong success, equipping them with the tools they need to thrive in today's competitive job market.
The Louisiana National Guard Education Programs hold a wealth of opportunities for Louisiana's students. Whether exploring the mysteries of today's world with hands-on activities at STARBASE, focusing on personal growth through the structured, supportive environment of YCP, to taking their first step into the working world and earning industry credentials at JCP, LANG Education Programs is proud to be a vital "helping" partner in Louisiana students' success and, regardless of which program or location they're at, it's a place where our children can flourish and make a positive impact on the world around them.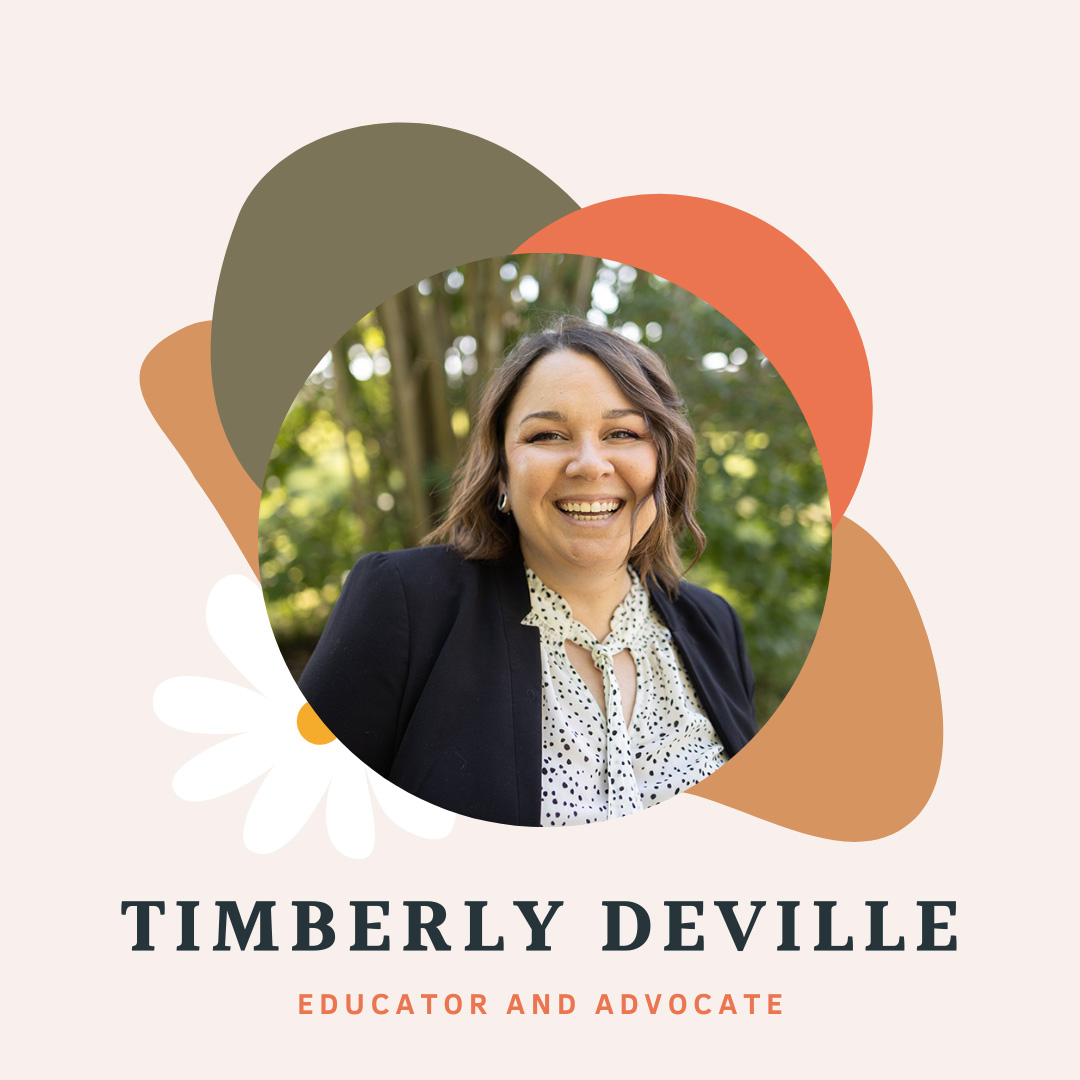 About Timberly Deville
Timberly Deville, an accomplished educator and advocate for underserved populations, has almost 15 years of experience in education and administration. She has received numerous awards such as District Teacher of the Year and the LA Military Department Exceptional Performance Award.
In her current role as Education Coordinator for seven LA National Guard programs and Lead Instructor Chair for the NGB Youth Challenge National Training Committee, she forms partnerships with organizations like LDOE and LCTCS and provides both state and national professional development for educators. Additionally, as part of the National Guard's Joint Diversity Executive Committee, she helps create and deliver NGB's Diversity and Inclusion Plans.
Timberly is a 2021 and 2022 STAND Lead Fellow, President of the Alpha Pi chapter of Delta Kappa Gamma, and holds a BLS in English, an MS.EdL in Educational Leadership, and will graduate next year with an Ed.D. in Educational Administration from the University of Southern Mississippi.