GET A GAME PLAN:
Hurricane Preparedness and Human Trafficking Prevention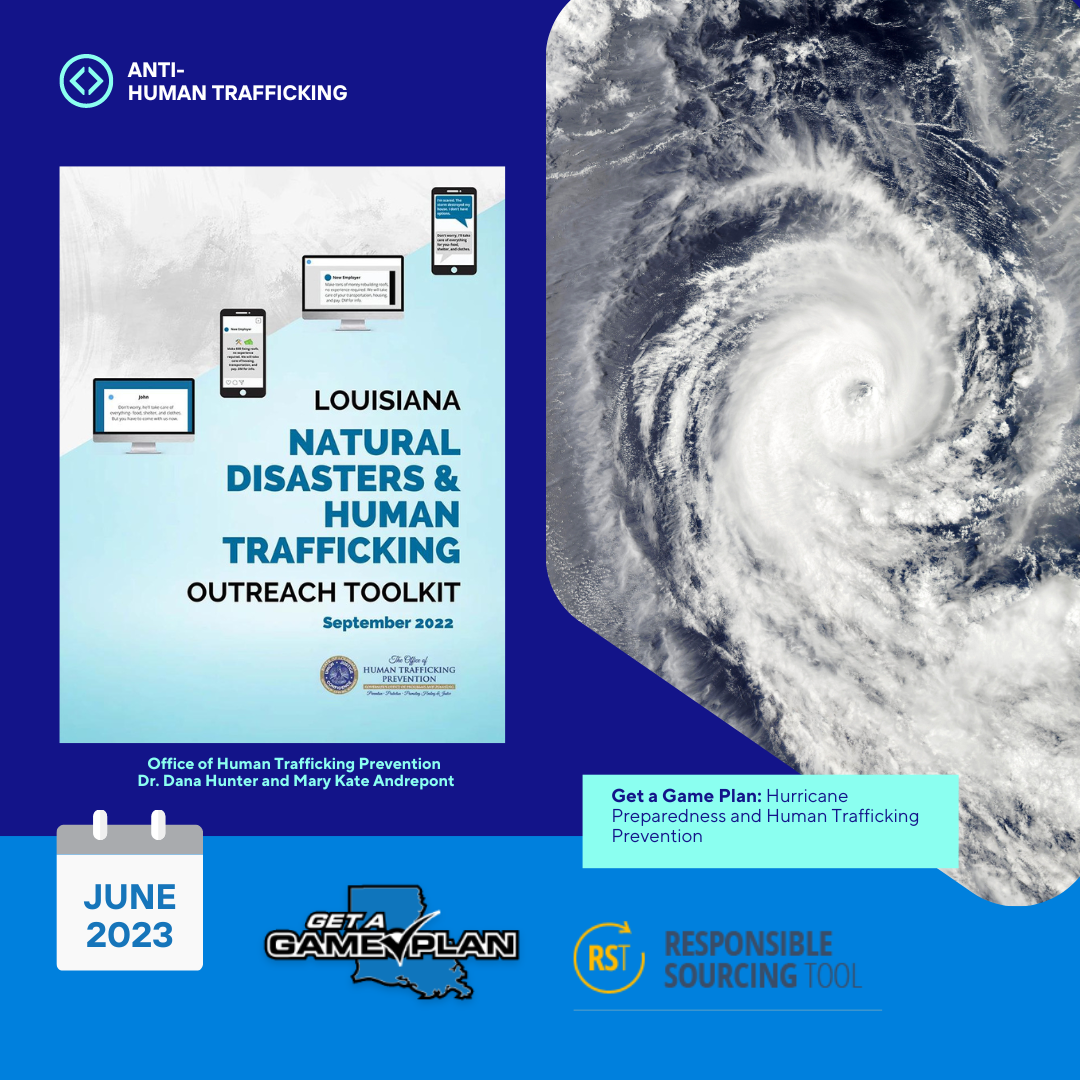 GET A GAME PLAN:
Hurricane Preparedness
and Human Trafficking Prevention
Written by Dr. Dana Hunter and Mary Kate Andrepont
Office of Human Trafficking Prevention
Hurricane season is now upon us. In the aftermath of disasters, human trafficking is an unexpected crime that can occur. As we saw after Hurricane Katrina and, more recently, Hurricane Ida, traffickers seek opportunities to exploit disaster survivors and vulnerable communities. Understanding how traffickers target disaster survivors is critical to protecting your family, community, and businesses. 
Hurricanes can provide a ripe environment for human trafficking to occur due to its often devastating impacts, including: housing instability and displacement, economic insecurity, and job loss, disruption in social services, and weakened governance and/or labor regulations. In the immediate aftermath, traffickers may recruit victims through false job advertisements or an informal employment opportunity– including engaging in commercial sexual activity– in exchange for shelter, food, or other basic needs. During the recovery and rebuilding stage of disaster response, high labor demands often lead to the recruitment of migrant laborers to engage in debris cleanup, demolition, and construction. One study conducted by the University of California-Berkeley found that 25% of construction workers in post- Katrina were undocumented. [1] This aligns with many bodies of research and accounts from direct service providers that employers largely target a migrant labor force to fill temporary jobs after a disaster. In post-Katrina recovery, labor exploitation and labor trafficking were rampant, with notable cases involving debt bondage, false promises of pathways to immigration, unpaid wages, unlivable housing conditions, and threats of violence. 
Before a storm hits, it is important to identify resources and Get a Game Plan for your family and community. For organizations serving vulnerable communities, it is essential that we educate clients to recognize false or fraudulent job opportunities, to know their rights, and to implement disaster preparedness and safety planning. For businesses and employers, companies operating in high-risk fields for labor trafficking– such as construction, hospitality, and agriculture– are critical to labor trafficking prevention. To prevent and address trafficking in your company, please consider adopting strategies from the U.S. Department of State's Responsible Sourcing Tool. To raise awareness of human trafficking in the aftermath of natural disasters, please download the Louisiana Natural Disasters and Human Trafficking Outreach Toolkit. Modeled after FEMA's phases of emergency management, the toolkit includes awareness flyers in English, Spanish, and Vietnamese; social media messaging and images; a client help card for direct service providers to disseminate; resource lists; and an implementation guide. Together, we can protect our communities against labor exploitation and human trafficking. 
If you or someone you know is working and cannot leave because of lack of payment, debt bondage, threats of arrest or deportation, or violence, you have rights. Free help is available. Call the National Human Trafficking Hotline toll-free at 1-888-373-7888 or text 233733. Interpreters are available via phone call. 
  [1] Fletcher, Laurel E., Patrick Vink, Phuong Pham, and Eric Stover. 2006. Rebuilding after Katrina: A Population-Based Study of Labor and Human Rights in New Orleans. Berkeley: University of California, Berkeley.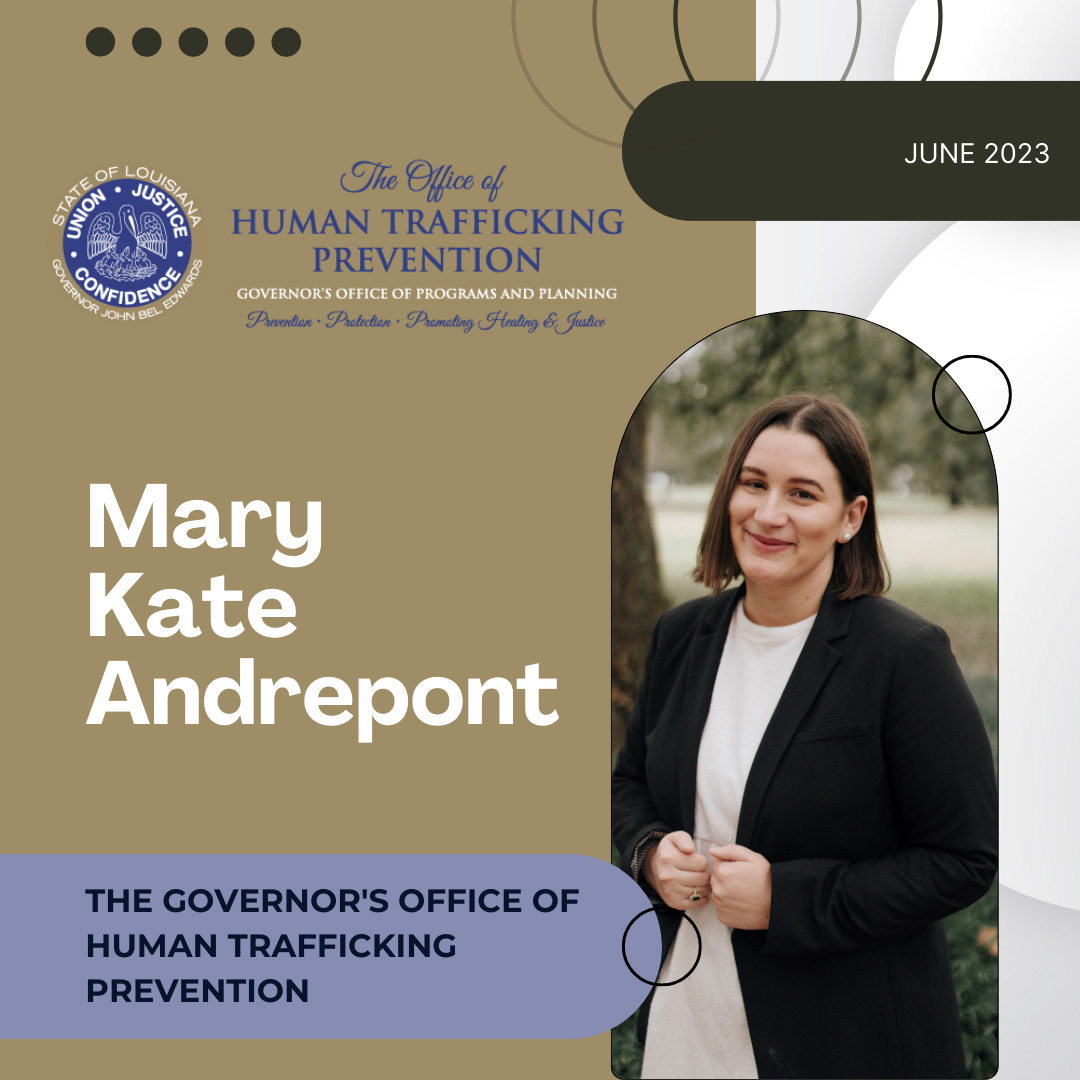 About Mary Kate Andrepont
Mary Kate Andrepont is a Program Manager of the Louisiana Governor's Office of Human Trafficking Prevention. As a program manager, Mary Kate coordinates statewide efforts to prevent human trafficking and address the complex needs of survivors. She is passionate about creating strong systems and proactive responses that are victim-centered and trauma-informed. Prior to serving in the Governor's Office, Mary Kate coordinated two federally-funded direct service grants for victims of human trafficking in Louisiana.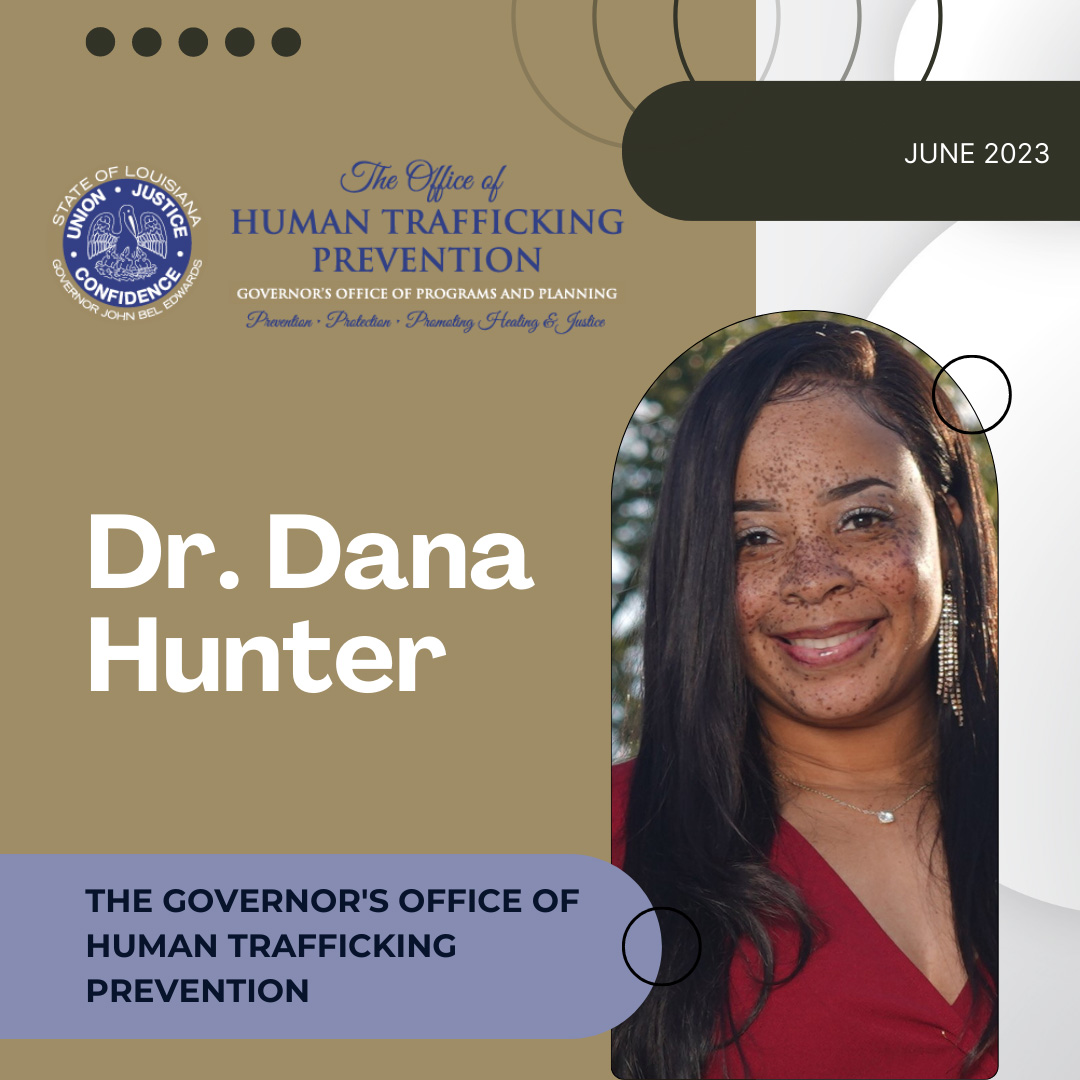 About Dr. Dana R. Hunter
Dr. Dana R. Hunter is a native of Baton Rouge, LA.  In February 2017, after serving in various leadership roles in academia and government, she was appointed by Louisiana Governor John Bel Edwards as the Executive Director of the Governor's Office of Human Trafficking Prevention. She works closely with Governor Edwards and First Lady Donna Edwards to facilitate statewide anti-human trafficking efforts and the Human Trafficking Prevention Commission.