My Community Cares Initiative to Expand Statewide


On March 1, the Department of Children and Family Services (DCFS), along with the Pelican Center for Children and Families and Casey Family Programs, joined judicial and community partners to launch the expansion of My Community Cares (MCC) statewide.
MCC is a community-driven, neighborhood approach to strengthening families and preventing child abuse and neglect in Louisiana. It gives local communities a voice in developing prevention strategies to keep children safe and out of foster care.  
"MCC is a way to trust communities to know what they need and share responsibility for child safety and overall well-being," said DCFS Secretary Terri Ricks. "When communities share in decision-making and responsibilities, our children benefit."
MCC program pilots started in Caddo, East Baton Rouge, Livingston, and Rapides Parishes, where more children were entering foster care. It will expand into all nine regions across the state into neighborhoods with high reports of abuse and neglect and a high rate of out-of-home placements.
Realizing DCFS cannot do prevention work alone, MCC calls on community partners to help families stabilize and become self-sufficient. The initiative brings together individuals with lived experience in the child welfare system, community members, judges, child advocates, attorneys, service providers, schools, businesses, emergency responders, healthcare providers, churches, and non-profit agencies to work alongside DCFS.
MCC also creates a unique partnership between the state, local communities, and the court system. Juvenile judges have praised MCC for assisting with their caseloads and reaching children and families before they become a part of the system. 
"The courtroom is not the place to help restore a broken family," said Honorable John C. Davidson, 9th Judicial District Court, Rapides Parish. "My Community Cares allows us to engage the families upstream and meet them in their current position in life. The program allows us to ask what you need and how we can help you without telling our families what they need from our perspective. This work allows us to have honest conversations about the needs of our community and build relationships that help families thrive."
If you are interested in more information about MCC, please email mcc@pelicancenter.org.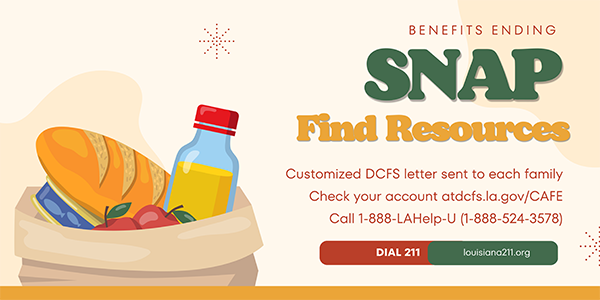 Pandemic-Related Extra SNAP Benefits Are Ending
– Contact 211 for Assistance
For the first time since 2020, Louisiana families will not receive pandemic-related extra benefits for the Supplemental Nutrition Assistance Program (SNAP) due to federal legislation that ended funding for the extra benefits. With SNAP COVID extra benefits ending, there are things families should do, such as reviewing their information and considering additional means of assistance. If a family is struggling because of the reduction in benefits, they can contact 211 to find out about food pantries and other food assistance sources in their area.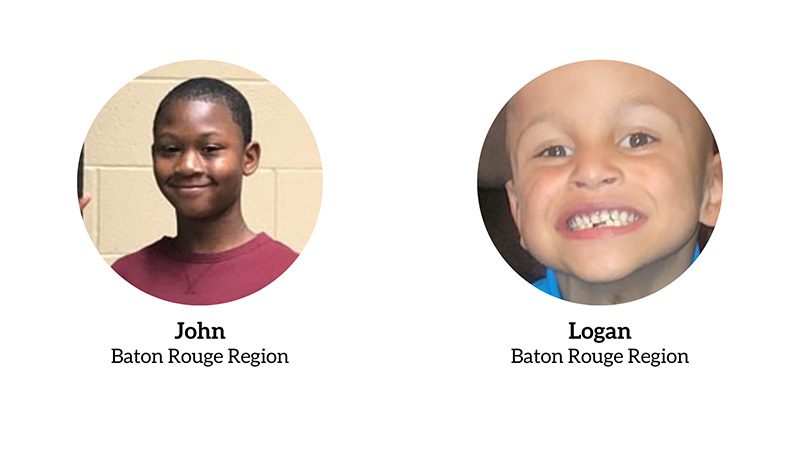 Each month we feature children and teens available for adoption in Louisiana. We want to introduce you to John and Logan from the Baton Rouge Region for March.  
John is 11 years old. He enjoys school, and his favorite subject is Math. He likes outdoor activities, especially football. He also likes to read books and wear his cowboy boots! John is talkative and enjoys sharing his thoughts and engaging with others.
Logan is 6 years old and typically has a smile on his face. He enjoys running, playing outdoors, and riding his tricycle. He also likes sushi and hibachi restaurants and will eat almost everything (except bell peppers). Logan is learning new things and is making great strides in his development.
If you are considering adopting or fostering a child, take that first step by attending a free, virtual orientation session. For more information about becoming a foster/adoptive parent and the training available, visit our website. You can also call your regional office or email DCFS.HomeDevelopment@la.gov with your name and parish of residence for more information.