Brooke It Forward Foundation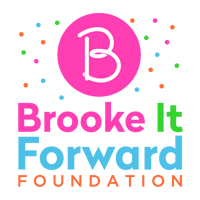 The Brooke It Forward Foundation celebrates the birthdays of children served by Louisiana's Children Advocacy Centers (CACs). With the blessing of a young girl in Kentucky who put together the first "Birthday Boxes," Brooke It Forward assembles the essentials for a birthday party in a shoebox-sized container. The boxes containing cake mix, icing, plates, candles, and so much more are gifted to each child near the time of their birthday.
A birthday celebration is about more than just a birthday. Counselors at the CACs incorporate the Birthday Boxes into the healing process by providing families with a positive, child-focused activity (baking and decorating a cake) that celebrates not only the child's birthday but more importantly each child's uniqueness and dignity.
On June 12, 2019, the family of Brooke Posey delivered twenty boxes to CAC – Hope House in Covington, Louisiana in honor of what would have been Brooke's 20th birthday. Quickly realizing that twenty boxes would not suffice for Hope House and that there are thousands of children being served by the State's other CACs, Brooke It Forward was launched. The foundation established a goal to share the "Birthday Box" Program with all Louisiana's CACs desiring the program within five years.
In keeping with the goal and in celebration of its "first birthday," Brooke It Forward teamed up with the Louisiana Alliance of Children's Advocacy Centers (LACAC) to plan a community-wide launch for the children of Plaquemines Community CARE Center, the CAC serving Plaquemines parish. Though the pandemic caused by Covid-19 has forced a slight change in plans, Brooke It Forward remains determined. The "Birthday Box" Program for Plaquemines Community CARE Center will be celebrated through Facebook Live beginning at Noon on Friday June 12, 2020. A "Best Birthdays of 2020 Photo Contest" is being held in conjunction with the online event.  The contest is open for anyone to share a photo depicting how birthdays have been celebrated in 2020.
For more details about the Brooke It Forward Foundation and/or the "Best Birthdays of 2020 Photo Contest" go to www.BrookeItForward.org