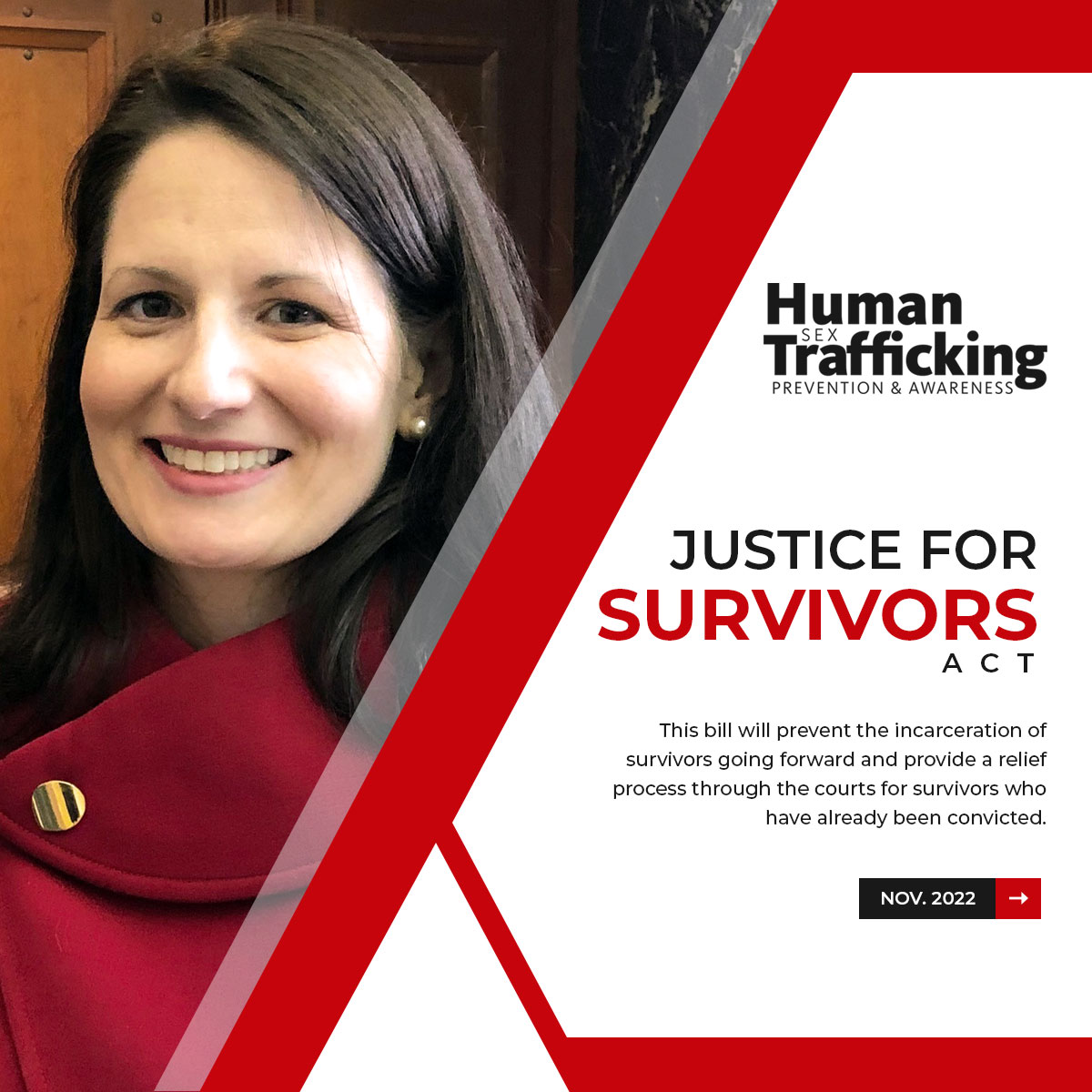 Justice for Survivors Act
Louisiana has made significant progress in legislative efforts to fight against human trafficking and support survivors. In the last eight years, we have passed laws that:
Required the National Human Trafficking hotline information to be posted in certain establishments
Increased criminal penalties for trafficking
Required training for law enforcement and members of the Louisiana Board of Massage Therapy
Created the Office of Human Trafficking Prevention within the Office of the Governor
Most recently, a law was passed that created a process for providing criminal record expungements for survivors when they commit certain offenses directly resulting from trafficking victimization. This bill, known as the Michelle Johnson ACT, was the first meaningful step in addressing the criminalization of human trafficking survivors. The ACT, however, only considers a pathway for survivors to obtain relief regarding their criminal records for non-violent offenses. It did not expand the list of affirmative defenses to prosecution for most offenses a trafficking survivor may be forced to commit. 
As a result, Louisiana's current laws still fall short of recognizing the extreme duress, coercion, and ongoing violence that human trafficking survivors are subjected to. We all want safety for ourselves and our loved ones. Still, too often, when human trafficking survivors turn to the community or legal systems for help, the services they need are unavailable, or they end up falling through the cracks. Survivors in these perilous situations should not have to choose between prison or death when they commit a crime under duress or kill a trafficker in self-defense. However, this is still their unfortunate reality: they can still be criminalized for protecting themselves or their children. That is why a coalition of advocates have come together to propose the Justice for Survivors Act. This bill will prevent the incarceration of survivors going forward and provide a relief process through the courts for survivors who have already been convicted. Prosecuting traffickers is not enough to end trafficking. 
For Louisiana to reduce trafficking, we must work together to change conditions that make people vulnerable to traffickers. By passing the Justice for Survivors Act, we can make remarkable progress in ending trafficking. Please be on the lookout for this critical legislation in the upcoming 2023 Regular Session.