Teach MAM: An Exciting Partnership to Strengthen Arts Education Across Louisiana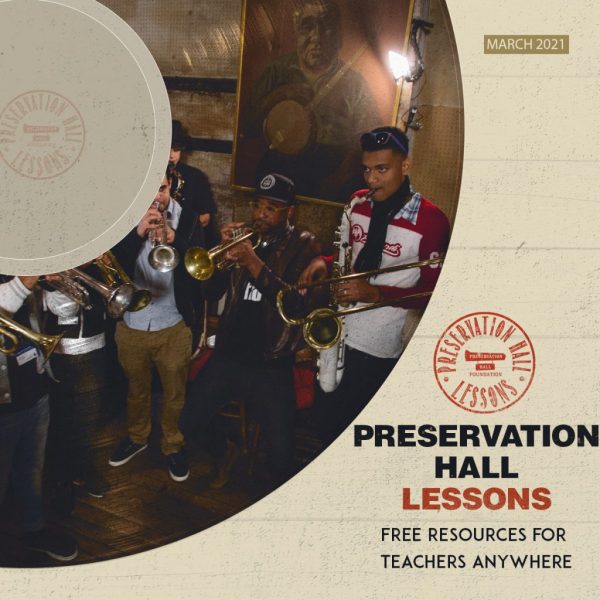 Preservation Hall Lessons
Free Resources for Teachers Anywhere
Preservation Hall, the storied jazz venue in New Orleans, has been the musical home for hundreds of Louisiana's most notable musicians. Its namesake Preservation Hall Jazz Band has traveled the globe for decades, keeping traditional New Orleans music alive and beloved. Ten years ago, the Preservation Hall Foundation formed to protect, preserve and perpetuate New Orleans music. One of its pillars is passing the tradition down from generation to generation through various music education efforts.
In 2021, the foundation launched Preservation Hall Lessons, a series of online music lessons for young people that features members of the Hall's musicians' community. This free, online, interdisciplinary resource is available to teachers and music programs nationwide!
Preservation Hall Lessons is designed for K-12 students and includes content focused on introductory and advanced techniques for the range of instruments in a traditional jazz band, stylistic tips, and the cultural and historical context of New Orleans music. There are currently 22 lesson plans featuring exclusive videos and support materials, with more to come in the months and years ahead.
Each lesson includes an outline of educational standards addressed, the lesson's objectives, and how to apply and evaluate that lesson. There are safe, natively-hosted videos, google docs and google slides, and many relevant tools and links to support each exercise.
Whether a classroom is "in-person" or virtual, whether students play instruments or simply enjoy music, whether one is seeking creative ways to teach math or social studies or art, there's a wide range of lessons to meet various needs.
Nothing could replace the experience of a live performance or lesson at Preservation Hall. Still, these lessons reflect the spirit and revered traditions celebrated at the Hall by its cherished musicians.
Knowledge of and a love for New Orleans music is one of the best exports Louisiana can offer.
Please help spread the word by sharing the link. The site is easy to navigate and explore — and you can also visit the social media pages on Pinterest, Facebook, and Instagram. If you have questions, feedback, or introductions to educators, please contact info@preshallfoundation.org.
Link to lessons: https://lessons.preshallfoundation.org