Governor's Mansion:
Jeffrey Carbo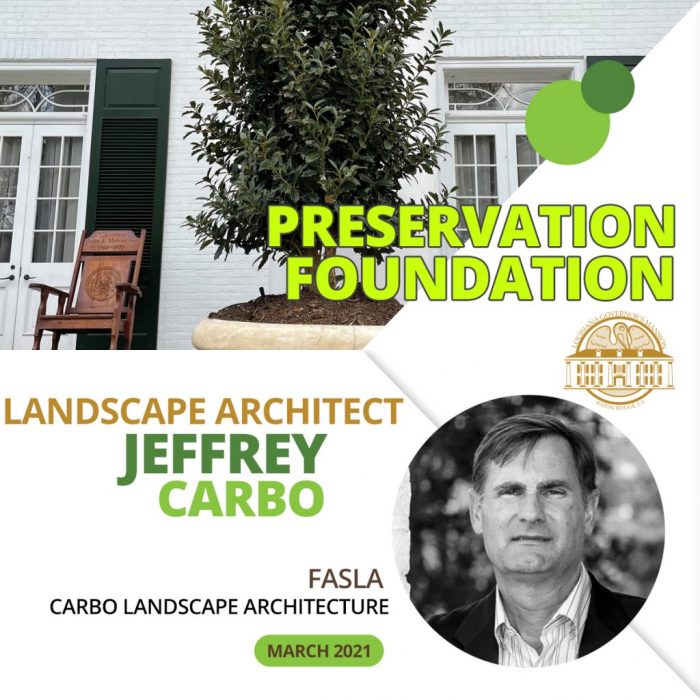 Governor's Mansion:
Jeffrey Carbo
The Governor's Mansion Preservation Foundation is delighted to announce the partnership with Jeffrey Carbo, FASLA, and CARBO Landscape Architecture. Jeff has joined the Executive Board and has graciously donated his time to re-envision the Governor's Mansion gardens. He and Grace Ragland, ASLA, have been working with First Lady Donna H Edwards, Governor's Mansion Preservation Foundation Executive Director Sandy McClelland, and Governor's Mansion coordinator Jennifer Gomez, to create a landscape renovation master plan aimed for completion by Fall 2023. Jeff's vision for the grounds will be timeless and stately while focusing on preservation and maintenance ease.
Jeffrey Carbo is a Landscape Architect with over thirty-five years of experience in professional practice. The range and scope of his concerns include:
Environmental conservation.
The historical and cultural context of local and regional landscapes.
The attention to detail in the numerous places and gardens that he helped create.
As Principal, Jeff serves as a multi-discipline team leader with hands-on skills in quality assurance and details. Jeff has been a speaker at numerous state, regional and national conferences and design conferences and garden organizations throughout the south regarding the firm's work and philosophy. Jeff has overseen over 85 award-winning CARBO projects throughout the Southeastern United States.
The Preservation Foundation is thrilled to have Jeff on the executive board to be the visionary of this project and help lead fundraising efforts. There are many ways to help give to this project and other preservation projects happening at the Governor's Mansion. Visit https://louisianafirstfoundation.com/governors-mansion-preservation-foundation/ for more information on how you can help PRESERVE THE GOVERNOR'S MANSION today!