Teach MAM: An Exciting Partnership to Strengthen Arts Education Across Louisiana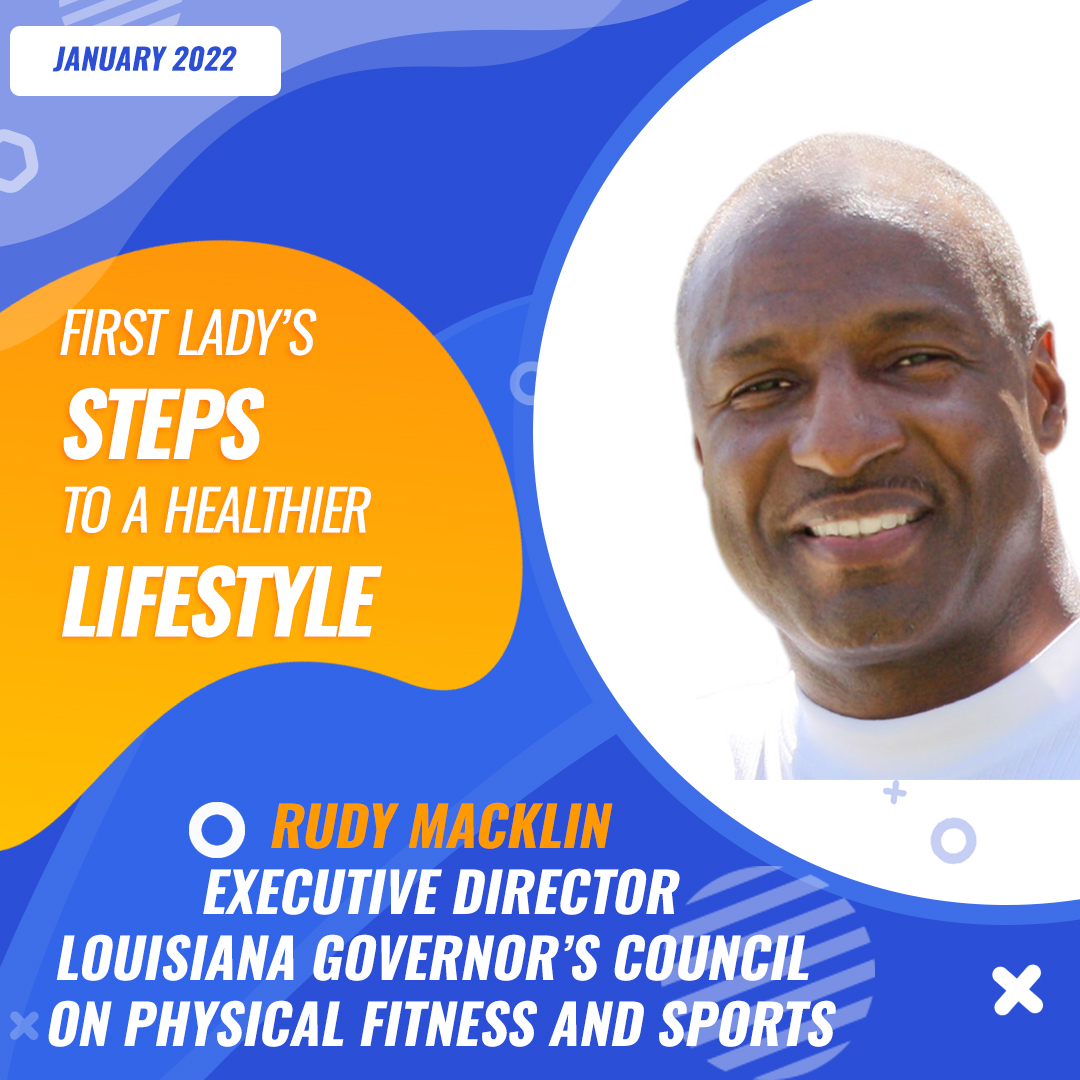 First Lady's "Steps To A Healthier Lifestyle"
Rudy Macklin
Executive Director
Louisiana Governor's Council on Physical Fitness and Sports

On January 24 – April 25, 2022, the Louisiana Governor's Council on Physical Fitness and Sports will host its annual Own Your Health (OYOH) Physical Activity and Nutrition Challenges! First Lady Edwards and her Teach MAM team will join the Challenges with the "First Lady's Steps To A Healthier Lifestyle", so be on the lookout for posts on social media and join the fun! Get your team together and give it a name of your choosing. Just set up the Challenge so everyone in your group can track their steps and miles! We have team and individual competitions for fitness enthusiasts and casual strollers.
Registration is now open for the annual Open Challenges. Please visit www.oyohla.com for more information and to register. In addition, weight loss and nutrition challenges are offered for a comprehensive health approach to wellness. People across the country are signing up now! Please find an overview of the program and the training manual in the links below.
Join the First Lady's office and others across the State of Louisiana to encourage our citizens to live a healthier, active lifestyle. Louisiana has the highest obesity rate in the country, high rates of diabetes, heart disease, hypertension, and high blood pressure. It is time we get back to practicing prevention, reducing health disparities, and getting pre-existing health conditions under control.
What is "Own Your Own Health"?
Own Your Own Health (OYOH) is a physical activity and nutrition tracking program designed to help Louisianans combat obesity and its related chronic illnesses by taking small but effective steps to eat right and exercise often. OYOH encourages populations in Louisiana to develop healthy activity and eating habits. Last year, several other states joined in on the fun and excitement this program offers! Participants can earn points by achieving milestones in accumulated activity, losing weight through a healthy, appropriate diet, and increasing their fruit and vegetable consumption.
Join in on the fun and get healthy with us!