Teach MAM: An Exciting Partnership to Strengthen Arts Education Across Louisiana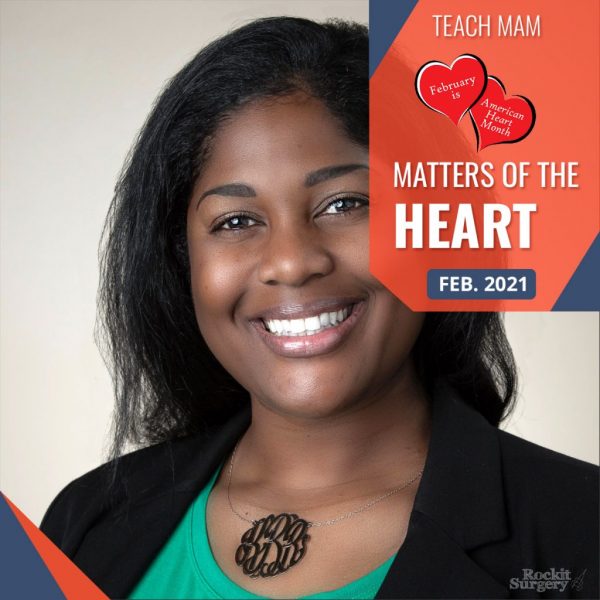 "Matters of the Heart"
February is our national month for heart awareness.  The entire month highlights motivating people to adopt a healthy lifestyle and practice best measures to prevent heart disease.
"If you're like most people, you think that heart disease is a problem for others. But heart disease is the number one killer in the U.S. (U.S. National Library of Medicine 2020).  Heart-healthy living involves understanding your risk, making choices, and taking steps to reduce your chances of getting heart disease, including coronary heart disease, the most common type. Coronary and other heart disease types cause heart attacks, but by taking preventive measures, you can lower your risk of developing heart disease and improve your overall health and wellbeing. (https://www.nhlbi.nih.gov/health-topics/coronary-heart-disease).
You can help reduce your risk of heart disease by taking steps to control factors that put you at greater risk.
Control your blood pressure
Lower your cholesterol
Don't smoke
Get enough exercise

To prevent heart disease, you should follow the seven preventive measures below:
Understand your risk. Beginning your journey to combat heart disease, one should understand the disease's risk and how your body may be affected. Your risk depends on many factors, some of which are changeable and others that are not. Risk factors are conditions or habits that make a person more likely to develop a disease. These risk factors may be different for each person. Preventing heart disease starts with knowing your risk factors and what you can do to lower them (https://www.nhlbi.nih.gov/health-topics/high-blood-pressure).
Have your blood pressure, and cholesterol checked with your health care provider.
Aim for a healthy weight and discuss your weight options with your health care provider. Determining a healthy BMI is key to heart health success.  Body mass index (BMI) determines whether you are at a healthy weight. Adults are underweight if their BMI is below 18.5 and are healthy if their BMI is 18.5 to 24.9. Adults are overweight if their BMI is 25 to 29.9 and have obesity if their BMI is 30 or above (https://www.nhlbi.nih.gov/health-topics/overweight-and-obesity).
Choose heart-healthy foods.  Choose a diet rich in vegetables, protein, and fruits while limiting your intake of saturated and trans fats and added sugars.
Manage your level of stress.  Coping with stress and managing your daily stress can lead to an overall healthy mental state.
Get a minimum of 60 minutes of daily exercise. 
Get enough sleep. Sleep plays a vital role in good health and wellbeing throughout your life. During sleep, your body is working to support healthy brain function and maintain your physical health. Not getting enough sleep or good-quality sleep over time can raise your risk for chronic health problems. The amount of sleep you need each day will change throughout your life (https://www.nhlbi.nih.gov/health-topics/sleep-deprivation-and-deficiency).
One of the significant organizations that advocates for healthy hearts are the American Heart Association.  In conjunction with the Centers for Disease Control and Prevention, National Institutes of Health, and other government agencies, the American Heart Association compiles up-to-date statistics on heart disease, stroke, and other vascular diseases Stroke Statistical Update. This compilation is a valuable resource for researchers, clinicians, healthcare policymakers, media professionals, the public, and others who seek the best national data available on disease morbidity, mortality and risks; quality of care; medical procedures and operations; and costs associated with the management of these diseases. The Heart Disease and Stroke Statistical Update is a significant source for monitoring cardiovascular health and disease in the population (https://www.nhlbi.nih.gov/science/cardiovascular-health-study-chs)
Nearly half of all U.S. adults have some form of cardiovascular disease.
(American Heart Association, 2019)
With such alarming statistics, we as Americans need to take heed to the advice provided by our health care professionals.  We need to be diligent in our efforts to improve our health.  Making a few simple daily life choices, we may be able to lower the statistics on cardiovascular disease and improve our overall health and wellbeing.
Get up! Get Moving! Make good choices!
and
Become Heart Healthy!