PINK HOUSE CONSULTING, LLC.
PINK HOUSE CONSULTING, LLC.
Owner, Lauren Morris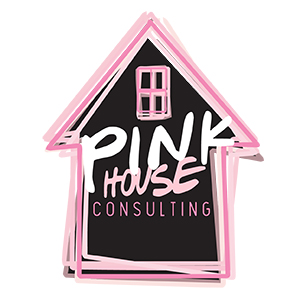 A lifetime of "doodling" put Lauren Morris on a path to fulfilling her dreams of launching her very own line of retail goods and corporate branding business.  Pink House Consulting, LLC is based in the historic Le Bleu Settlement in the Lake Charles area.  And although Hurricanes' Laura and Delta wiped out the well-known pink house she and her Louisiana-native husband call home, it will remain her inspiration for creative design.  Morris, a native Texan, couldn't get to Louisiana fast enough, where she fell in love with all things cajun.  She joined this unique state in 2004 and has never looked back.
What is Morris' recipe for the original and unique designs coming from Pink House Consulting?  She starts with a little inspiration, mixes in a ton of her natural wit and creativity, and finishes it off with essential design skills.   That combination has led to more than 120 boutiques across the U.S. and Canada offering her custom goods. Pink House Consulting provides a wide variety of apparel, accessories, and home décor available directly to the public through the Pink House Consulting Etsy shop or via wholesale to boutiques and other retail venues.  Morris also uses her unique skills and years of experience to develop corporate branding and marketing strategies for her many clients across the country.
Seeing a need in her community, Morris recently spearheaded fund-raising efforts for beloved Lake Charles weatherman Ben Terry, who is fighting cancer. By designing and offering custom umbrellas, t-shirts, and coffee mugs, Morris and the community raised more than $17,000 to benefit Terry, helping to directly pay for his medical needs.
Along the way in building her career and business, Morris spent ten years with the Junior Leagues in both Shreveport and Lake Charles, creating and overseeing events and other community activities.  She's also assisted in hurricane and flooding relief efforts over the years, personally driving donated necessities to many Louisianans in need.
Pink House Consulting, a small woman-owned Louisiana business, currently employs six Louisiana women and is growing rapidly.  If you are looking to add Pink House Consulting designs to your boutique or need branding and marketing expertise, you can reach out to Morris via their website at https://pinkhouseonriverroad.espwebsite.com, email to lauren@pinkhouseonriverroad.com, or by calling 337-366-6240.   To purchase directly, you can check out their Etsy shop at PinkHouseOnRiverRoad or email Morris for a list of boutiques near you.