ANTI-HUMAN TRAFFICKING
Words from
Michelle Johnson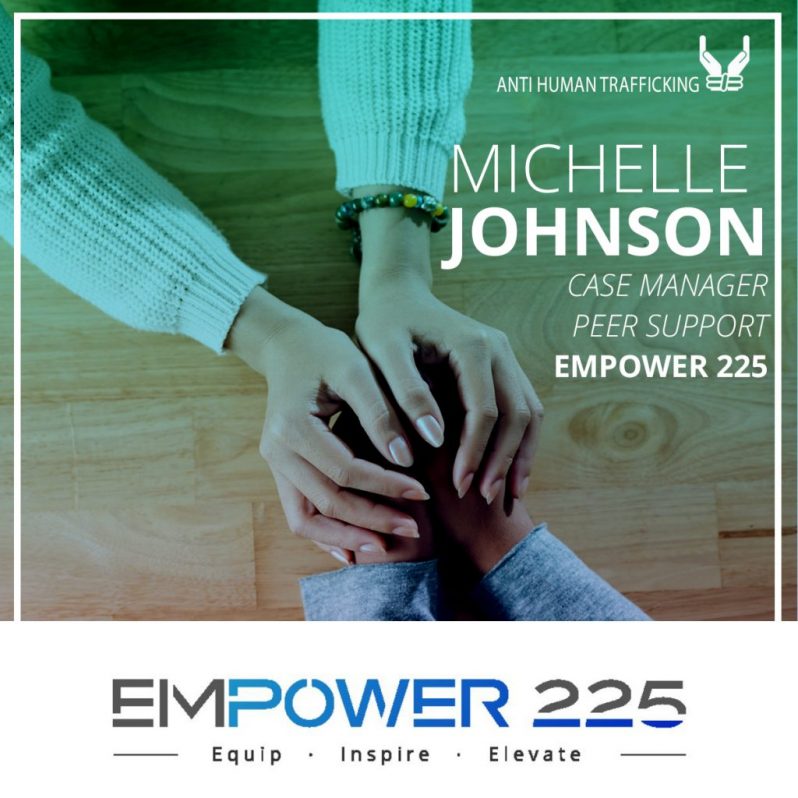 Michelle Johnson
Case Manager/Peer Support
Empower 225
"Normal" is a very relative term. I grew up in a life where it was "normal" for adults to have sex with children. The sexual abuse started when I was an infant; I do not remember a time when it was not happening. That abuse continued into my teenage years. At the age of 16, I left home in an attempt to escape only to be sexually exploited by an older man for food and a place to stay. When I turned 18, I escaped from him and tried to get services because I felt something was wrong with me. Services were denied because I had never asked for help before. Not long after that, I was recruited by a female and coerced into sex trafficking by her pimp. Recovery did not come for me until the age of 24 when the FBI raided the hotel where I was being kept. I was so broken; I had lost all hope of any future. I lost my innocence, my education, and my freedom!

After hearing that everything I experienced was not okay and that there were people that cared and wanted to help me, I discovered a reason to live. I was able to get trauma-focused therapy to undo all the lies and direct services for my basic needs. With the help of Empower225, I started the recovery process of becoming a human being again. I was able to get my GED and driver's license, two of the many things that were taken from me. Empower225 was also there for me when I had to testify against my trafficker; that was one of the hardest things I've had to do in my life. Having the support of others reminded me of why I was doing this, and that what happened to me was not okay!
After standing up to my trafficker and years of healing and successfully working the Hope program at Empower225, I had the opportunity to join the staff when a peer-survivor position opened up. Through this position, I can pour into other victims and survivors to let them know that there is hope and that their lives can be restored. I also help educate those in our state about human trafficking and working with survivors. After two years of being employed with Empower225, I was given the opportunity and felt empowered to enroll in college. I am currently studying to get my bachelor's degree in Criminal Justice, so I can continue to fight for other victims and survivors of human trafficking. None of this would be possible if not for God, Empower225, and a community of people pouring into me and showing me what I'm really worth!