Chef Natasha St. Pierre Clement
Canoe Cake:
Andouille Crusted Jumbo Lump Crab Cake with Shaved Mirliton, Carrot & Apple Slaw, Calabrian Chili & Smoked Paprika Aioli
Chef Natasha St. Pierre Clement
Sophisticated Southern Plates
Andouille Crusted Jumbo Lump Crab Cake,  Shaved Mirliton,
Carrot & Apple Slaw, Calabrian Chili & Smoked Paprika Aioli

Ingredients:
1 lb Jumbo Lump crab meat
2 egg whites
¼ cup mayo
1 Tbsp ( Creole or Dijon) mustard
½ tsp seafood seasoning
½ tsp crab boil (liquid)
½ tsp garlic salt
½ tsp cracked black pepper
Juice of 1 lemon
1/8 cup chopped chives
¼ cup panko
Method:
Drain & pick through crab. Whisk together egg whites, mayo, mustard, lemon juice, crab boil and all dry seasonings. Fold in crab and chives. Add panko to tighten up mixture. Set in fridge for 20 minutes.
Ingredients:
2 ½ cups panko
1 ½ cups toasted & dried andouille crumbs
Method:
Blend together in food processor for about 30 seconds to mix well.
You will need a 3.5 to 4.0 ounce round ring mold. Create a bed of half the crust mixture on a sheet pan. Placing the ring mold on crust mixture, tightly pack the crab cake mixture in the mold, topping the cake with more crust mixture, firmly pressing down before removing mold. Repeat. Set crab cakes uncovered back in fridge for 15 minutes before cooking. Yield 8 crab cakes per this recipe.
Pan fry in butter and grapeseed oil, just enough to cover the pan. Medium-High heat, 2 minutes per side.
Shaved Mirliton, Carrot & Apple Slaw
Ingredients:
1 apple
1 mirliton
1 carrot
Method:
Using a Japanese mandolin, thinly shave and julienne the apple and mirliton. Also, using the mandolin, thinly shave carrot medallions. Toss in bacon fat slaw dressing. Add thinly sliced green onions on a bias.
Garnish plate with smoked paprika calabrian chili aioli. Micro greens.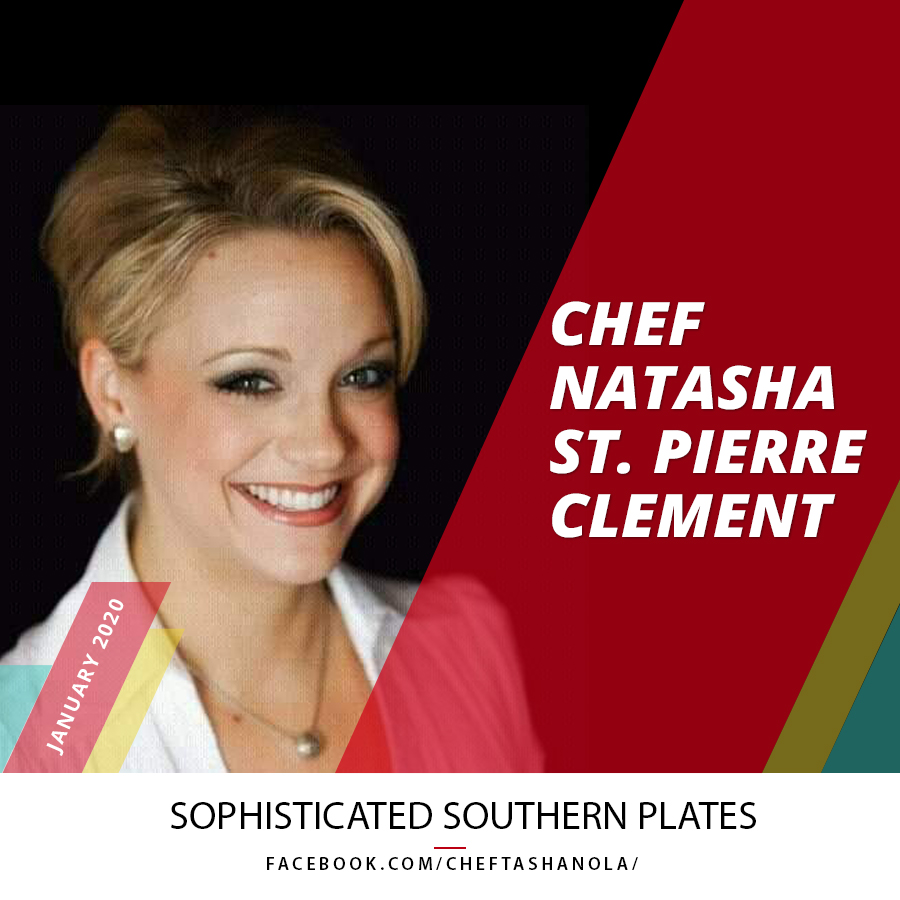 Chef Natasha St. Pierre Clement
Natasha St. Pierre Clement, as Southern and French as you could guess, was born and raised where the sugarcane sweetens the crawfish tails. She is married to the love of her life, Chesson Clement, and together they have 3 children. She is a self-taught home cook turned small town chef with a long line of family inspiration in farming and agriculture.
With a culinary spirit as long and winding as the Mississippi, her true love is bringing elevated custom southern dishes with international flare and sophisticated, graceful plating to your table.   She owns her own catering and private chef business, Sophisticated Southern Plates, specializing in creating unforgettable dining experiences for anywhere from parties of four to parties of hundreds.
 Natasha was a former contestant on MasterChef Season 6 and a contestant and WINNER of Food Network's All-Star Academy Season 2 under the tutelage of Chef Robert Irvine. Some of her most recent accolades include catering to the King of New Orleans, Drew Brees, for his surprise 40th Birthday Party as well as being the only private chef invited to participate in the New Orleans Bourbon Festival! When not cooking for hundreds, she also enjoys keeping some of our beloved New Orleans Pelican basketball players on their game with healthy meal prep and local fresh inspired dishes.
You can follow Chef Natasha on Instagram @cheftasha_nola, @sophisticatedsouthernplates and on Facebook at Sophisticated Southern Plates.
For any further recipes related to this dish please contact Chef Natasha at cheftasha11@gmail.com