WOMEN'S HEALTH BLOG
January 2020

Words from Elena Mann, M.D.


Ladies First!
Women's health is perhaps one of the most influential health initiatives of our time.  Women play a vital role in ensuring others receive the care they need, but many women often neglect themselves.  As we enter into the time of year when resolutions are made, resolve to put ladies first! This will lead to profound changes in women's health and family well being.  As most well-intentioned resolutions are not kept, let this be a handy guide in which to refer if you get off track during the year.  The key to change is to make small steps that you can build upon.
At the core of a good women's health program is you.  A theme to focus upon is mind body awareness. This will encompass nearly all aspects of a successful health platform. Examine your personal and family history, your current lifestyle, and your goals for yourself and your family. Create your team which should include your physician as your health coach.  It should also include support from close family and friends.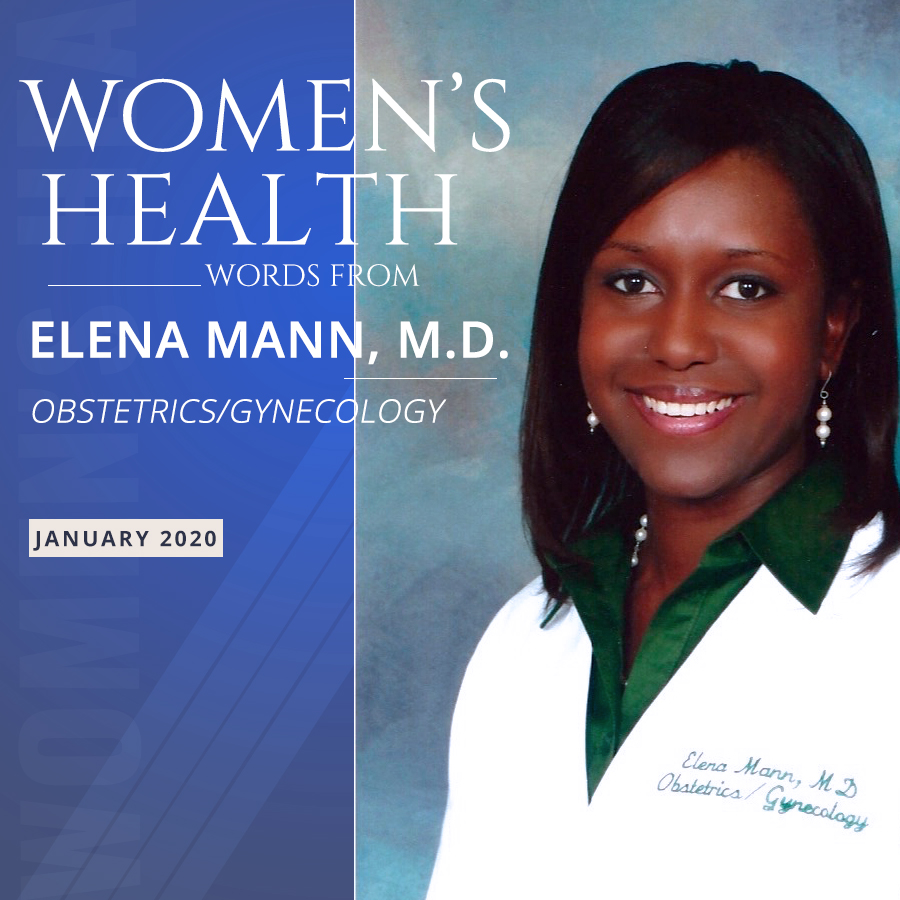 Make 2020 the year that you put ladies first—yourself included!
One primary focus should be on the maintenance of your mental health.  Many women suffer from depression, anxiety, or a combination of these.  Often, this is hidden or ignored. Resolve to help yourself or another woman address mental health concerns. Mental health challenges can affect your physical health and the ways in which you interact with those around you.  Ensure you have a trusted support system. Develop good sleep hygiene.  Finally, try to incorporate a few minutes of daily meditation or other relaxation techniques. Doing so will help create a sense of calm in the midst of the hustle and bustle of your everyday life.
Another important aspect of women's health is attention to your breast and reproductive health. This should begin in the teenage years and continue throughout menopause.  Breast self-awareness involves ensuring you are familiar with your breasts and alert to any changes. Both self examinations and clinical examinations are vital first steps in breast cancer surveillance.  Annual mammograms should also be a part of your breast self awareness regimen starting at age 40 or sooner based upon your personal and family history.
Many women seek care for family planning purposes.  It is important for women to be proactive with their reproductive planning.  Additionally, when pregnancy occurs, it is essential for your health and the developing baby's health to establish and maintain prenatal care.  Reproductive health also includes having annual examinations.  Your doctor will perform or arrange age-appropriate cancer surveillance, including Paps, when needed.  General physical and mental health care needs are addressed at annual examination visits as well. Blood pressure and weight will be examined and recommendations made that will help support your heart and cardiovascular health.  Any areas in which you can improve will be identified.  Your physician will provide guidance on ways in which you can maintain a healthy lifestyle.
Two great sites to reference for more information on women's health are:
The American College of Obstetricians and Gynecologists
and
The Centers for Disease Control
These include facts, guidance, and current recommendations.  Bookmark these as they can be valuable resources for you and your family.
Make 2020 the year that you put ladies first—yourself included! Establish a regimen that includes daily exercise and healthy lifestyle choices.  If you don't quite reach your goals, try again.  Enlist the support of family and friends.  
Dr. Elena Mann is an obstetrician and gynecologist with South Louisiana Medical Associates and Terrebonne General Medical Center.  She also serves as the medical director for the Hope Restored Pregnancy Resource Center.  She graduated from Xavier University of Louisiana with a degree in Biology.  She received her Doctor of Medicine degree from the Medical College of Georgia.  Dr. Mann completed her residency in Obstetrics and Gynecology from Ochsner Medical Center in New Orleans and is board-certified by the American College of Obstetricians and Gynecologists.  She enjoys teaching and has served as a medical school instructor, residency instructor, and a preceptor for nurse practitioners.  She is licensed to practice in four states. Dr. Mann frequently volunteers with local organizations and is active in her community.  She enjoys spending her free time traveling with her husband and family of five.