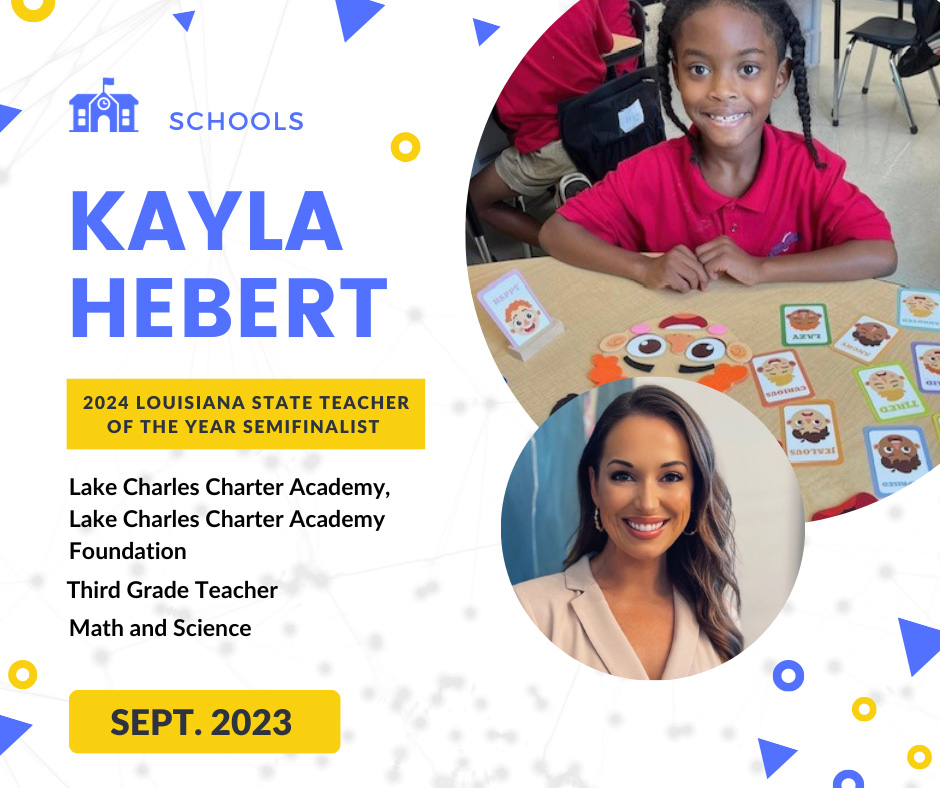 KAYLA HEBERT
Lake Charles Charter Academy, Lake Charles Charter Academy Foundation
Third Grade Teacher
Math and Science
2024 Louisiana State Teacher of the Year Semifinalist
Back to School Relationship Building
Back-to-school in-services are in full swing, and we are all familiar with the common icebreakers and team-building activities that are listed first on the agenda. Some may love the games that are played, others do not, and then some are so excited to see everyone again that they barely complete the activity. This reminds me of my class during our morning meetings: some students are shy, some may not understand the purpose of it, and others are excited to visit with their friends in class. These icebreakers and team-building activities are important. Whether you are sold on the activity or not, you are synergizing with the others around you. Through team-building, these activities are building relationships. 
To educators reading this blog post, putting relationships first matters because I believe relationships drive results. The stronger the sense of significance a student feels, the more likely they will perform at their best potential. In my experience, the best way to target social-emotional learning is to adopt morning meetings as a daily routine at the beginning of the day. Your students will love morning meetings, and this is the part of teaching where you can step away from the curriculum and have so much freedom! 
Morning meetings set the tone for the day, and I believe it's where I can make the greatest impact as an educator. My students leaving my class as a better person is more important to me than them making perfect grades. That almost seems wrong since my job is to deliver education, but I believe when you work on developing good habits and character, you will obtain the academic results and the students will reach their fullest potential. This time will allow students to learn skills and to self-manage academic and personal success. 
Have you given morning meetings a shot? Do you need a starting point? Here are the areas I like to target in my third-grade class:  
Growth mindset and goal setting- develop an effective plan for bettering a skill (This can be a skill they would like to improve outside the classroom)
Emotion management- the purpose of emotions and level of emotions, how to cope with them
Empathy and kindness- help build friendships, acts of kindness, thinking about how another person feels and what their needs and wants are 
Problem-solving- situations where they make the best judgment about how to handle a problem appropriately 
This is the part of the day when you get to know your students best and reflect on yourself. I laughed out loud one day when a student could tell I was getting frazzled, and he said, "Ms. Hebert, just take a few deep breaths." We teach our kids coping strategies and how to deal with certain situations that we struggle with as adults. Morning meetings allow me to reset my mindset as well. It's a win-win! 
Morning meetings have 4 components: greeting, share, activity, and message. There is no right or wrong way to do this, and there are several resources out there. Get creative! Learn what motivates them and their background to advance their self-awareness. Mutual respect will be built between everyone in your class after consistently keeping up with social-emotional learning. These skills will not only build your classroom community but will follow your students in school, work, and life. 
I've noticed so many benefits in the classroom after making morning meetings a part of our routine, and I hope you will too! Academic improvement, less disruptive behavior, and student engagement are areas you can look forward to after relationship building is established. I suggest taking the first few weeks of school to make sure you start with a strong foundation of building relationships with your class because it will pay off. Do the silly icebreakers, have fun with your kids, enjoy and get to know each of them individually. Your students will respect you and work hard to make you proud.  
Making someone feel significant will lead to success. I hope morning meetings will bring that spark of cheer, joy, and a love for learning to your students. I believe God has placed each student on our roster and path for a reason. Building relationships each day with our students is so meaningful and where we as educators can have the greatest impact. I'm just as anxious as you are to meet my new students. A good beginning makes a big difference. With that, I suggest we all consider starting this school year off team-building our way to a positive classroom climate. I wish everyone a wonderful school year and hope it's the best year yet! 
-Kayla Hebert
Lake Charles Charter Academy, Lake Charles Charter Academy Foundation
Third Grade Teacher
Math and Science
2024 Louisiana State Teacher of the Year Semifinalist
Twitter: @kayla_hebert22