Fifth Annual
Suicide Prevention Summit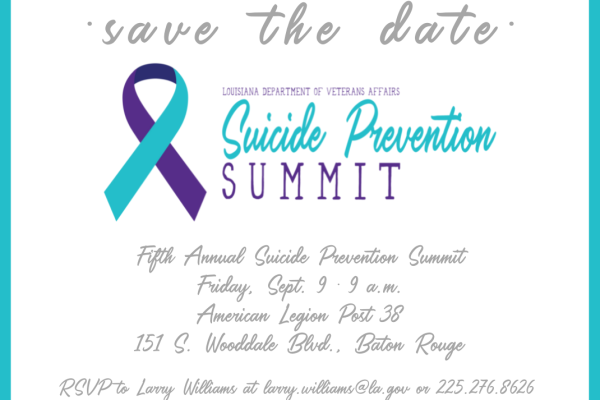 Fifth Annual
Suicide Prevention Summit

Please make plans to join us for the Fifth Annual Suicide Prevention Summit on Friday, Sept. 9 at 9 a.m.
The Summit will be held at American Legion Post 38 located at 151 S. Wooddale Blvd. in Baton Rouge.
Guest speakers include:
Letosha Kelly, Program Monitor
Louisiana Department of Health, Office of Behavioral Health
Topic: Louisiana Governor's Challenge to Prevent Suicide Among Service members, Veterans and Their Families
Damion Johnlouis, Transition Assistance Advisor
Federal Contractor
Topic: Support for Transitioning Service Members and Their Families
Patty Rives, LCSW, Executive Director
Baton Rouge Crisis Intervention Center
Topic: Suicide Prevention Support Services, Resources and Training
Topic: Applied Suicide Prevention Intervention Skills
Daphne Grady, Volunteer and Elizabeth Dole Caregiver Fellow
National Alliance on Mental Illness
Topic: National Alliance on Mental Illness Services
Topic: Elizabeth Dole Foundation (Veteran Caregivers Support)
Jeremy Brewer, LCSW, Clinical Navigator
Tulane Center for Brain Health
Topic: Tulane Center for Brain Health
Dr. Gala True, Investigator
South Central Mental Illness, Research, Education and Clinical Center, Southeast Louisiana Veterans Health Care System
Topic: Veteran-Informed Safety Intervention and Outreach Network
Valerie Saba, MS, CHES, Program Coordinator
NAMI St. Tammany
Topic: Mental Health First Aid
There will be a vendor parade as well as opportunities to network during breaks and after the last speaker. Lunch is sponsored by the Tulane University Center for Brain Health.
RSVP today to Larry Williams at larry.williams@la.gov or 225.276.8626.
For more information visit vetaffairs.la.gov, email veteran@la.gov, call 225.219.5000 or follow us on Facebook, Instagram or Twitter.