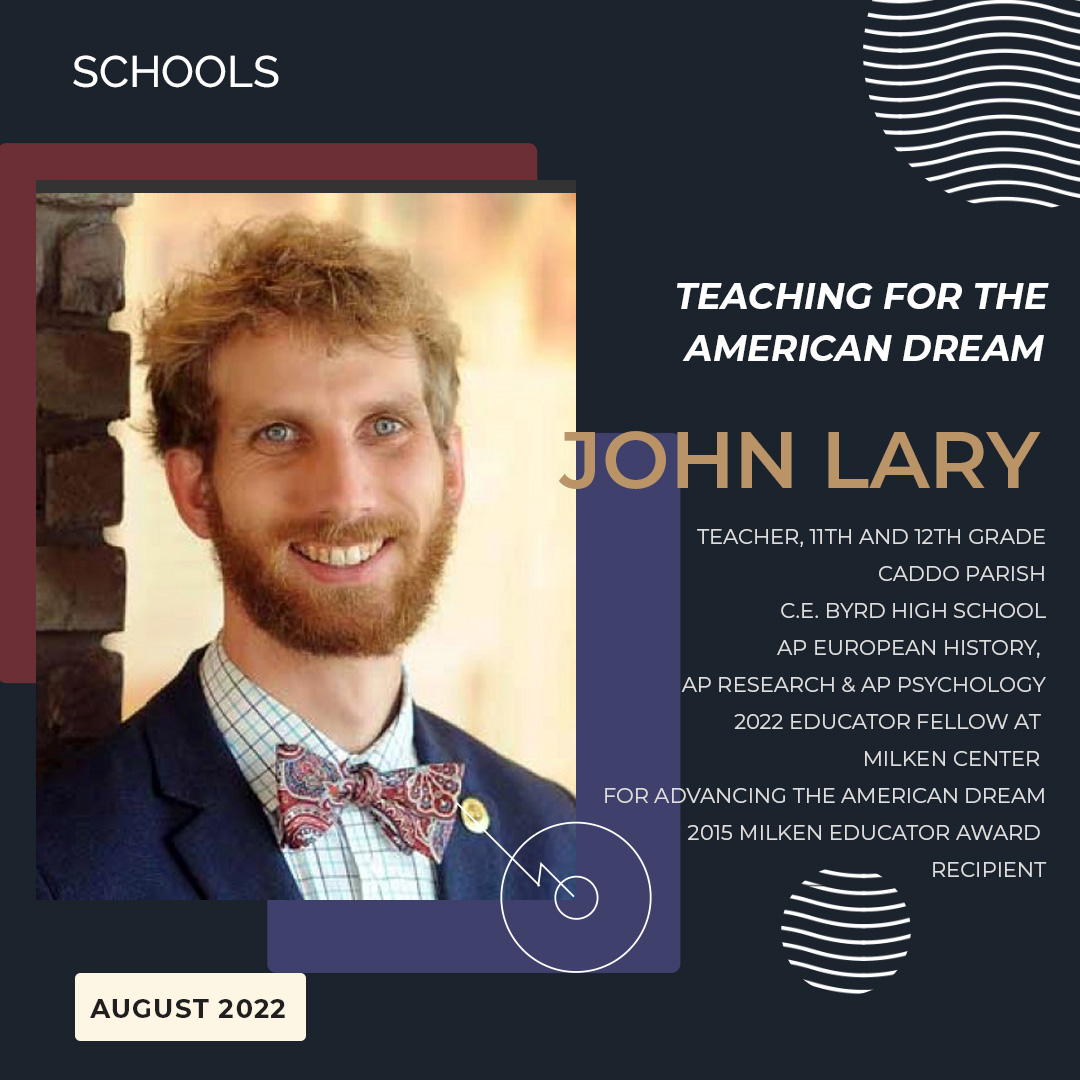 Teacher, 11th and 12th Grade
 Caddo Parish
 C.E. Byrd High School
 AP European History, AP Research & AP Psychology 
"Teaching for the American Dream"
As a new school year begins each fall, I reflect on my purpose as an educator. I teach history at C.E. Byrd High School in Shreveport. I love my job and am passionate about what I do, but it is sometimes difficult to find the right words to clearly explain why I have chosen this profession and why I believe others should consider it too.
This summer, I had an opportunity to examine the role of educators in a way I hadn't before. Along with nine incredible, nationally recognized educators, I was invited to serve in the inaugural class of Educator Fellows for the Milken Center for Advancing the American Dream. MCAAD's visitor center is slated to open in 2023 and is located on Pennsylvania Avenue in Washington, D.C., directly across from the Treasury and diagonal from the White House. There in the very heart of our nation's capital, the Center focuses on four pillars that support the American Dream:
The importance of financial literacy and access to capital.
The value of the entrepreneurial spirit.
The role of good health and wellbeing.
The significant role that education and educators play in making the American Dream a reality.
Through my participation with the Center, it has become clear to me what we as educators really do: We help students access and realize their American Dream.
The American Dream is enormously complex and challenging to define. It means something different to everyone, but education opens the doors of possibility so that each individual has the power and the means to achieve their dreams.
Education and great educators are the catalysts that open those doors of possibility for our students. From the early American republic with the Northwest Ordinance of 1787 encouraging the spread of public education, schools have been the place where the American Dream can come alive for so many. Through centuries of reform, schools have transformed, and the Dream has become accessible to even more people. Today, it continues to be the task of educators to ensure that the American Dream stays alive. It is our job to provide all our students with the knowledge and skills they will need to create and seize the opportunities in their unique futures.
Every great educator has a story of a moment when they did some great or small act, in a single moment or over time, that helped a student see their dreams as real opportunities. In addition to all the academic knowledge that students gain from great teachers, we are front and center for many of life's essential lessons. 
The elementary educator who helps a student persevere as they learn to read. 
The middle school teacher who guides a child to become aware of their strengths and abilities. 
The high school teacher who provides advice and mentoring for life beyond graduation. 
The music teacher who helps a student find joy in dancing and playing.
The coach who challenges their players to do what they did not think possible. 
The career and technical teacher who helps students get certified job training and internships. 
The caring educators who teach academic content that opens students' eyes to the unique and complex world around us. 
All these moments add up to students being able to pursue a life of purpose and success.
As educators, we aim to improve our students' lives, brighten their futures, and help them achieve their dreams. So, as another school year begins, I am excited and energized as I consider the significance of education and educators in preserving and expanding the American Dream.
Teacher, 11th and 12th Grade
 Caddo Parish
 C.E. Byrd High School
 AP European History, AP Research & AP Psychology
 2022 Educator Fellow at Milken Center for Advancing the American Dream
2015 Milken Educator Award recipient