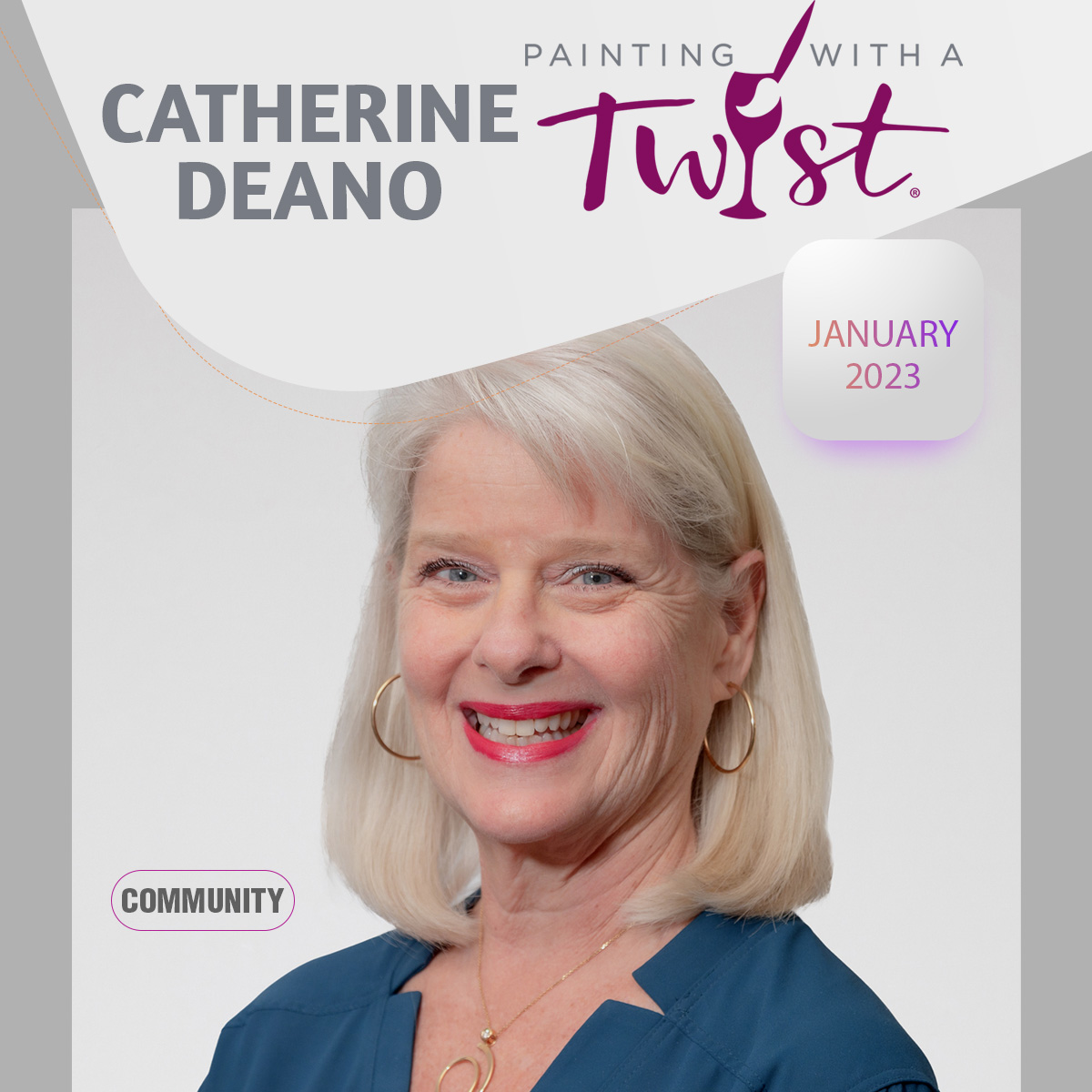 Catherine Deano is the Founder of Twist Brands, which includes Painting with a Twist, a sip and paint studio franchise; Color Me Mine, a paint-your-own pottery franchise; and TD Art Supply and Chesapeake Ceramics, the supply companies that service these industries. She has always had a strong affinity for art and admiration for artists. It is not only the beauty and aesthetics that appeal to her but also art's contribution to culture and history. 
Additionally, Catherine appreciates documentation from Washington University and many other institutions that show that art can help people with depression, anxiety, and stress. Many studies have confirmed that making art reduces cortisol (a stress hormone) in the human body. Catherine's belief that art is important to any community has compelled her to volunteer in other cultural art arenas. www.paintingwithatwist.com 
Catherine is serving her second stint as President of The St. Tammany Art Association. STAA was founded in 1958 by a group of community organizers dedicated to bringing the arts to St. Tammany Parish. The mission of STAA is to provide quality programming and cultural enrichment to the community, support established artists, promote emerging artists, produce educational arts-related activities for adults and children, and enhance life in St. Tammany Parish. In addition, STAA holds art exhibitions where local and national artists can apply and show their art in a professional, well-designed exhibition space. 
STAA also holds art classes for children as well as adults. Pottery, drawing, and painting are just some classes that can be taken at STAA. https://www.sttammany.art/ 
Catherine's sitting on The Friends of the Dew Drop board in Mandeville, LA, rounding out her dedication to the cultural arts. 
The Friends of the Dew Drop was created to preserve a building constructed in 1895 as a Social and Benevolent Hall. Situated in the African-American community, it was a gathering place for early jazz and social endeavors, including feeding the needy and providing temporary housing. 
Sitting on Lamarque St. in old Mandeville, it is considered the world's oldest, unaltered rural jazz hall. Kid Ory, Bunk Johnson, and many other great jazz musicians played the Dew Drop. 
There is also ample evidence that Louie Armstrong played there while visiting relatives on Jackson Avenue. In addition, the Friends of the Dew Drop hold spring and fall concerts. People fill the quaint jazz hall, sitting on benches or setting up chairs outside to hear the music of local jazz and blues artists. 
Kenny Neal, Ed Wills, Dr. Michael White, Amadee Fredricks, and Don Vappie are some wonderful musicians who graced the stage at The Dew Drop. www.dewdropjazzhall.com
In addition to Catherine's enthusiasm for the arts, she is also interested in philanthropy. Under the Painting with a Twist umbrella, Catherine created Painting with a Purpose, the non-profit arm of Twist Brands. 
Realizing how important giving back to the community is for any business to succeed, PWAP has become an integral part of the business system. Each studio teams with a non-profit once a month, and 50% of all revenue goes to the non-profit. To date, Painting with a Purpose has donated over 7 million dollars to charities in the communities where studios are located. In addition, once a year, a system-wide Painting with a Purpose is conducted for a national non-profit. Wounded Warriors, Dave Thomas Foundation, and The Vera Bradley Foundation, among others, have participated in this initiative. 
Her most recent accomplishment was a listing in Forbes 50 Over 50 in the Lifestyle category. https://www.forbes.com/50over50
 Facebook: https://www.facebook.com/paintingwithatwist
Instagram: https://www.instagram.com/paintingwithatwist/
LinkedIn: https://www.linkedin.com/company/painting-with-a-twist