Hurricane Laura and Her Impact on Transportation and Infrastructure
Words from
Secretary Shawn Wilson, Ph.D.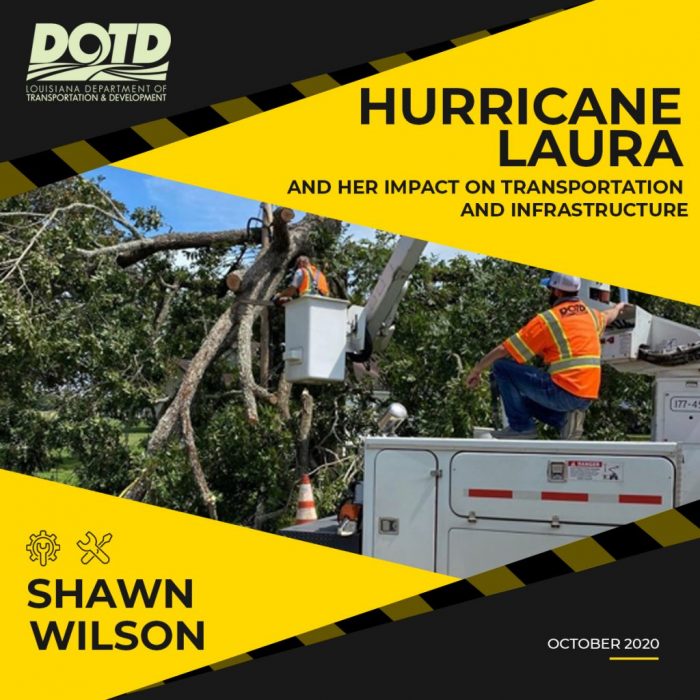 Hurricane Laura and Her Impact
on Transportation and Infrastructure
While the response to Hurricane Laura for some Louisianans is in the rearview mirror, the destruction remains at the forefront for those in her path. The recognition that the long and steep road to recovery is palpable.    
Mangled power lines intertwined with vegetative and construction-related debris, cause unmatched destruction from natural disasters like Laura and disable local infrastructure because it is built on an interconnected network.  Flooding and wind damage can destabilize virtually every basic service, as we saw with Laura because nearly every system depends on electricity.  Distribution and transmission power lines collapse under winds nearing 150mph.  Water damage erodes and undermines roadways, creating channels that destroy the foundations of roads, embankments, and the mechanics of movable bridges. Infrastructure damage after a hurricane is widespread and can affect all sorts of commonly used spaces and systems. Infrastructure disruptions caused by any natural disaster result in considerable costs to families and communities in months and years to come, not including the expense from the immediate need for interim living arrangements and personal property cleanup.  
In the days preceding and immediately following Laura's landfall, the Louisiana Department of Transportation and Development (DOTD) collaborated with other state and local partners to assist in evacuating citizens to non-congregate shelters.  Using 58 school busses, 70 Coach Busses, and 15 para-transit vans, DOTD transported thousands of citizens to-date from southwest Louisiana to safer destinations. We continue to provide transportation to those individuals while they temporarily shelter in other parts of Louisiana.  This service includes convenient transportation to get groceries and personal items, medical appointments, and even to pet shelters if we evacuated their extended four-legged family members.
In Louisiana, we are no stranger to disasters. Unfortunately, we are juggling multiple disasters simultaneously.  As if a category four hurricane is not enough, where is the manual on responding while maintaining pandemic protocols (COVID-19) in a natural disaster? How many people can we fit on a bus while social distancing? Do we have the proper personal protective equipment (PPE) to provide? Can we safely transport and shelter our citizens when in need?
As soon as it was safe to do so, 1,700+ DOTD crew members from across the state emerged in Southwest Louisiana. These crew members removed debris from state highways, inspected bridges that were overtopped by the storm surge, installed temporary power (generators) to as many traffic signals as possible, and inspected and reinstalled traffic signs.  That is the first sign for many that a community is coming back.  The men and women of the DOTD did not hesitate to step up and respond, knowing 57 of our employees lost everything in the disaster.  Many traveled hours away from their home, working 12+ hours a day without very much to eat or drink and returned that night to a base camp with little to no electricity or water.  Some even slept in their trucks.  We are also very thankful for the teams of workers from the Tennessee Department of Transportation. They arrived with heavy machinery to assist our crews in clearing a path for the mass recovery to begin effectively.  
As I mentioned earlier, damage to infrastructure caused by a natural disaster results in considerable expenses to the state and local governments for years to come.  We estimate the damage to public transportation infrastructure will be over $23 million. This estimate is a small figure when considering the damage to private property. Following Hurricane Laura, the estimates were 143 roads closed, and 22 state bridges were inundated from water-related damages. We know that 203 traffic signals were damaged, and approximately 10,000 traffic signs were damaged, destroyed, or removed based on inspections to-date.  
One of the etched images in our minds as a reminder of Hurricane Laura is the floating casino barge's image under the I-10 Bridge in Lake Charles.  The Isle of Capri casino boat broke loose from its moorings and collided with the I-10 Bridge's pilings, ultimately doing little to no damage. The boat captain remained on the vessel and assisted with the steering to not cause significant damage to the bridge.  While I-10 could have reopened much quicker, a chlorine fire erupted at a local chemical plant resulting in the immediate closure of I-10 in the local area as well as a shelter-in-place restriction.  This fire caused a delay in the inspection of the I-10 bridge as well as other responses.  
We have noticed a residual effect is the increase in congestion and the number of accidents seen on our roads near the state's impacted areas.  We have also seen an increase in the seriousness of the accidents as well.  Please do your part not to drive distracted and pay close attention when you are in an area where there is debris removal, and the recovery has begun.  
Our infrastructure system is as resilient as our people.  Movable bridges are opening again, over 675,000 cubic yards of debris has been picked up in the first pass, and the thousands of signs and signals are restored. We will forever remember Hurricane Laura for the scare it leaves on our state the communities in her path.  Her impact will remain with us, and it is my fervent prayer that we use the lessons of this moment always to do better.