SNICKERDOODLES


Recipe Courtesy
JCB Creations
Ingredients:
5 ⅓ C. Flour
4 teaspoons Cream of Tartar
2 teaspoons baking soda
1 pound (block) of butter (softened)
3 cups Sugar
4 eggs
2 teaspoons vanilla extract
Method:
Set oven to 350 degrees
Whisk together the flour, cream of tartar and baking soda and set aside
In another bowl, with an electric mixer, mix the butter and sugar on high speed until blended and smooth. Add eggs and vanilla and mix until smooth.
Take the flour mixture and slowly start incorporating the flour mixture into the butter mixture, on medium, until all ingredients are incorporated.
Take an ice cream scooper (with the thumb release scraper) and scoop out the dough mixture, scraping the edges clean, and release the scoop onto a sheet pan.
In a small bowl, mix together ¼ cup sugar and ¼ cup cinnamon.  Take each cookie scooped dome and dip the top of the cookie ball into the cinnamon/sugar mixture and place back on baking sheet.
Bake for 11 minutes (until edges are golden brown).
Set on rack to let cool for about 10 mins.
Serve and eat!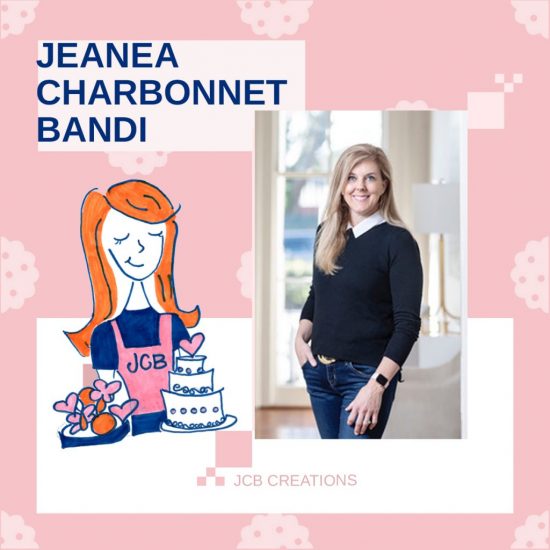 Jeanea Charbonnet Bandi 
JCB Creations
Jeanea Charbonnet Bandi of JCB Creations is known as the "cookie lady" in New Orleans.
In 2002 Jeanea started decorating cookies and cakes with her sister as a "part-time" hobby business while raising new babies under the name "SugarMAMAS"! It was an overnight success, and they quickly had a successful "full-time" business on their hands.  It was a fantastic whirlwind, but, in 2005, Hurricane Katrina wiped out the company. Their families moved to different cities. In 2006, Jeanea went out on her own as JCB Creations. She worked out of her house where both her business and her son got bigger by the day.
In 2011 she opened a storefront on Oak Street. Business kept growing, and she added more products to the menu.  In 2016 Jeanea had the opportunity to move the store to a Magazine Street location in New Orleans, where it grew even more! Eventually, the expenses of having a storefront increased, and complications from the pandemic added to this complication. So, she decided to go back to her roots and closed the storefront.  This move turned out to be a blessing as she was able to spend more time with her son before he left for college. Moving back to her workshop at home allowed her that time. JCB creations now delivers all the products directly to customers.
Jeanea has a fiercely loyal clientele who followed her everywhere and has helped the business grow through word of mouth and social media. The most popular item is the almond-flavored Butter Shortbread cookie that is hand decorated for almost any occasion. The decorated cakes are also very popular.
Jeanea keeps all her recipes secret, but has offered to share a fan favorite – her snickerdoodle! This cookie's pillowy softness with just a little cinnamon and sugar on top makes the perfect afternoon treat with a cold glass of milk.