January is
National Human Trafficking
Prevention Month 
Written by Dr. Dana R. Hunter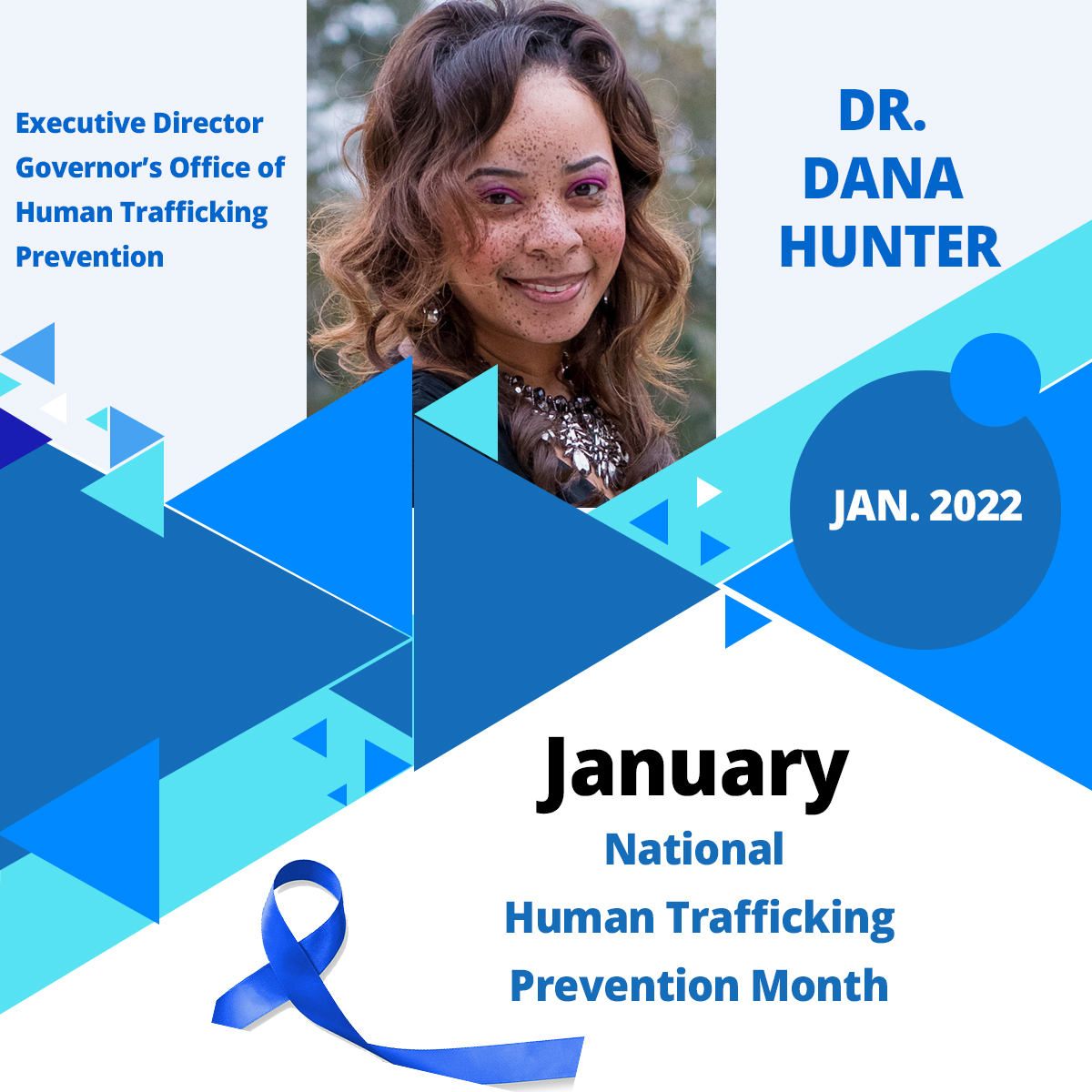 National Human Trafficking Prevention Month 
Written by Dr. Dana R. Hunter

January is National Human Trafficking Prevention Month. I could not be prouder to live and do business in a state that has made the prevention of human trafficking a priority. Prevention is a proactive step in protecting our children and adults from predators seeking to enslave them into commercial sex or labor against their will. We must prioritize children and adults' mental, physical, and emotional health as we take preventative measures. Human trafficking can happen to anyone in any community. Still, we know that some individuals—such as system-involved youth, individuals with disabilities, and those with past histories of trauma and abuse— are more vulnerable to the recruitment tactics of traffickers. Simply put, we protect our vulnerable children and adults by intervening before victimization occurs.
The countless stories shared by victims and survivors of their trauma and abuse are the driving force behind our commitment to prevention. The stories that they are brave enough to share tell us of the brutal beatings with objects such as pipes or the butt of a gun, threats of harm to siblings and other family members, and even isolation of victims' children, dictating how often (if at all) a mother can see her child. They often discuss the inability to eat or do simple things like use the restroom without the permission of their trafficker. These lived experiences often wreak havoc in the lives of victims even after the recovery from the trafficking situation. The trauma continues to plague their lives for years, even decades. We can never underestimate the complex trauma and harm that human trafficking victims experience. This is why prevention is paramount.
The Governor's Office of Human Trafficking Prevention (OHTP), the state's first entity solely dedicated to preventing and combatting human trafficking, has taken a lead role in partnering with public and private agencies and in implementing prevention efforts across the state of Louisiana. The OHTP has been honored to work with the Office of First Lady Donna Edwards in their efforts to launch Louisiana's first statewide public awareness anti-trafficking campaign. The campaign seeks to educate the public on human trafficking and the role we all can play in preventing and combatting this crime in our communities. The OHTP is also pleased to announce a new partnership with Louisiana State Police and Greater New Orleans Crime Stoppers to support a statewide rollout of the Safe Schools Louisiana App. The Safe Schools Louisiana App is an anonymous and preventive intervention tool that students in Louisiana schools can use to protect themselves from threats of violence! The free Safe Schools Louisiana App allows students to report on threats of school violence or suspected crime such as bullying, harassment, threats of bodily harm, suicide, robbery, assault, sexual assault, and even human trafficking. Crime Stoppers has received over 1,000 student tips since this new Safe School App launched last year! The app is live in 415 Louisiana schools across 13 parishes. We encourage every school in Louisiana that does not have a safety mechanism for students to consider participating in the Louisiana Safe Schools App. Signing up for the app is free for schools. For more information, please contact Darlene Cusanza at Darlene@crimestoppersgno.org.
See the article in the Human Trafficking section below to learn more about human trafficking prevention activities happening across the state in January. You may also contact the Office of Human Trafficking Prevention at humantrafficking@la.gov.