This year we held the fourth annual Evening at the Mansion, a fundraiser for the Mansion Preservation Foundation, which helps maintain the beauty and history of the incredible home that belongs to the people of Louisiana. In keeping with our themed celebrations, this year, we celebrated New Orleans 300th anniversary. The evening began with a true New Orleans dinner provided by award winning chef Troy McPhail of Commander's Palace. It was truly unforgettable, and we're grateful to Chef McPhail and his fantastic team for giving us all a meal to remember. The night culminated with a special performance by New Orleans' very own, John Boutte and the John Boutte Trio. What a performance! The audience was treated to a fantastic mix of traditional jazz tunes along with some of our favorite Christmas carols. Both of these talented artists are incredibly gifted and we are grateful to both of them for bringing a little New Orleans to the Governor's Mansion.
The evening was recorded by Louisiana Public Broadcasting (LPB). The program will air statewide on December 25 at 9:30 p.m. and again on December 28 at 8:30 p.m.
To learn more about past Evening at the Mansion special events visit GovernorsMansion.org
Mrs. Gayle Benson joins The Governor and First Lady in a toast to the installation of the beautiful chandelier in the Rotunda
Mrs. Gayle Benson joins The Governor and First Lady in a toast to the installation of the beautiful chandelier in the Rotunda
Chef Tory McPhail and members of the Commander's Palace staff explain the outstanding 5 course meal served
Roger Ogden, benefactor and dear friend to John Bel and Donna Edwards, gives a wonderful talk about the 300th Anniversary of New Orleans
The Governor and First Lady thank all of the benefactors and attendees
Executive Chef, Commander's Palace
Tory McPhail has followed a path forged from hard work to arrive at the historic Commander's Palace restaurant's storied chef legacy, which has cultivated the likes of Emeril Lagasse, Paul Prudhomme, and Jamie Shannon.
McPhail hails from Ferndale, WA, a small town near the Canadian border, where he learned to appreciate local goods and the comfortable gathering place of his parents' kitchen. Corn planted in the spring would become dinner in the summer; fish caught in the afternoon from his family's stocked pond would make it to the plate by dusk. "I knew food didn't just come from the grocery store and magically appear there," he says. "Being able to watch it all grow gave me a passion for natural foods."
After high school, McPhail attended Seattle Community College and received an ACF-accredited degree in culinary science. Compelled by New Orlean's history, soul, and Mardi Gras celebrations won him over, he moved upon graduation and at just 19, he was hired by Commander's Palace Executive Chef Jamie Shannon. He worked diligently through all 12 stations of the kitchen, honing his craft and making a positive impression on his boss.
In search of "as much experience as possible, as quickly as possible," McPhail later completed a series of stints at several culinary hot spots, including the Breakers Hotel in Palm Beach, FL; the Michelin-starred L'Escargot in London and its sister restaurant, the Michelin two- star Picasso Room; and the Caribbean/Creole-intensive Mongoose Restaurant in the U.S. Virgin Islands.
In spring of 2000, McPhail returned to the Commander's family as executive sous chef at Commander's Palace Las Vegas. Though he loved his job there, New Orleans and Chef Shannon beckoned, and he returned to the Big Easy where the Brennan family named him executive chef of the original Commander's Palace in January 2002.
Today, McPhail continues his dedication to creating and sustaining strong relationships with local purveyors, as well as executing exciting dishes in the Commander's kitchen. "I'm always thinking very forward when it comes to Creole food," he says. A passionate and resolute chef who pursues culinary perfection, McPhail delights in exploring a variety of flavors in his seasonal menus—embracing Creole traditions while updating classic dishes with fresh, local ingredients. His Creole Seared Gulf Fish, for example, showcases farm-fresh produce like Spring Mushrooms, Corn, Fingerling Potatoes and seared Speckled Trout.
McPhail's masterful work has not only kept Commander's Palace at the top of critics' lists, but has also led him to numerous TV appearances, including Bravo's "Top Chef," on which he was a guest judge along-side Commander's Co-Proprietor Ti Adelaide Martin; NBC's "Today"; CBS's "Early Show"; "Paula's Party" with Paula Dean; "After Hours With Daniel Boulud"; and numerous Food Network programs, including "Sara's Secrets," "My Country, My Kitchen," "Into the Fire," and "Bobby Flay's Food Nation." Tory also co-hosted "Off the Menu," which aired on Turner South Network for six years.
A James Beard Rising Star Chef and Best Chef South winner, McPhail was also named one of the best chefs in the country by TheDailyMeal.com in 2013, as one of Saveur magazine's inaugural "Tastemaker Chefs" in 2012; awarded the winner of the Great American Seafood Cook-Off in 2009; co-authored Commander's Wild Side with Martin, a collection of recipes taken from the legendary restaurant's kitchen; has served on the Nutrition Advisory Board for Cooking Light magazine; launched his own sauce line, and has been a spokesperson for Wild American Shrimp and for McCormick's Old Bay seasoning.
Select Honors and Awards:
The Jamie Shannon Outstanding Chef Award (2018)
Restaurant of the Year Nola.com | The Times-Picayune (2018)
Food and Wine's 40 Most Important Restaurants (2018)
Southern Living's The South's Best Restaurant (2017)
James Beard Foundation Best Chef: South (2013)
The Daily Meal's Best Chefs in America (2013)
Great American Seafood Cookoff winner (2009)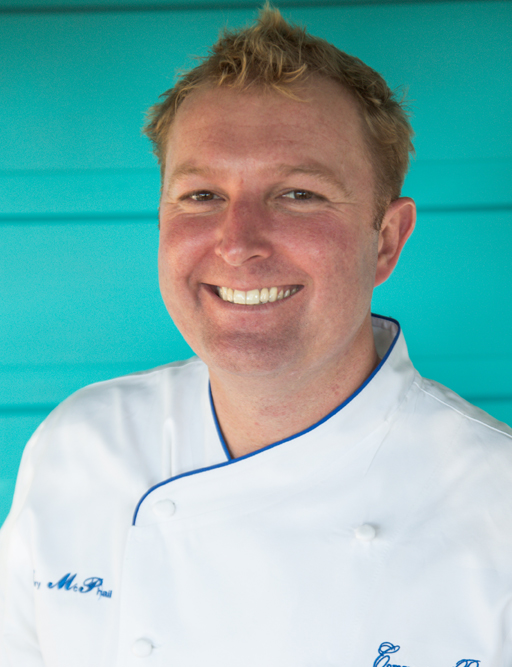 New Orleans Jazz Vocalist
On Sundays as the red beans were soaking for Monday's dinner, John Boutte was awakened by the sounds of his New Orleans neighborhood. Voices carried over the fence from the church behind his home in the Seventh Ward, the home where he grew up, where most of his Creole family still lives and sings. Past the front yard, second-line parades rolled by, matching the madness of Carnival season and the transcendent joy of the jazz funeral. This roux of influences created John Boutte, and serves him to this day. 
During his school days John played coronet and trumpet, those clarions of life in New Orleans, in his junior high and high school marching bands; he was a section leader, no less, in a town where marching bands duel like decked-out demons in the street. School also gave John the chance to sing, first at talent shows and then with street a capella groups, groups named — listen — "Spirit" and then "Remnant." Linger for a moment on those names, and then let them resonate an instant longer, street bands singing on the bricks of a town where "street singer" is still a respectable job title.Take another moment and stir in the spices of the music that was on the turntables of his older brothers and sisters, the music that ruled the street and raised the spirits: Stevie Wonder and Marvin Gaye, the Jackson 5 and Roberta Flack and Donny Hathaway. During these years traditional jazzmen like Paul Babarin, Louis "Big Eye" Nelson and Danny Barker became both John's friends and mentors. John's sister, Lillian Boutte, introduces the young stylist to local legends like Dr. John, Allen Toussaint and James Booker.
After high school, John studied at Xavier University, a black Catholic institution known in New Orleans and indeed the entire Deep South. After graduating John was commissioned as officer in the U. S. Army, and provided with the opportunity to direct and sing in the Army gospel choirs in Virginia, Texas and, eventually, Korea. It was in Korea, ironically, when sinqing gospel and deep, deep blues after hours in restaurants he'd only accidentally entered, that he began to know himself as an American, an artist and a person. Not long after his return to the States, John was invited to tour almost the entirety of Europe with his sister Lillian. Europe was a set of lessons in languages and cultures and customs, which gave John a chance to meditate on the very idea of a life led as a jazz singer.
When John eventually got back home to New Orleans he continued singing. But now there was a new generation, a new breed of musicians available; musicians like Herlin Riley, Shannon Powell, Nicholas Payton and Bryan Blade. He began to open shows for the likes of Mel Torme, Lou Rawls, Rosemary Clooney and, most recently, Herbie Hancock. In recent times he has recorded three CD's. Through the Eyes of A Child , Scotch and Soda, and the remarkable Jambalaya, recorded for Bose. Yet another CD entitled Gospel United, a concert recording arranged in Denmark, contains his remarkable solo arrangement of "The Battle Hymn of the Republic", which has achieved Gold Record status in several European markets.
Sometimes you can hear him singing, sometimes whistling, or sometimes you can hear him faintly from the street as he sits at his piano singing a Korean lullaby. John's job is to sing — to sing jazz, to sing it with such style and grace that no one ever mistakes him for anything other than a master. John is one of those remarkable cases where the art arises from the true heart. To know John is to hold onto the coattails of a butterfly. To hear him sing is to feel a brief touch of the wing.