CHRISTMAS
at the Governor's Mansion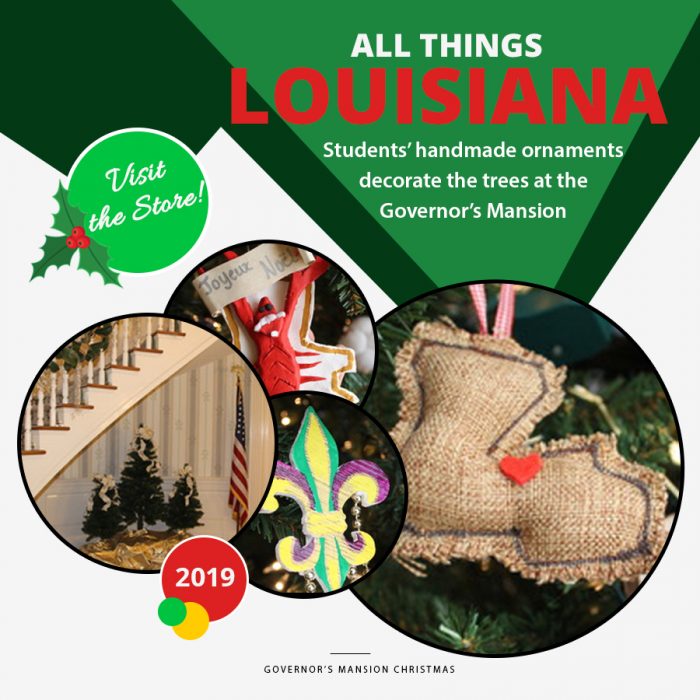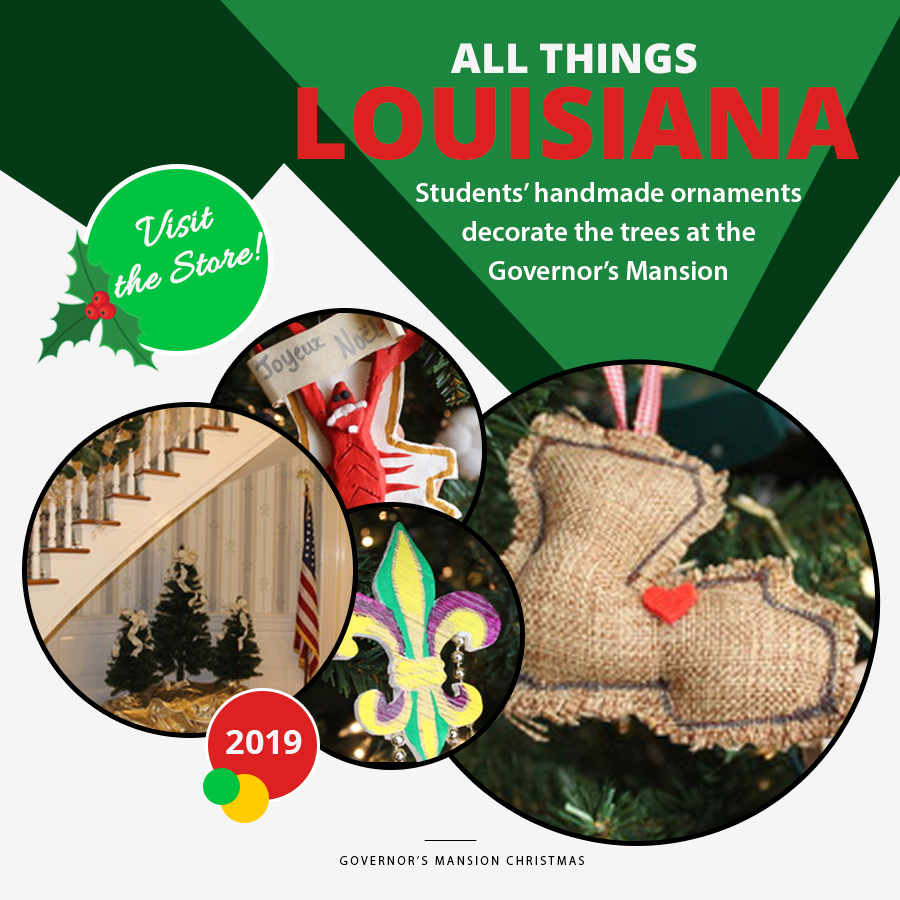 CHRISTMAS
at the Governor's Mansion
Each year, a theme is chosen to decorate the Governor's Mansion. The first year, Louisiana's French heritage was celebrated. The second year, Louisiana's Spanish heritage was showcased. Last year New Orleans' 300th anniversary was honored. This year, the theme is "All Things Louisiana". The color tone is warm and earthy. The decorators attempted to bring Louisiana's natural beauty indoors with magnolias, magnolia leaf garland, moss, pine cones, and cotton. Fleur-de-lis, pelicans and replicas of our great state can be seen throughout the decorations.
There are three large trees in the mansion – two are in the parlor and one is in the state dining room. These trees are beautifully decorated with ornaments created by the amazing and creative students across our state. Louisiana is uniquely beautiful, and seeing the students showcase its beauty through their creativity warms the heart during this holiday season. A children's tree is also decorated each year. This year, the children's tree is adorned with red beans and rice, pots of gumbo, and oyster shells painted with Christmas scenes. This tree is finished with a precious Louisiana print ribbon.
The Governor and First Lady love having the opportunity to share the State's beautiful home with the people of Louisiana this time of year, and are truly thankful for the incredibly hardworking team who decorated the Mansion this year. The inspiration for the decorations was drawn from the original painting by Chris Davis, "The Mansion Magnolia" that hangs in one of the guest rooms at the Mansion. Governor Edwards assisted Mr. Davis and his signature can be found on the bottom of the painting and the prints available for sale through the Mansion Foundation.
Click the link below and find the Magnolia print and many other items for sale including the beautiful collection of Mansion ornaments. Any of these items would make great hostess gifts or presents for the holiday season!