Chef Amy Sins
Cushaw Cake – Susan Goss/Second Harvest Foodbank
Chef Amy Sins
Cushaw Cake - Susan Goss/Second Harvest Foodbank
Ingredients:
4 large eggs
1 2/3 cup granulated sugar
1 cup vegetable oil
2 cups cushaw squash, cooked and mashed (substitute butternut squash or pumpkin)
2 cups all-purpose flour
2 teaspoons baking powder
2 teaspoons ground cinnamon
1/4 teaspoon ground cloves
1/4 teaspoon ground nutmeg
1/4 teaspoon ground ginger
1/4 teaspoon ground allspice
1 teaspoon salt
1 teaspoon baking soda
Method:
Preheat oven to 350°F. In the bowl of an electric mixer fitted with -the paddle attachment combine the eggs, sugar, oil and squash until light and fluffy.
In a separate bowl stir together the flour, baking -powder, spices, salt and baking soda Add the dry ingredients to the -mixer bowl and mix at low speed until thoroughly combined. Raise -speed to medium high and beat batter 1 minute to aerate.
Butter a 9″x 13″ baking pan or spray with pan spray.
Spread the batter evenly into pan, smoothing the top.
Bake until golden brown and cake tester inserted near the middle comes out clean, about 30 minutes.
Let cool completely before cutting into bars frost, if desired with your favorite cream cheese frosting.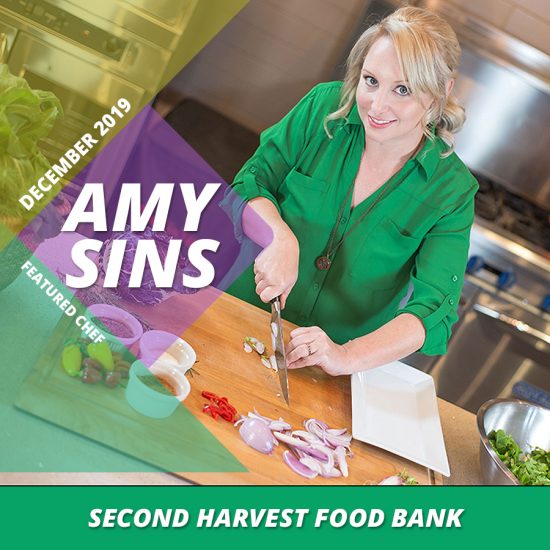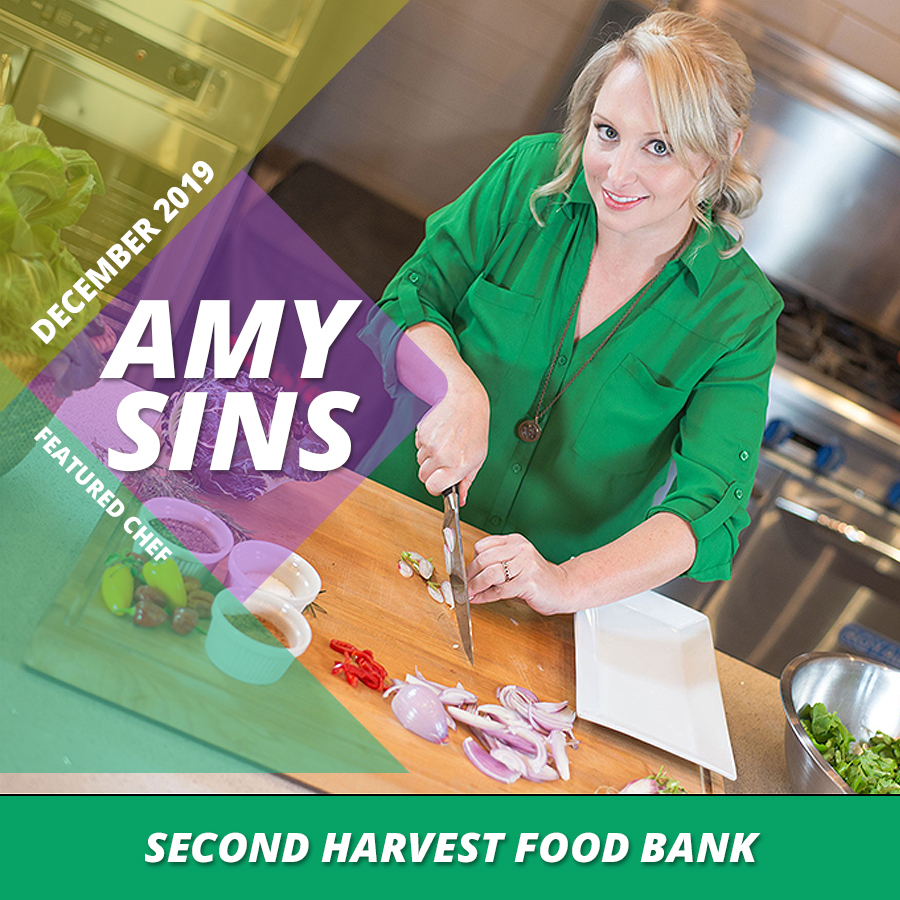 Chef Amy Sins
I never thought that I'd need to rely on strangers for food and assistance but that is what happened when our home flooded during Hurricane Katrina.  It was challenging to wrap my mind around the fact that I was now on the receiving side of love and kindness rather than the giving side. The volunteer groups who helped us clean our home and the organizations who fed us were exactly what we needed to restore our hope that brighter days were ahead.  
So many strangers helped us, inspired us and fed us and I vowed I would pay it forward one day.  My first pay it forward effort was in 2008 when my husband and I saw on the news that Cedar Rapids Iowa was flooding.  In that moment we decided to use our vacation days and gather a team to help.  
The experience was emotional and rewarding. Though we were there to give, we also received. The resilient spirit, the smiles, and the stories touched our hearts.  
Here in Louisiana, the first thing we want to do is feed people.  When someone in Louisiana cooks for you, I can guarantee that food is filled with love.  And we all know that even when it is 98˚ outside, a bowl of gumbo can make you feel better.
I've learned throughout the years that families need different things in the days immediately following a disaster than they need during the days and months of rebuilding.  A hot meal is not always practical when services like clean water and electricity are limited so we have to opt for shelf stable and prepackaged items like granola bars, trail mix and bottled water.  Then, when services are restored it is time for the good stuff like gumbo, red beans & rice and jambalaya!
During the Louisiana floods in 2016 I began partnering with Second Harvest Foodbank.  Their team taught me even more about disaster relief and food.  They also reminded me people go hungry everyday in our state, not just during disasters.  
In the Second Harvest kitchen our team of chefs and volunteers have cooked some amazing food- gumbo, jambalaya, blackened shrimp, smoked pork, bread pudding and more.  Each meal has a little bit of Louisiana love in every bite.  Here are a few recipes to hopefully inspire you to cook at home, and also inspire you to partner with an organization in your area who provides meals to others.
You can follow our disaster relief efforts online at https://www.facebook.com/groups/262933897426740/
Chef Amy Sins
Langlois
www.langloisnola.com
www.chefamy.com