WOMEN'S HEALTH BLOG
July 2021
Our Fluttering Heart
Written by
Dr. Arezu Bhatnagar
A fluttery heart could be a sign of love and romance, or it could be a warning sign of something more dire. As we have protected our hearts from the turmoil of love, it is now time for us to do so again, but perhaps for a completely different reason.
Cardiovascular disease (heart disease) is commonly associated with being a condition that only affects white, middle-aged men. However, this is just not the case! The leading cause of death in women living in the USA continues to be due to conditions that affect the heart.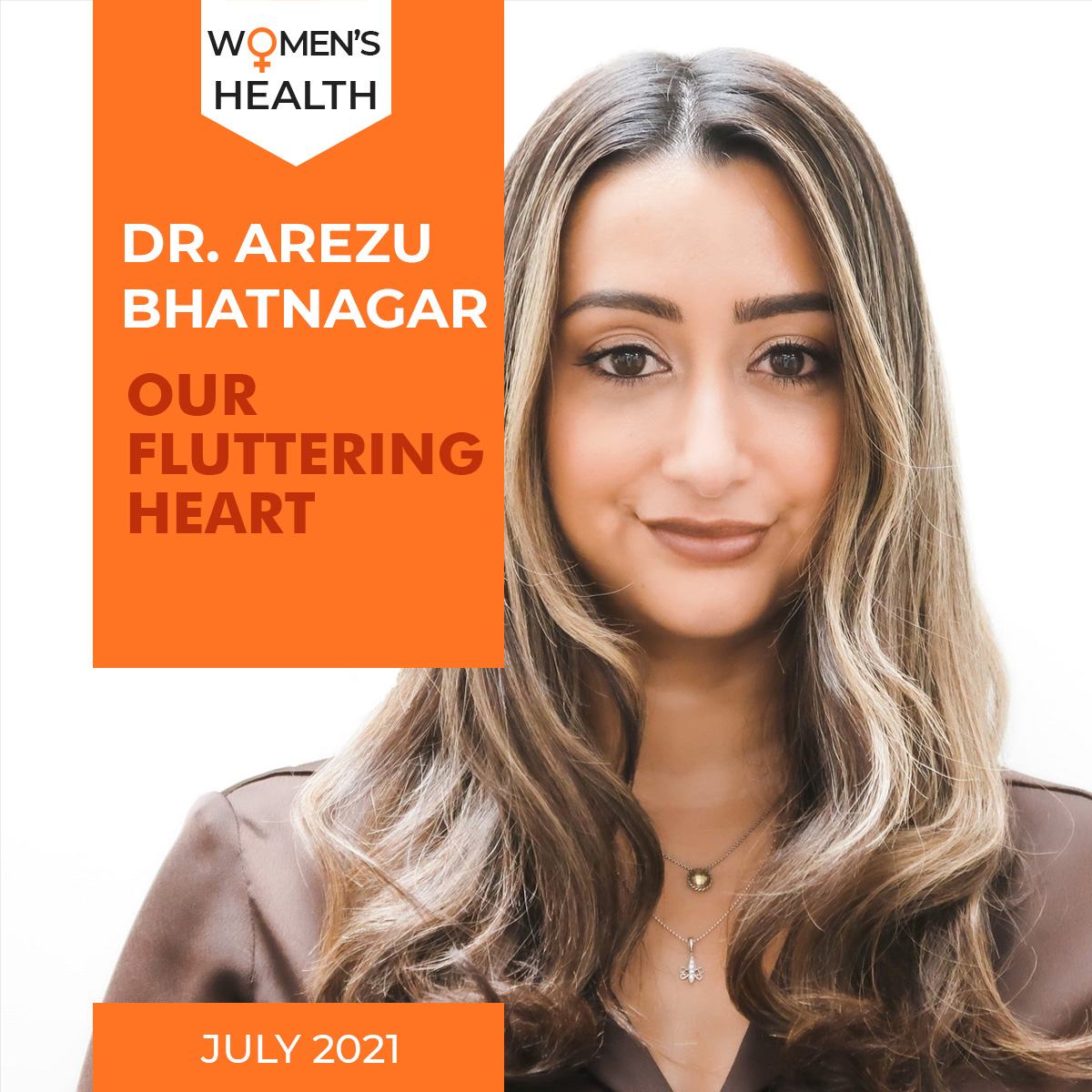 One cardiovascular disease that requires specific attention is atrial fibrillation (Afib), a condition that affects the upper chambers of the heart (atria), causing it to beat either too slowly, quickly, or irregularly (arrhythmia). This can present as a "butterfly flutter" in your chest. Afib is actually the most common type of arrhythmia experienced worldwide and although continued awareness has been raised regarding sex differences in coronary heart disease, Afib sex differences has been given very little attention.
Approximately 5.2 million people in the US were diagnosed with Afib in 2010 and medical professionals are predicting that approximately 12.1 million individuals will develop Afib by the year 2030¹. After age 75 years, about 60% of the people with AF are women². It is now more crucial than ever to understand Afib and how it can present if you are a woman.
Recognizing and treating Afib quickly can also lower the risk of serious outcomes associated with the disease such as, stroke (which affects women more).
What is a stroke? And how does it relate to the heart? If your heart does not beat correctly i.e. if you have Afib, blood cannot pump well enough to supply the head and the rest of the body. Some of the blood can remain in the heart and can start to become sludge-like. Clots (thickened blood) can piece off and travel to the brain vessels blocking adequate supply to the brain, causing a stroke.
Do you experience a racing heart? Do you suffer from shortness of breath and chest pain that comes and goes? Are you feeling tired, weak, lightheaded, more often than not? These of course, can be caused by a number of things, and the first explanation that probably comes to mind is that you are perhaps more stressed at home or at work, especially given the current status of the world. You might also think that you have developed or are suffering from anxiety episodes since it doesn't happen all the time, and you will most likely confirm this theoretical version if you are not sleeping or exercising as well as you used to- but what if this was your body's way of telling you that this could be Afib?
Like any disease, there are several risk factors that increase your chances of developing such a condition. Let's take a look at them now; women between the ages 65-75 years of age, women who are overweight (BMI ≥30), women with diabetes, women who smoke, women who drink more than 3 times a week, women who have high blood pressure or a history of a heart valve disease. The list goes on…
If you are starting to mentally check boxes as you read this, there is no cause for panic. Your doctor can readily diagnose and treat Afib with an array of available diagnostic and treatment options. Wearable devices and remote monitoring are some of the newest modalities to detecting Afib earlier.
The key here is to be proactive when it comes to experiencing any signs and symptoms related to Afib that can present quite differently to what men commonly experience.
Take these signs as a gentle nudge from your body to seek professional help.
Protect that heart of yours.
¹Colilla S, Crow A, Petkun W, Singer DE, Simon T, Liu X. Estimates of current and future incidence and prevalence of atrial fibrillation in the adult population. Am J Cardiol. 2013;112:1142-1147.
²Feinberg WM, Blackshear JL, Laupacis A, Kronmal R, Hart RG. Prevalence, Age Distribution, and Gender of Patients With Atrial Fibrillation: Analysis and Implications. Arch Intern Med. 1995;155(5):469–473. doi:10.1001/archinte.1995.00430050045005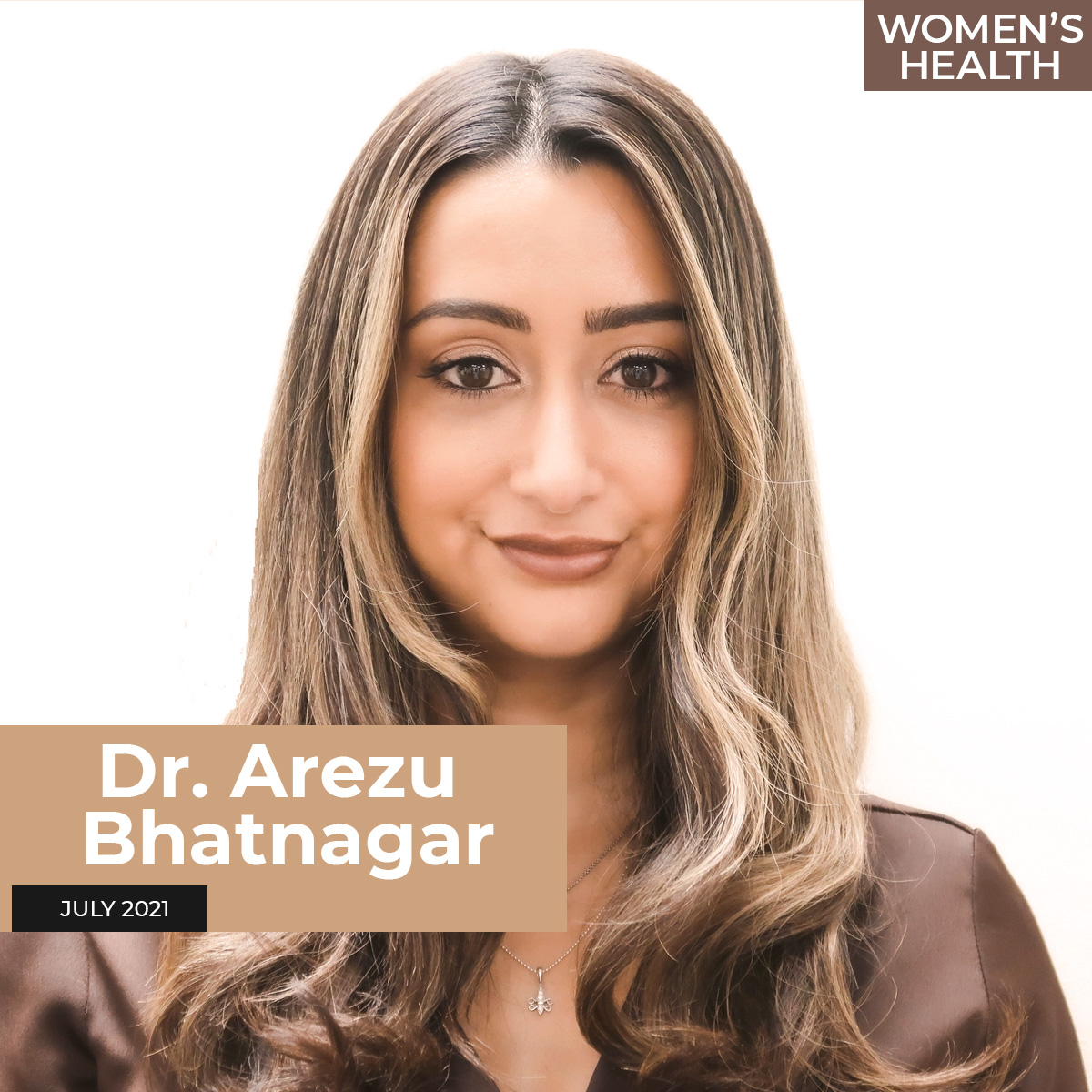 Dr. Arezu Bhatnagar
Arezu Bhatnagar is a medical graduate, born and raised in England, UK.
Dr. Bhatnagar was accepted into the Master of Clinical Research Methods Program at Tulane University School of Medicine in 2018 and her love for New Orleans cuisine and culture (including her passion for clinical research!) has kept her here ever since.
Currently, Arezu practices as a Medical Monitor/Manager for cardiac clinical trials at Tulane Research Innovation for Arrhythmia Discoveries (TRIAD), Tulane University School of Medicine. Her main area of focus has been on atrial fibrillation research and bringing awareness to the disease.