WOMEN'S HEALTH BLOG
December 2021
A Woman's Self-Care During the Holidays
Written by
Kimiyo Harris Williams, M.D., FAAP             
The chill of winter approaches as Autumn's colorful scene sets the stage for a season of festive celebration. The heavy, cozy coats coupled with brilliant orange fireplace flames keep us warm as we snuggle in our favorite red blanket on crisp December night. As we embrace this holiday season, remember that self-care is essential. It should be one of our highest priorities as wives, daughters, mothers, sisters, aunts, nieces, and friends.  Even as we plan our family holiday meals and shop for holiday gifts for those we love, let's not forget to invest in our well-being.
Here are some practical tools and tips to help foster self-care during the holidays from the Harvard Health Blog. October 22, 2019, By David R. Topor, Ph.D., MS-HPEd.
Regularly schedule a time to engage in self-care activities. Schedule self-care activities (exercise, meditation, a hobby you enjoy) at the same time each day so they become routine, or set a timer or alarm to remind yourself.
Practice gratitude for the people and events in your life. This practice might include writing in a journal about what you appreciate in your life or letting others know the gratitude you feel.
Engage in deep breathing or other relaxation skills. Include listening to soothing music or engaging in an imagery exercise. You can also engage in several other relaxation skills that include: breath focus; body scan; guided imagery, mindfulness meditation, yoga, tai chi, and qigong; repetitive prayer.
Tune into the emotions you are experiencing. Emotions may be positive, negative, or a combination of the two. Call "time outs" for yourself and check in on your feelings. Write down your emotions in a journal.
Try to understand why you might be experiencing negative emotions. For some people, negative emotions might be related to unrealistic expectations or goals around the holidays or feeling overwhelmed. Readjust goals, so they are specific and attainable.
Monitor your stress level. Write down your stress level in a journal at various times during the day. Take note of the situation you were in when feeling stressed. Is it around certain people? Were you engaging in specific activities? Have a list of activities you can engage in to relax for a few minutes. Perhaps this is taking a walk, doing a few minutes of yoga, or watching a favorite TV show or movie.
Be present around the presents—practice mindfulness and meditation, including spending a minute or two being present in your environment. Take notice of the smells, sounds, and sights of the holidays. Notice the differences between the holiday season and other times of the year. Mindfulness techniques can be more than quiet contemplation.
Take care of your physical health. Ensure adequate sleep and a nutritious diet. Develop a plan to enjoy the special foods and treats around the holidays while balancing them with healthy eating.
Source: https://www.health.harvard.edu/blog/self-care-strategies-holiday-season-2017121812926 
I encourage you to embrace and enjoy this holiday season. However, take the time to be "still" and assess your needs, wants, and desires.  Be intentional about your self-care so you can be well equipped to care for those you love.
I Am My Sister's Keeper!!!
-Kimiyo Harris Williams, M.D., FAAP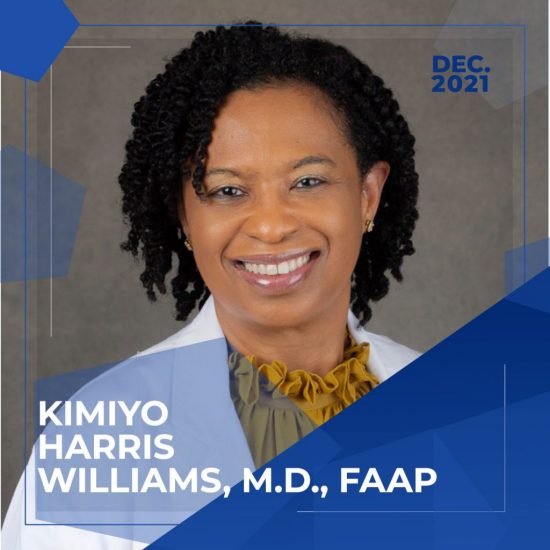 Kimiyo Harris Williams, MD, FAAP

Kimiyo Harris Williams, MD is board certified by the American Board of Pediatrics and a Fellow of the American Academy of Pediatrics. She is a native of New Orleans, Louisiana. Educating her patients and encouraging healthy habits has been the foundational framework of her practice of medicine. She strongly supports health advocacy and empowers her patients and their parents to be intentional regarding their health and wellness. She graduated cum laude from Xavier University of LA, receiving a Bachelor of Science degree in Biology/Pre-Medicine. Upon completion of her studies at Xavier University, she embarked upon a career in research in the department of Pulmonary Critical Care at Louisiana State University School of Medicine. Her desire to transition her career to clinical medicine led her to pursue a Doctor of Medicine degree. She received her Doctor of Medicine degree from Louisiana State University School of Medicine, New Orleans and completed her pediatric residency training at Children's Hospital in New Orleans and LSU Health Sciences Center Pediatric Residency Program. Dr. Williams' career includes both academic and clinical medicine over the past 20 plus years.
Dr. Williams is the President of K.H. Williams Enterprises, INC., an executive health entity focused on health advocacy, clinical practice, and medical consulting. She has been affiliated with the Delta Research and Educational Foundation Research Matters for All of Us Initiative funded by the National Institutes of Health (NIH) All of Us Research Program since 2018; serves as Co-Chair of the Louisiana Regional All of Us Advisory Board and a medical expert consultant for other organizations funded by the NIH All of Us Research Program. In 2020, she was appointed in a volunteer role as a Public Health Equity Ambassador by the Louisiana Department of Health. She was the inaugural author of the Women's Health Section in First Lady, Donna Edwards' Louisiana First Foundation's (LFF) monthly blog, a featured author of several additional articles and currently serves as its Women's Health Editor. Dr. Williams was honored to present the keynote address at the "Louisiana Women's Day and Retreat" event held at the Louisiana State Capitol in the Governor's Press Conference Room in May of 2018. In May 2020, Dr. Williams served as a guest speaker and panelist for National Women's Health Week "More Power: Women at the Polls and in Policy" Women's Day Webinar. She has been a guest speaker and panelist at numerous meetings throughout the years.
Personally, Dr. Williams cherishes being a wife, mother of two sons, bonus mother of three and grandmother of four.
You can connect with Dr. Kimiyo Williams via email at kwilliams@khwilliamsenterprises.net.