Teach MAM: An Exciting Partnership to Strengthen Arts Education Across Louisiana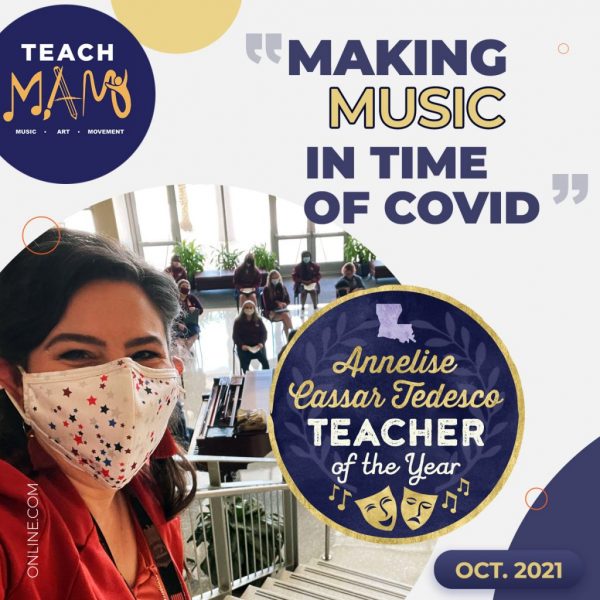 Adaptation
Making Music in Time of COVID

by Annelise Cassar Tedesco
Louisiana State Teacher of the Year, 2022
Louisiana First Foundation, Teach MAM Music Ambassador
Music Director and Teacher, CHS Voices
Chalmette High School – St. Bernard Parish, Louisiana 
Making music amid the COVID pandemic has been an interesting journey. For some, studying music and partaking in live music performances have all but faded into a distant dream of activities once enjoyed as part of a very distant past. For others, a new stint of adventure in the virtual world our music-making has afforded new opportunities, but opportunities are framed with isolation instead of togetherness.
A place where music-making has been very challenging is in our schools. Students have had to endure new, very restricted environments where they could no longer study or rehearse in their traditional spaces. They have moved outside where blending and hearing their peers as an ensemble is almost non-existent. In some cases, they have endured the complete loss of music education and performance opportunities that they once knew and loved. The environment has been warped with fear and constraint. Performance programs, performing people, and most importantly, performing children have suffered through this pandemic.
As many now look at the possibility of vaccination, recovery from storms, and spaces to return to education and socialization in a traditional way, we must specifically acknowledge the importance of music in our schools and work to find creative solutions to reinvigorate practice and performance safely. Music incorporates math, science, literature, and history. Music increases brain activity, inspires creativity, and helps students process emotions. Furthermore, it often serves as a social connector for students and adults alike. Our music and theatre program at the school where I teach truly helps form a home and family for our students. For some, it is a second family and home away from home. For others, it is the foundation of love and compassion in their lives.
Music is essential in our communities. From opera to jazz, Louisiana has been a centerpiece for cultural development and artistic leadership in America. Just as we played a pivotal role at the beginning of our nation's musical journey, we must embrace our role again to be a leader in the relaunch of music and the arts.  We have this glorious history as cultural leaders, and we now have the opportunity to stand united as a state and make artistic history again.
As we consider what life will grow to look like post-pandemic, we must support and prioritize keeping music alive in our schools and communities.
Annelise Cassar Tedesco
Louisiana State Teacher of the Year, 2022
Louisiana First Foundation, Teach MAM Music Ambassador
Music Director and Teacher, CHS Voices
Chalmette High School – St. Bernard Parish, Louisiana
Instagram: https://www.instagram.com/annelisecassartedesco/
Facebook: https://www.facebook.com/AnneliseCassarTedesco
Twitter: https://twitter.com/AnneliseCassar