Teach MAM: An Exciting Partnership to Strengthen Arts Education Across Louisiana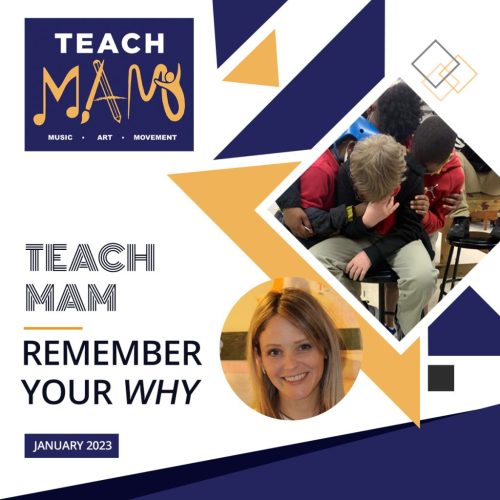 Remember Your Why
Written by Carolyn Scalfano
Teach MAM Art Ambassador

We are here to inspire people to do the things that inspire them so that, together, each of us can change our world for the better. – Simon Sinek
Have you ever experienced "burn-out," difficulty completing everyday tasks, difficulty concentrating on your work, or could not effectively meet your professional responsibilities due to chronic job stress? At my school, there were recently two years that we dealt with a considerable increase in behavioral challenges. Many factors contributed to the situation, including re-configuring our schools' population, the fallout from Covid, and changes within faculty. Thankfully, all our students are now accustomed to our school-wide expectations, to the point that when we receive new students, they adapt accordingly and rise to the standards set by our other kids. However, it took us some time to get to this point.
After the first year of challenging discipline issues, we began implementing trauma-informed discipline, which helped tremendously. In addition, we teach the "Zones of Regulation" curriculum school-wide to help students and staff identify and regulate their emotions and make intelligent choices on and off campus. Still, there are days when no matter how complete your toolbox is, it just seems like problems can't be fixed.  
In beginning this New Year with your school, I encourage you to return to your roots. As educators and mentors, we must all be on the same page. It is the anchor in the storm. The thing that holds us steady. Here's how it works at my school:
Our what – we teach 4th, 5th, and 6th-grade students at a high-poverty school.
Our how – where things get tricky – because our how makes us unique, and we sometimes may even hold opposing views when implementing expectations, lessons, etc.
Our why – shows us that regardless of our "hows," we are all here for the same reason. We can't let the differences in our "hows" keep us from accomplishing our why.
We all mess up sometimes. We all do. Yet, we are all taking action daily to accomplish a common goal. We are here to educate, inspire, and believe in others, even when they don't believe in themselves.
When a group of teachers shares the belief in their ability to affect students positively, it is commonly known as collective teacher efficacy. Collective teacher efficacy is ranked as the NUMBER-ONE factor influencing student achievement (Hattie, 2016).
What does the research say?
With an effect size of 1.57, collective teacher efficacy is:
More than three times as predictive of student achievement as socioeconomic status.
More than double the effect of prior achievement.
More than triple the effect of the home environment and parental involvement.
More than three times more likely to influence student achievement than student motivation, concentration, persistence, and engagement (Hattie, 2016).