Teach MAM: An Exciting Partnership to Strengthen Arts Education Across Louisiana
The Louisiana Endowment for the Humanities (LEH)
Aunt Dorothy's Teacher Toolkits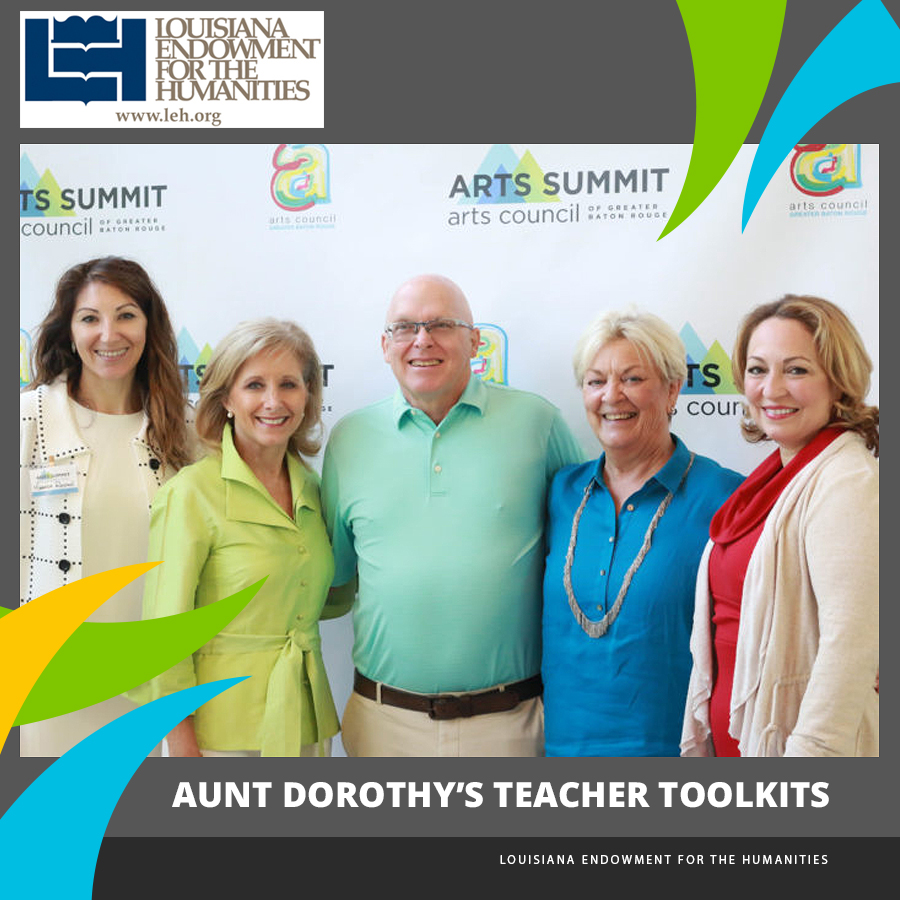 New K–12 curriculum to focus on the sounds of Louisiana
 Lesson plans and videos centered on the state's great musicians developed with teachers statewide
February 6, 2020 / New Orleans — The Louisiana Endowment for the Humanities (LEH) announces a new initiative developing and showcasing new tools for teaching core curriculum concepts through the lens of Louisiana's culture. Made possible through the support of Dorothy Hanna, a retired Calcasieu Parish schoolteacher, Aunt Dorothy's Teacher Toolkits feature interactive and engaging classroom resources available free online at 64parishes.org/education.
The first series in Aunt Dorothy's Teacher Toolkits is Louisiana Musical Legends, centered on the lives of nine celebrated musicians. Each Louisiana Musical Legends unit includes a brief musician biography, an educator-created lesson plan, and an original musician-focused video with student prompts—all designed for classroom use. Featured musicians hail from across the state and include Luther Gray and Bamboula 2000 (Greater New Orleans), Nellie Lutcher (Southwest Louisiana), Tony Joe White (Northeast Louisiana), Amanda Shaw (Northshore), Susan Aysen (Bayou Parishes), Kenny Neal (Greater Baton Rouge), Little Walter (Central Louisiana), Lead Belly (Northwest Louisiana), and Nathan Williams Jr. (Acadiana).
In partnership with First Lady of Louisiana Donna Edwards and the nine regional arts councils, the LEH held a statewide contest open to teachers across the state, inviting educators to devise creative lesson plans centered on the lives and music of regional musicians. The winning teachers, who each received a $1,000 prize, include Diana Turner, Bricolage Academy (New Orleans); Rebecca Holmes, Emily C. Watkins Elementary (LaPlace); Barbara Helveston, Edgar Martin Middle School (Lafayette); Julie Groth, Sam Houston High School (Lake Charles); Hallie Franks, St. Joseph Catholic School (Shreveport); Andrew Price, West Ouachita High School (West Monroe); and Kelly Stomps, Woodlake Elementary School (Mandeville). Their lesson plans have undergone further development in partnership with the LEH and curriculum development professionals.
"We're so grateful to Mrs. Hanna for her generosity and vision of developing a creative learning tool for students, said First Lady Edwards. "Congratulations to everyone who helped bring this innovative concept to life. Music education benefits our children in many ways, both inside and outside of the classroom. Louisiana is blessed to have incredibly diverse and talented musical artists, and educating our students about our rich culture will keep them excited about learning and help lay the foundation to make the music last for generations to come."  
Two curriculum units are available now, one on blues musician Kenny Neal, featuring a lesson plan aligned with 9th- and 10th-grade ELA standards, and another on New Orleans–based Luther Gray and Bamboula 2000, focused on the complex legacy of Congo Square and aligned with 2nd grade ELA, reading and social studies standards.  
Future curricula, to be released throughout 2020, will explore tone, mood and theme in Lead Belly's original songs and later cover versions with 8th graders and lead high-school art students through the historic architecture of Lake Charles's Nellie Lutcher Cultural District. Other curriculum units will reference the work of Tony Joe White, Amanda Shaw, Susan Aysen, Little Walter and Nathan Williams Jr.
The units also utilize key components from the LEH's methodological approach to learning, developed for its award-winning PRIME TIME suite of programs and at the heart of all of the organization's work. The methodology emphasizes participant-centered instruction and learning, with open-ended questions and respectful discussion that help create personal connections to the material and develop critical thinking skills.
For more information about Aunt Dorothy's Teacher Toolkits or to access the Louisiana Musical Legends curriculum units, visit 64parishes.org/education.
About Louisiana Endowment for the Humanities
The Louisiana Endowment for the Humanities is a non-profit organization dedicated to providing educational opportunities to all residents of the state. Guided by the vision that everyone can realize their full potential through the humanities, LEH partners with communities, institutions and individuals to provide grant-supported outreach programs, literacy initiatives for all ages, publications, film and radio documentaries, museum exhibitions, public lectures, library projects, 64 Parishes magazine and other diverse public humanities programming. For more information, visit www.leh.org.