LORI MONAHAN BORDEN
Owner, Lori Monahan Borden Design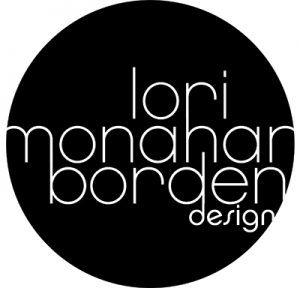 Like many in New Orleans in 2005, Lori was forced into a career change. Losing her home and her job after Katrina, she took what was a hobby and turned it into career. Her love of ink, paper, design and all things creative began with her first job, working for her father, Tommy Monahan, at Monahan Printing and Direct Mail. She started by working in the dark room, stripping film and creating printing plates, then moving onto graphics, customer service, and sales. She caught the bug and fell in love with the smell of ink. She always had a great eye for design, but it was all of the designers that worked at Monahan that taught her everything she knows. Lori says that having a background in the printing industry has given her knowledge that some other designers may not have and given her an advantage.
Lori is a 3rd generation printer. Her grandfather, Tom Monahan Jr., started the company in 1944, and her father took over the business in 1977, growing it into a very successful company. In 2002 the National World War II Museum purchased the buildings, and Ash Abbott bought the company, which is now MPress.
Her hobby of designing invitations for friends became a career. Her first corporate client, Cross Gates Athletic Club in Slidell, was once one of her clients when she worked in sales at Monahan. Fifteen years later, they are still one of her best clients. So many from her days at Monahan helped her little company grow into what it is today.
There are 2 sides to her business today. One, working with Kelley Dugan Abbott, owner of Write On Stationery and Ash Abbot's wife. Together they create custom invitations for weddings, debutante balls, sweet 16s, fundraisers, holiday cards, Mardi Gras balls and all things parties for some of New Orleans most discerning residents. She custom designs all of her projects for each client individually; she loves being able this aspect of her job. Lori brings her clients ideas to life and gives them their very own unique design.  
She designs for Corporations/schools on the other side of her business: logos, catalogs, brochures, annual reports, billboards, t-shirts, signage, menus, direct mail pieces, cups, newsletters, and anything that needs to be designed for a business or a school. Donna Edwards's Louisiana First's logo was designed by Lori. It is a cliché, but no job is too big or too small. Designing a client's business cards while working on a 250-page coffee table book, is a normal day. Some of her clients include Frischhertz Electric, St. Augustine High School, Ursuline Academy, De La Salle, Ralph Brennan Restaurant Group, Allstate Sugarbowl, Ochsner Health, The Feil Group, Jefferson Council on Aging, and many more. The list is ever changing, the industries run the gamut.
She never imagined that her design hobby would turn into an amazing and successful career. "I have always dreamed of being an artist. I was never sure of the medium; I just always had an extreme desire to create. Cooking, decorating, gardening, painting are all things I do and love, but graphic design pays my bills. I am very lucky to spend my days creating. It really is a dream come true."
Website: http://www.lorimonahanborden.com/